Network:

FOX

Series Premiere Date:

Jan 3, 2016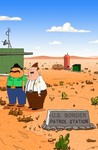 Summary:

The animated comedy from Mark Hentemann and ​Seth MacFarlane focuses on two families living near the US/Mexico border.

Genre(s):

Comedy

,

Animation
Season 1 premiere date:

Jan 3, 2016

Episode Length:

20
Bordertown, despite sometimes stooping to pick low-hanging fruit, is actually surprisingly smart and funny, an equal-opportunity offender that energetically rips into every side of the immigration debate while demonstrating enough of an absurdist streak to balance out its snark.

Despite having a sizable target, Bordertown sprays its pot shots all over the place.

MacFarlane and Hentemann already have pumped all of these wells all but dry, which leaves Bordertown with its ramped-up topicality and little else.

Bordertown isn't the racist, xenophobic mess you might fear ... but it suffers from exactly the sort of blurry perspective you'd expect from a show that was originally ordered over two years ago — the kind of tonal and storytelling unevenness you'd expect from a still-settling new comedy and a lack of appealing characters that makes it hard to want to return to see how the show evolves.

The jokes that do take on topical issues rely on cheap stereotypes (about both Mexicans and working-class whites) rather than anything insightful. The character design makes everyone look ugly and vapid, which at least matches the dialogue that comes out of their mouths.
Who uses this site? Does anyone actually know any critics? They're kinda annoying. Much more annoying than people who work hard to create a

Who uses this site? Does anyone actually know any critics? They're kinda annoying. Much more annoying than people who work hard to create a show. It's easy to hate a show, give it a 1/10 rating, when you work at Best Buy and live with your parents. Once you actually get to the big boy leagues, and know people who work in the business, know who's lives are very much affected by working for a show, creating a show, writing a show, etc....then you tend to not be so quick to give something a 1/10. I know the feeling, I've dogged shows before, for no reason, other than it's a natural instinct when you're jealous and poor. I'll tell you who's not on this website. Successful people.

…

Expand

Very funny show always seems to surprise me with the things they come up with. I Also live in the border and some of the things that are shown

Very funny show always seems to surprise me with the things they come up with. I Also live in the border and some of the things that are shown hit very close to home.

…

Expand

I stumbled across this show while watching reruns of hotel hell on Fox Now, and I was curious to see what other shows were available.

EightI stumbled across this show while watching reruns of hotel hell on Fox Now, and I was curious to see what other shows were available.

Eight episodes later and I am enthralled. This show is absolutely hilarious. From the old Looney Toon esque skits at the beginning of each episode, to the bumbling white family, to the respectable mexican family. I found this show to be a fun ride that I hope to see more of.

…

Expand

One episode is all it took for me to write off this show, and I feel I'm being generous by giving it a 1/10 rating. Although I'm not fond of

One episode is all it took for me to write off this show, and I feel I'm being generous by giving it a 1/10 rating. Although I'm not fond of the animation style, I would have gotten over it if the show was at least funny. It's not.

…

Expand

I just watched the debut episode of Bordertown. It's a new Seth McFarland series on Fox.

That's 30 minutes of my time I'll never get back.I just watched the debut episode of Bordertown. It's a new Seth McFarland series on Fox.

That's 30 minutes of my time I'll never get back. Unfunny stupid characters doing unfunny stupid things. All the overused McFarland hallmarks are there, too, including the worst: A character makes a comment and then that comment plays out, literally, in an overlong break-away vignette.

I guess American/Mexican relations across the boarder is a timely topic. But the points made are way too bone-headed to matter.

Yuck.

…

Expand

I am sure someone thought this was funny and a good idea. And maybe all the racially insensitive jokes and story is meant to teach people a

I am sure someone thought this was funny and a good idea. And maybe all the racially insensitive jokes and story is meant to teach people a lesson. If that's the case it doesn't work. if that's not the case, this just feels like a huge swing and a miss for 2016.

…

Expand

Oh man, another Seth MacFarlane "comedy" show. Imagine every terrible aspect of his other low-quality TV shows, mix them together and somehow

Oh man, another Seth MacFarlane "comedy" show. Imagine every terrible aspect of his other low-quality TV shows, mix them together and somehow make them even worse than they already are, and you've got this show. Watched the first episode and it's a complete waste of time.

I could write a long review to go into detail about how awful the art style is, how every character's writing is incredibly lazy and overdone, and how the show is incredibly unfunny, but I'm not going to. All of these negative user reviews should say enough.

…

Expand