Network:

CBS

Series Premiere Date:

Jun 13, 2016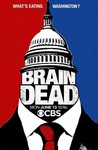 Starring:

Tony Shalhoub

,

Mary Elizabeth Winstead

,

Danny Pino

Summary:

New congressional staffer Laurel (Mary Elizabeth Winstead) discovers aliens have eaten the brains of a number of people on the Hill in this Robert and Michelle King comedy-drama set in Washington, D.C.

Genre(s):

Comedy

,

Drama

,

Horror

,

Science Fiction
Season 1 premiere date:

Jun 13, 2016

Episode Length:

60
Ridiculous, yes, but also engaging--and maybe some relief for viewers who are preoccupied with politics but could still use a break from cable news. BrainDead is no "Good Wife," but it does have the Kings' sense of wit and momentum. It also, to some degree, displays their knack for timely social commentary.

BrainDead is aggressively funny and a little sloppy, and it's that sick-joke aggression, the refusal to take itself seriously, that is the key to its appeal.

Braindead is pretty much completely insane. But in sort of a good way. At least for a while.

Ultimately, for a show with a lot of zombie flavoring, BrainDead too often lacks bite.

Everything about this new summer show is confounding. Is it horror? Political satire? Slapstick comedy?

The cast's good work is fatally underminded by the show's fuzzy concept.
Anyone who doesn't like this show or gives it a lower score than 10 is brain dead . Excellent filming, acting,and writing. Who wouldn't like a

Anyone who doesn't like this show or gives it a lower score than 10 is brain dead . Excellent filming, acting,and writing. Who wouldn't like a show about how idiotic all politicians and followers are. Ask questions no matter how crazy they are don't just agree

…

Expand

i love how its tongue in cheek, 80s sci fi movie, and satirical political commentator all rolled into one well acted works on every level some

i love how its tongue in cheek, 80s sci fi movie, and satirical political commentator all rolled into one well acted works on every level some and will be a love or hate you'll get it or you wont.

…

Expand

Haven't regularly watched any CBS comedies for years but I am hooked on this one after seeing virtually ZERO publicity for it. Clever,

Haven't regularly watched any CBS comedies for years but I am hooked on this one after seeing virtually ZERO publicity for it. Clever, funny.hopes it gets picked up for a second season..

…

Expand

This show is amazing. How it gets such a low score here makes me question what this sites critique considers value. Mary Elizabeth Winstead's

This show is amazing. How it gets such a low score here makes me question what this sites critique considers value. Mary Elizabeth Winstead's character is amazing with a blend of failing artist and intellectual in denial, she really makes the show move well from point to point. The show itself is great, a blend of politics, family, love drama, and sci-fi. Great cast, great topics.... a very good watch.

…

Expand

Delightfully idiotic, reminds me of Mars attacks. I m in the middle of season 1, hope the show wont take itself seriously and I can definitely

Delightfully idiotic, reminds me of Mars attacks. I m in the middle of season 1, hope the show wont take itself seriously and I can definitely see the theme getting old so I hope It wont have more then 1 or 2 seasons. Cast is great, the whole vibe of the show is refreshing and plain fun, nothing serious, but very entertaining so far.

…

Expand

Braindead is a great show! I'm into politics and the paranormal. So this incredibly satirical mesh of the twisted and the cranial is right up

Braindead is a great show! I'm into politics and the paranormal. So this incredibly satirical mesh of the twisted and the cranial is right up my ally. It's somewhat like the old great X-Files. But instead of the "Shadow Government" we have real Democrats and Republicans. Characters argue over Hillary and Trump, liberal and conservative, while something wicked this way comes. I hope more people give it a chance and it has a long life.

…

Expand

Disappointed in CBS and Tony, this has to be one of the worst programs to actually make it to airing. I'll certainly be looking at another

Disappointed in CBS and Tony, this has to be one of the worst programs to actually make it to airing. I'll certainly be looking at another network during this time slot!

…

Expand