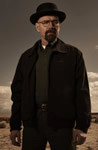 Starring:

Bryan Cranston

,

Anna Gunn

,

Aaron Paul

Summary:

Walter (Bryan Cranston) and his friend Jesse (Aaron Paul) find their drug dealing threatened by Walt's DEA Brother-in-law and the local druglord.

Genre(s):

Drama

,

Suspense
Creator:

Vince Gilligan

Season 2 premiere date:

Mar 8, 2009

Episode Length:

50
Please enter your birth date to watch this video:
You are not allowed to view this material at this time.
For all its bleakness and darkness, there's a glowing exhilaration about this series: It's a feel-good show about feeling really bad.

The first three episodes of Season 2 that AMC sent out continue that level of achievement with no evident missteps.

It's a mildly unsettling mentality, to be sure, but thus far Bad's mercurial formula adds up to one really good trip.

Bryan Cranston's Walter remains one of the best-played characters on television, and he's surrounded by a strong cast that, knowingly or unknowingly, plays off his desperation.

A drama on the order of "The Sopranos" or "The Shield," it's not about things--and people--getting better so much as it is about the struggle for survival. And like "Weeds," it's a show that might, if anything, have a little too much to say about the times in which we live.

The rest of Breaking Bad doesn't consistently reach the level of Cranston's performance. But for some, his depiction of Walt's earnest desperation may be enough.
As the second season comes to a close, the philosophical underpinnings of Breaking Bad come to fore. At first Walt was a good man doing bad

As the second season comes to a close, the philosophical underpinnings of Breaking Bad come to fore. At first Walt was a good man doing bad things for 'good' reasons, now you see the slow transformation into the monster, the Hyde to Walt's Jekyll. As the series come to a close (and the series *must* end this season), you get the feeling that the Hyde will overcome Walts personality, destroying everything that he touches. The ominous premonitions to a brutal season closer, the haunting performance by Brian Cranston, and the strong performances given by the supporting cast creates characters that the audience truly care about, and makes Walt's transformation all the more horrifying. It almost makes the end few episodes unwatchable: to see the slow, destructive downward spiral of a good man. This series is a poignant study of morality, and a horrifying glimpse at the destruction caused by drugs and mans ability to fall.

…

Expand

You cannot predict Breaking Bad... it's impossible. Actually, I've just told a lie, and for that I apologize. You can predict Breaking Bad; in

You cannot predict Breaking Bad... it's impossible. Actually, I've just told a lie, and for that I apologize. You can predict Breaking Bad; in fact Breaking Bad is so predictable it's embarrassing. Before any given episode has started you can safely predict that what you are about to see is 45 minutes of television that is, in this reviewers opinion, faultless. 45 minutes of outrageous situation comedy with hilarious consequences, 45 minutes of gut wrenching and heart felt emotional drama, 45 minutes of impeccable acting from its two leads, who's on-screen chemistry (excuse the pun) has garnered them with a total of 4 Emmy's, and 45 minutes (im about to come back full circle here) of impossible to predict story lines that make the twists and turns in shows like Lost and Fringe genuinely feel like amateur hour. Season 2 doesn't let up for one second. There is no 'filler' here, none whatsoever. And in all honesty, hand on heart, having thought it through thoroughly, looked back at my favourite (almost immoveable) series from shows that are close to my heart, I might have to declare Breaking Bad season 2 as the best season of a tv show I have seen to date. I know that's a bold statement, but having sat through all 13 exquisitely put together episodes, it just makes sense to have that opinion, it really does.

…

Expand

Breaking Bad is an awesome show! I love it and suggest it to everyone who hasnt seen it yet. It beats Dexter in best Drama in both my heart

Breaking Bad is an awesome show! I love it and suggest it to everyone who hasnt seen it yet. It beats Dexter in best Drama in both my heart and with the emmy count. Breaking Bad has great actors, who play awesome characters, in a great story. Keep it up Breaking Bad.

…

Expand

The show becomes better as each episode comes: electrifying acting, amazing story telling, and so unpredictable every scene will likely shock

The show becomes better as each episode comes: electrifying acting, amazing story telling, and so unpredictable every scene will likely shock you. It is flawless, from beginning to end. Vince Gilligan has created a masterpiece of television, and Bryan Cranston of television acting.

…

Expand

Insanely addicting and ridiculously exciting, season two of "Breaking Bad" is television done right. Vince Gilligan knows exactly what he's

Insanely addicting and ridiculously exciting, season two of "Breaking Bad" is television done right. Vince Gilligan knows exactly what he's doing. The acting, the perfectly-developed characters, and the emotional storm that develops throughout this season, which ultimately ends in a gut-wrenching and shocking final two episodes, will appeal to just about anyone who has been watching the series from the beginning up until this point.

…

Expand

Еще более захватывающее и напряженное продолжение приключений Уолтера и Джесси в мире наркобизнеса.

Еще более захватывающее и напряженное продолжение приключений Уолтера и Джесси в мире наркобизнеса.

Season 2 of Breaking Bad is not nearly as good as season 1. The story line slows down a little bit and the season really focuses on the main

Season 2 of Breaking Bad is not nearly as good as season 1. The story line slows down a little bit and the season really focuses on the main character's stories.

…

Expand