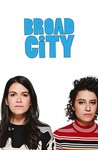 Starring:

Abbi Jacobson

,

Abbi Jacobson

,

Ilana Glazer

Summary:

Produced by Amy Poehler, the web comedy about two twenty-something best friends (Abbi Jacobson and Ilana Glazer) in New York City comes to television.

Genre(s):

Comedy
Please enter your birth date to watch this video:
You are not allowed to view this material at this time.
They know how to nail situations/characters, while snappy edits cull fluff, leaving only comic gold.

Broad City presents a recognizable, recognizably hilarious perspective on what trying-but-failing looks like from the inside.

This outgrowth of a cult-hit web series is a lighter, wackier and often funnier version of HBO's "Girls."

Its two featured newcomers skid along just fine, earning exceedingly small victories en route.

The series got its start on the Internet and is more linear, unpolished and narrowly comedic than "Girls" on HBO--Abbi and Ilana are so feckless that they make Lena Dunham's Hannah seem like Warren Buffett.

Adapted from its Web format, Broad City is hardly a fully formed exercise just yet, but with a clear comic voice (Jacobson and Glazer are also the writers) it merits the time to find itself.

Problem is, these same episodes lurch between nuanced observation of real-world trivialities and goofy sketch comedy exaggeration, and their flashes of spiky personality don't alleviate the feeling that, content-wise, the show is stuck in that regrettably familiar commercial cable bind: not safe, exactly, but not dangerous, either.
I real surprise. I found myself favoring this show over the bathroom humor of workaholics (although there is admittedly a hilarious bathroom

I real surprise. I found myself favoring this show over the bathroom humor of workaholics (although there is admittedly a hilarious bathroom scene in episode 7). The wedding episode was one of the funniest things I've seen on television in quite a while.

…

Expand

The best comedy show out there. The gags are just incredible, every single episode is funnier than the previous.

Continue like this and youThe best comedy show out there. The gags are just incredible, every single episode is funnier than the previous.

Continue like this and you will make billions!

…

Expand

Fantastic show. People are so attuned to one "form" of sitcom that any other attempt at creating comedy just flies over their head. Ignore

Fantastic show. People are so attuned to one "form" of sitcom that any other attempt at creating comedy just flies over their head. Ignore them because Broad City is good and most importantly VERY confident of what it wants to be. That is incredibly rare for any series this early, the leads' friendly chemistry bouncing off each other perfectly and the low-stakes of the story makes it far more relatable than any "twenty-somethings in big city" show you've heard of in past decade (looking especially at you GIRLS).

On top of it, Broad City is plain funny. It's leads or it's side/recurring characters throwing off incredibly smart array of comedy ranging from vulgar to deadpan.

This is great and hilarious stuff and I can only imagine how good this will get a few seasons in.

…

Expand

There's really nothing especially clever about the skits, and while it's not as bad as some of these other reviewers are making it out to be,

There's really nothing especially clever about the skits, and while it's not as bad as some of these other reviewers are making it out to be, after getting through 3 episodes it's pretty obvious all these two have to go on is cheesy weed jokes and self humiliation scenes. What's most discouraging about this show is the positive reinforcement we are seeing by the critics. It's as if standards have been lowered to the point where shows like this are considered smart and witty. Again, it's semi-watchable and offers the occasional chuckle or gasp, but the same repetitive skits surrounding these girls' lives isn't going to cut it for a full season.

…

Expand

I watched the first episode and honestly didn't laugh once. The jokes weren't funny, the plot was lame and the acting seemed REALLY forced.

I watched the first episode and honestly didn't laugh once. The jokes weren't funny, the plot was lame and the acting seemed REALLY forced. Like high school girls doing skit comedy. maybe it will get better with the next episodes

…

Expand

The first episode was terrible. Hannibal Buress was the only bright spot in the entire thing. Just brutal, unfunny television. Can't imagine

The first episode was terrible. Hannibal Buress was the only bright spot in the entire thing. Just brutal, unfunny television. Can't imagine going back for episode two.

…

Expand

Felt like this was a forced version of a female version of workaholics. I wanted to like the show, but I can't. I will try to watch the next

Felt like this was a forced version of a female version of workaholics. I wanted to like the show, but I can't. I will try to watch the next two seasons, because my friends insists its funny. The skits aren't funny and the characters are rather annoying. It's a good show for immature high school girls experimenting with pot, other than that I don't see the appeal.

…

Expand