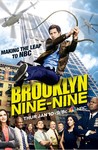 Starring:

Andre Braugher

,

Melissa Fumero

,

Andy Samberg

Summary:

New police Captain Ray Holt (Andre Braugher) finds he has his hands full with detectives Jake Peralta (Andy Samberg), Amy Santiago (Melissa Fumero), Charles Boyle (Joe Lo Truglio), Rosa Diaz (Stephanie Beatriz), Sgt. Terry Jeffords (Terry Crews), and office manager Gina Linetti (Chelsea Peretti).

Genre(s):

Comedy
Season 1 premiere date:

Sep 17, 2013

Episode Length:

30
Please enter your birth date to watch this video:
You are not allowed to view this material at this time.
Brooklyn Nine-Nine is fine as it is. Tell your DVR to book it. [9 Dec 2013, p.43]

Fortunately, you don't have to take the former SNL star too seriously to roll with Brooklyn Nine-Nine, a sitcom from the producers of Parks and Recreation that smartly pokes at police-show tropes and creates a promising comedy playground where the Motherlovin' jester can cut loose.

Brooklyn Nine-Nine is easily the fall's strongest comedy pilot, clever, appealing, feeling thought-through and lived in after only a half-hour.

The strength of Brooklyn Nine-Nine is in the way it summons the communal spirit of those shows [Parks and Recreation, The Office, and 30 Rock] to not only poke fun at crime-show clichés, but also reinterpret them with a fresh and idiosyncratic comedic point of view.

Brooklyn Nine-Nine isn't uproarious yet, but pilots, even of good sitcoms, rarely are. (It took Parks and Recreation an entire season to figure out its tone.) What Brooklyn Nine-Nine has, unlike many of the other new fall comedies, is intelligent design.

No one will accuse 'Brooklyn Nine-Nine' of too much authenticity, but it does have a confident breeziness in its banter that almost immediately locates a ['Barney Miller']-esque balance in the more absurd aspects of law enforcement.
The best show on television right now. While I'm used to comedies not making me laugh at all, this one I actually find really funny, and the

The best show on television right now. While I'm used to comedies not making me laugh at all, this one I actually find really funny, and the majority of jokes aren't stupid or gross (which is, by the genre's standards, saying a lot). The characters are believable and three-dimensional, not to mention extremely likable. Pure perfection.

…

Expand

Funniest Comedy on Television,.has grown since its beginning and all the characters are hilarious.

Terry Crews and Samberg are amazing andFunniest Comedy on Television,.has grown since its beginning and all the characters are hilarious.

Terry Crews and Samberg are amazing and the dynamic with the Captain makes it almost perfect

…

Expand

One of the better pilots I've seen in a long time. Cast is great and they already have a rapport in only one episode. I laughed out loud

One of the better pilots I've seen in a long time. Cast is great and they already have a rapport in only one episode. I laughed out loud several times, which was nice after sitting through the train-wreck of Dads. If you like Parks & Rec, 30 Rock, The Office (meaning smart, well-written, well-acted shows) then you will enjoy this as well. It fits well with New Girl and Mindy. Oh, and referring to another review on here, in what universe is a gay black cop a stereotype?

…

Expand

After watching many comedies such as Arrested Development or Community i'm sure that Brooklyn Nine-Nine's cast is the most lovable that i've

After watching many comedies such as Arrested Development or Community i'm sure that Brooklyn Nine-Nine's cast is the most lovable that i've seen. Acting and story are amazing but the episodes are too short! If you want a quality ensemble comedy, this is YOUR show!!!

…

Expand

Very good show, funny and seems to get better every episode. I am sure my score will increase as the show continues. Definitely worth

Very good show, funny and seems to get better every episode. I am sure my score will increase as the show continues. Definitely worth watching! The cast you can tell has gotten much more comfortable with each other and the writing has improved greatly.

…

Expand

It is a hilarious show full of slapstick and rude humor. If you enjoyed Modern Family then this is an absolute yes. The only thing that could

It is a hilarious show full of slapstick and rude humor. If you enjoyed Modern Family then this is an absolute yes. The only thing that could be improved would be some of the story lines.

…

Expand

Samberg is annoyingly smug in his delivery, demanding a laugh out of every syllable he spews. It needs to dial down the hideous snark

Samberg is annoyingly smug in his delivery, demanding a laugh out of every syllable he spews. It needs to dial down the hideous snark all-around. Barney Miller was the last good urban cop show. This is a steamy pile.

…

Expand