Clear Minds, Full Lives, Can't Eat

Please enter your birth date to watch this video:

You are not allowed to view this material at this time.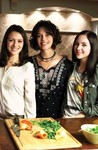 Episode Details & Credits
Summary:
April gets the chance to personally interview Bruce Hendry, thanks to his son Leo, who she finds out is terminal. Sara and George withhold vital information about the effects of Chemo and Brenna starts to regret her relationship with Kieren when it upsets Greer.
Seasons & Episodes
Season 2

Season 1

Season 1 Overview

Air Date: June 10, 2014

S1:E21. One Day

Air Date: March 23, 2015

S1:E20. No News Is Bad News

Air Date: March 16, 2015

S1:E19. Love, Actually

Air Date: March 9, 2015

S1:E18. Rest in Peace

Air Date: March 2, 2015

S1:E17. Model Behavior

Air Date: February 23, 2015

S1:E16. The Big Leagues

Air Date: February 16, 2015

S1:E15. April Just Wants to Have Fun

Air Date: February 9, 2015

S1:E14. Cancer Friends With Benefits

Air Date: February 2, 2015

S1:E13. Guess Who's Coming to Donate?

Air Date: January 26, 2015

S1:E12. Next April

Air Date: January 19, 2015

S1:E11. Locks of Love

Air Date: December 9, 2014

S1:E10. Finding Chemo

Air Date: August 12, 2014

S1:E9. What to Expect When You're Expecting Chemo

Air Date: August 5, 2014

S1:E8. Death Becomes Her

Air Date: July 29, 2014

S1:E7. Unplanned Parenthood

Air Date: July 22, 2014

S1:E6. Clear Minds, Full Lives, Can't Eat

Air Date: July 15, 2014

S1:E5. The Family That Lies Together

Air Date: July 8, 2014

S1:E4. I'll Sleep When I'm Dead

Air Date: July 1, 2014

S1:E3. Blood Cancer Sex Carrots

Air Date: June 24, 2014

S1:E2. Help Wanted

Air Date: June 17, 2014

S1:E1. Pilot

Air Date: June 10, 2014