Network:

Netflix

Series Premiere Date:

May 11, 2016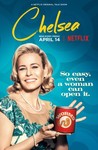 Summary:

Chelsea Handler's talk show on Netflix will air three times a week (Wednesday, Thursday and Friday).

Genre(s):

Talk & Interview
Season 1 premiere date:

May 11, 2016

Episode Length:

30
Although this is certainly the most narcissistic talk show in memory, it depends wholly on whether you enjoy Chelsea or not.

"I'm finally getting to do the exact kind of show that I've always wanted to do.... What that show is, I have no idea." An unkind commentator might be tempted to second that thought, given "Chelsea's" first-night, new-colt wobbles, but it's pointless to be too hard on any talk show on its premiere, even when the host has a long track record. ... Overall, it was an appealing debut.

It was overstuffed with some awkward introductions and anxiety over first impressions, and because of that sometimes a little boring. ... The premiere is often very fun, especially when Handler's eye-roll-driven plain-talking sense of humor slips in off the cuff. (At one point she laughs directly into Pitbull's face.) But it didn't probe in the way we've been sold, and still expect from future episodes.

Not that there's anything wrong with talk, even if Chelsea wants to be seen as something different. Ms. Handler seemed more at ease chatting with her guests--and often interrupting them--than reading the show's protesting-too-much mission statement.

There was no follow-up. There was no deeper layer. There was just an inexplicable musical guest, on stage talking over a few repeated chords rather than providing a full-out, artistic performance. Why? Well, "Chelsea" is still figuring that out.

Based only on the sample size of two episodes, Chelsea is remarkably unviral. The first episodes have a couple of pretaped sketches that are varying degrees of bad. ... Handler has a lot of celebrity friends, but even her interviews with them were flat.

Handler has said she wanted to move away from the jokes she used to make on E!'s Chelsea Lately about banal celebrity culture, and so on Chelsea she makes banal political jokes about politicians.
Awesome show. I can't wait for new episodes to come out. She is unabashed, smart, funny as hell. Great guests and very interesting questions.

Awesome show. I can't wait for new episodes to come out. She is unabashed, smart, funny as hell. Great guests and very interesting questions. Love the witty humour. Great show format.

…

Expand

I don't usually watch talk shows but this is good, I like the fact that it's loose and relaxed, feels like you're hanging out with the people

I don't usually watch talk shows but this is good, I like the fact that it's loose and relaxed, feels like you're hanging out with the people who guest, unfortunately I didn't find Gwyneth Paltrow or Drew Barrymore's interviews particularly interesting. The third episode was really good and a huge step up from the first two in my opinion. For a half hour variety show it's refreshing.

…

Expand

Ep. 1 had some nice moments served in tiny bits. But mostly it just felt awkward. Which is the premise I guess. But it's the bad kind of

Ep. 1 had some nice moments served in tiny bits. But mostly it just felt awkward. Which is the premise I guess. But it's the bad kind of awkward. I had a really hard time with the Drew Barrymore part and I just started doing something else since I just lost interest in the conversation they were having. Sort-of liked the education part, had a nice message going on. But I couldn't figure out if it was supposed to be funny or deep. And ultimately it came close to failing at both although, as I started off with mentioning, it did have some sincere and nice moments.

…

Expand

The show's namesake host gives her brassy and candid best but the writing is just unfunny and bland, and the banter hasn't improved in season

The show's namesake host gives her brassy and candid best but the writing is just unfunny and bland, and the banter hasn't improved in season two. The show's catchy instrumental however is pure joy.

…

Expand

This show fails to live up to its hype. It's a complete mess! It's disappointing that Netflix would produce something with such bad quality

This show fails to live up to its hype. It's a complete mess! It's disappointing that Netflix would produce something with such bad quality and content.

…

Expand

Not funny! I don't need to watch a celebrity shopping network show or a show on Netflix advertising for Netflix! Chelsea abandoned a working

Not funny! I don't need to watch a celebrity shopping network show or a show on Netflix advertising for Netflix! Chelsea abandoned a working platform for being generally ignorant and a sycophant. Guests being interviewed should be coherent and if not the host should be able to tell that it's not going well and adjust. Without smart writers it becomes quickly apparent how dumb Chelsea really is...

…

Expand

I gave it a try. I tried and i watched the first episode... then the second, thought it might get better and it just got worse. My opinion in

I gave it a try. I tried and i watched the first episode... then the second, thought it might get better and it just got worse. My opinion in one word: TERRIBLE.

…

Expand