Network:

NBC

Series Premiere Date:

Oct 10, 2012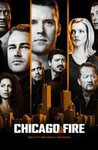 Please enter your birth date to watch this video:
You are not allowed to view this material at this time.
Chicago Fire definitely has familiarity going for it and familiarity going against it as well.

In a world without cable dramas, Chicago Fire would be considered television at its more compelling and realistic. As it is, it walks the line between shameless entertainment--hot guys, hot girls, the fires within, the fires without--and intelligent storytelling.

This seems like a serviceable drama that merits a bit better ladder grade (heh-heh) for an improved second hour.

"Law & Order" mastermind Dick Wolf doesn't blaze any new trails with his latest effort, but at least he's getting out of the courtroom and precinct house.

One of the new season's dullest shows. [12/19 Oct 2012, p.98]

It's not that the show is terrible--it's not--but it brings nothing new to the firefighter drama format.

This just doesn't work on any level and creates very little suspense, even in life-or-death situations.
VERY action packed, likeable characters... love it love it!! Chicago Fire has unexpected twists, and shows diversity from other Emergency TV

VERY action packed, likeable characters... love it love it!! Chicago Fire has unexpected twists, and shows diversity from other Emergency TV shows. Showing all aspects of a fire house, from captain to candidate.

…

Expand

Chicago Fire is the best show on TV now. Chicago PD is second best. the dam critics will praise junk trash shows like 2 and a half men but put

Chicago Fire is the best show on TV now. Chicago PD is second best. the dam critics will praise junk trash shows like 2 and a half men but put great shows like Chicago Fire and Chicago PD down. a bunch of idiiot's . they finally get a good show on and they have these kind of people that want to get it off the air. this is really the best!!!!

…

Expand

Love it! Likeable characters, lots of action, beautiful people and great acting! Seriously underrated, it's got some familiar faces and has

Love it! Likeable characters, lots of action, beautiful people and great acting! Seriously underrated, it's got some familiar faces and has some great new ones too. I like it because it's actually a bit different, I've not watched a series like this before. Very good, highly recommend.

…

Expand

After twenty-five years and six Law & Order series, creator Dick Wolf, decided that it was time for a change. His latest idea centers around

After twenty-five years and six Law & Order series, creator Dick Wolf, decided that it was time for a change. His latest idea centers around the heroes of Chicago, and what he did was basically take the show Third Watch, and split it up into three different TV series that interact with each other, on a semi-regular basis, with a fourth one coming later this year. Chicago Fire, Chicago P.D., Chicago Med, and Chicago Justice, make up the new look of drama on NBC, and the ratings have been hotter than the show that started it all, Chicago Fire.

As I said the show, the story lines, and the realistic way that it's filmed are very reminiscent of Third Watch, which was one of my all-time favorite shows, however, by splitting, the Firemen, Police, and Medical personal into three shows, the story lines run deeper, and the characters and character development is much stronger. This is why Chicago Fire works and is the only real stand alone show about Firemen to actually last more than just a couple of seasons.

Every character, even the part-timers have story lines and there is a deep connection to everyone involved in the show, but the main focus of the show is on Jesse Spencer who plays Ben Casey, one of the two guys in charge out in the field. Casey is very by the book and believes in the system, although that faith is tested on a regular basis. The other main focus is Taylor Kinney who plays Kelly Severide, who is the complete opposite of Casey. He will do anything to save lives and get to the bottom of a situation and the rule book be damned! The dynamic often causes conflict and causes people to choose sides, which further lends to the drama of the show.

The one negative I have is with how believable the stories are. Obviously it's a TV show and Hollywood is going to take it's liberties. The firemen are going to do things that are impossible and take risks that no one would ever take or survive if they did, but my issue is with things like the time. Someone will be injured and we'll be told they need months of rehab and could be out a year. The captain will talk about not having the money for a replacement and having to work short handed, putting the other men at risk. Then the very next episode, the injured man is back at work and cleared for duty. The actor doesn't even miss a couple of episodes, he's back the very next week. I don't know about you, but things like that bother me. Another timeline issue is involved with the crossover cameos, which don't always line-up. For example, Severide was involved in a Chicago P.D. matter, that was serious, and involved his whole family, but at the same time, there was no mention of it on Chicago Fire and it was business as usual?

Obvious timeline issues aside, the action is fantastic, the story lines are gripping, the actors and actresses are as hot and exciting as the fires they are fighting, and there is a reason this is a top ten show. If you haven't started your journey into the heroes of Chicago, start at the very beginning with Chicago Fire Season 1, you won't be sorry.

…

Expand

The cast has a lot of personality an they flow together to make it a compelling show to watch.
A show that zoom in and shows the team actingThe cast has a lot of personality an they flow together to make it a compelling show to watch.
A show that zoom in and shows the team acting like a team..Fighting fires..Its not about one person being the hero all the time. There is so much room to grow with this show.

…

Expand

Chicago Fire is basically a watchable show, although it lacks a lot of substance. Trying to be the ER of the CFD.....it just doesn't make it.

Chicago Fire is basically a watchable show, although it lacks a lot of substance. Trying to be the ER of the CFD.....it just doesn't make it. The characters and the plots are interesting enough, but the execution is lacking. Trying to build dramatic incidents is becoming tedious. For some reason, the Chicago Police department is lacking and extremely slow to respond. There have been major fires, accidents, train wrecks and shootings in Chicago, and for some reason, the first responders on this show are always the firemen.......go figure.

…

Expand

I keep trying to like it and watch it but it's boring. By now it's season 3 and nothing has really happened or changed. It's a continuous soap

I keep trying to like it and watch it but it's boring. By now it's season 3 and nothing has really happened or changed. It's a continuous soap opera. Does not live up to the hype. The best episode was the combo with SVU/Chicago PD.

…

Expand