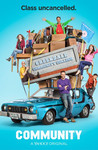 Starring:

Jim Rash

,

Chevy Chase

,

Joel McHale

Summary:

Jeff Winger (Joel McHale) is a lawyer who must attend community college after it is discovered he lied about where his law degree was from.

Genre(s):

Comedy
Creator:

Dan Harmon

Season 1 premiere date:

Sep 17, 2009

Episode Length:

30
Please enter your birth date to watch this video:
You are not allowed to view this material at this time.
Community can be fresh, funny, smart and extremely aware of its own cleverness; it also can be terrifically odd--odd good, or odd bad, or sometimes odd-good-bad-strange all at once.

McHale gets to flirt and insult to his heart's content, and he's impishly believable in both modes. The supporting cast members manage to make each of their sad little lives amusing, so what could have been a downer of a show is often absurdly funny.

For a good three days afterward, I was tempted to introduce one of the pilot's best lines into casual conversation--no, I won't spoil it for you, but it involves sharks--yet I wondered if it might not just be a fluke. But I saw the second episode of Community yesterday, and the same thing happened.

Community is mercilessly snarky and also surprisingly charming, which is not easy to pull off.

If creator/writer Dan Harmon earns only a "C" for the framework of his show, he gets higher grades for its brisk pace and clever writing. And some extra credit is in order for casting, as well.

While the cast delivers solid, funny performances, they're mostly just playing caricatures of themselves, and the rest of the supporting players range from forgettable to obnoxious, especially Danny Pudi, whose rambling Abed is about as endearing as stepping on a nail.

Community's party animals tend to get their kicks less from bongs, grain-alcohol projectile vomiting and peeping into sorority windows than from irregular Spanish verbs and lengthy recitations of the script of The Breakfast Club, which, for the most part, is even less amusing than it sounds.
Go Greendale! The best comedy show on air. Each episode is a surprise, and humor is bright and quick. The characters have extreme

Go Greendale! The best comedy show on air. Each episode is a surprise, and humor is bright and quick. The characters have extreme personalities, but this is fun!
Each week waiting for the new episode, and now I hope that NBC continues it! Please!

…

Expand

Haven't laughed so hard at a TV show since Arrested Development! Carpe diem!

The one problem with this show is that every episode is only 30 minutes long, always leaving me wanting more. Every episode is absolutely

The one problem with this show is that every episode is only 30 minutes long, always leaving me wanting more. Every episode is absolutely hilarious and the writing is fantastic. Not only does it make fun of every genre of television and movies, it makes fun of what their show is about. They play to the fact that its a group of friends from all different backgrounds. Every character is well developed and even the side characters that are only in a few episodes service the show in a perfect way. Starburns' is a mystery in himself and the Dean is never fully explained but that adds to their characters. This show is perfect and is one of the funniest shows on television.

…

Expand

From outrageous Spanish teachers to horrific looking mascots. Greendale is a hilarious take on community college where a group of completely

From outrageous Spanish teachers to horrific looking mascots. Greendale is a hilarious take on community college where a group of completely varied students with opposite lifestyles find themselves creating a new study group. I adore the way in which the cast sometimes use dramatic irony where they describe themselves being in the series without their own characters realising it. the comedy style of the series is impeccable, most of the humour is spontaneous and witty the clever use of this often happens at the end of an episode with the characters Troy and Abed, leaving you wanting more, I really admire the quirky character development and the well used camera fades throughout episodes. community is funny, inspiring and overall a great watch. Go Greendale!

…

Expand

After all the forced premise "comedies" that have infested the TV landscape lately this quirky and somewhat unusual take on a college sitcom

After all the forced premise "comedies" that have infested the TV landscape lately this quirky and somewhat unusual take on a college sitcom provides some of the most clever writing and witty exploitation of "seen a billion times before" moments. It's good to see Joel McHale act and his fellow cast is one of the most interesting collection of potentially hilarious characters I have witnessed in years. There is so much to get here and even though it's only five episodes in I almost cried, laughed hysterically and often found myself amazed at the beauty and creativity of the situations.

…

Expand

This show is sooo boring. The actors are not funny at all. I love comedies but this show just really bored me to tears. Plus Joel McHale has

This show is sooo boring. The actors are not funny at all. I love comedies but this show just really bored me to tears. Plus Joel McHale has gotten so arrogant since he was on The Soup.

…

Expand