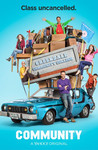 Starring:

Jim Rash

,

Chevy Chase

,

Joel McHale

Summary:

This Stripes-inspired comedy is about a group of misfits attending the Greendale Community College. Jeff Winger (Joel McHale), a lawyer who has his degree revoked, goes back to college and forms a study group. Jeff and his fellow study group members, over time, learn more about themselves,

This Stripes-inspired comedy is about a group of misfits attending the Greendale Community College. Jeff Winger (Joel McHale), a lawyer who has his degree revoked, goes back to college and forms a study group. Jeff and his fellow study group members, over time, learn more about themselves, as well as each other. Community is a production of Krasnoff Foster Entertainment, Harmonious Claptrap and Russo Brothers production in association with Sony Pictures Television and Universal Media Studios.

…

Expand

Genre(s):

Comedy
Creator:

Dan Harmon

Season 2 premiere date:

Sep 23, 2010

Episode Length:

30
Please enter your birth date to watch this video:
You are not allowed to view this material at this time.
Awesomely clever, it's the Inception of sitcoms. In season 2 the show has preserved its core concept of friendships in a community-college study group while piling on daringly odd jobs. [6 Dec 2010, p.49]

The yuk-filled second ep of the sophomore season rectifies this neglect with a plot that tempts Jeff to return to his soul-corrupting old firm, much to the dismay of his community-college study buddies.

For all its flights of fancy and its meta-jokes (most of them ably put across by Danny Pudi), the show still allows us to invest in Joel McHale's Jeff and his journey to self-improvement. Yet in its search for a plot, Community often seems to send Jeff back to square one so he can be redeemed all over again.

It was disappointing that this premiere lacked a lot of fun, usually Community's strong suit. Still, it reminded us of the distinct joys of the first season, offering cartoonish physical comedy, densely written jokes, and obscure pop culture references.
As you probably thought sophomore seasons of tv shows can either be better or worse but Community takes it to a whole new level making it

As you probably thought sophomore seasons of tv shows can either be better or worse but Community takes it to a whole new level making it stronger and better the acting all comes together with its fused chemistry probably turning this show into a cult.

…

Expand

This is one of the many comedy series revolutionized in their second season. Most comedies try to find their way throughout their first few

This is one of the many comedy series revolutionized in their second season. Most comedies try to find their way throughout their first few seasons, until they enter a hay day of a few years, then slowly decay until their long due end. "Community" is not meant, or built, to be that kind of show. It is a four season, (four year community college) comedy series that has it's "whole life planned out", so to speak. The revolution came in this awesome second season.
The First season of "Community", focused on a basic, safe type of comedy that included heavy character development humor setups, not always original, but always funny, and with a strong emotional payoff. I think some people will be surprised watching Community Season 2, and realizing the game for them has all changed. For Example, -All cliches are left at the door, and trying to predict what will happen after the commercial break has now become a guessing game again after a long period in comedy in which that was not the case.
-The creepy quirks of Chang and the Dean have become genuinely creepy, and almost twice as funny as a result. -The humor has aged, and even though they are talking about themes as immature as KFC, or Paintball, it has become meta, and is some of the most clever comedy on television. (See, "My Dinner With Abed")

Finally, they have kept everything that was so great about the first season. The development has become more personal for the characters in this season as Jeff realizes that his calling in life might not be as one track centered as he thought. The emotional payoffs are still strong here, for example the Leone style twist that comes at the end of the First Part of the Paintball fiasco at the end of the season. Season 2 of Community will be remembered by some the "Scream" of T.V. Shows, with self referential humor, the knowledge of cliches, and the humor staying stylish and trendy, but hopefully many will remember it as "Season 2 of Community." One of the most innovative Seasons of Television Comedy.

…

Expand

Best show in television currently. The humor is both subtle and in-your-face at the same time. None of the characters take themselves too

Best show in television currently. The humor is both subtle and in-your-face at the same time. None of the characters take themselves too seriously, and they all work well with each other. Donald Glover and Danny Pudi are especially hilarious. I think it's the dialogue that really makes this show as good as it is.

…

Expand

Community is an amazing show in danger of being cancelled. I am taking a stand for a television show that I very much enjoy because I don't

Community is an amazing show in danger of being cancelled. I am taking a stand for a television show that I very much enjoy because I don't want to see if fade and be replaced by more sh*tty reality television.

…

Expand

The most astoundingnly, clever comedy to grace the small screen since Friends and Seinfeld. God, this comedy series just can't be described in

The most astoundingnly, clever comedy to grace the small screen since Friends and Seinfeld. God, this comedy series just can't be described in words. You have to watch it imo, if you aren't you're really missing out.

…

Expand

This is the best comedy on TV. It almost makes me angry that Outsourced gets more viewers than this and the only reason is that it comes on

This is the best comedy on TV. It almost makes me angry that Outsourced gets more viewers than this and the only reason is that it comes on after the Office.

…

Expand

Although superbly funny and a show that gets great laughs, Community is not near perfect. The main problem is the plausibility of the series.

Although superbly funny and a show that gets great laughs, Community is not near perfect. The main problem is the plausibility of the series. The plots of episodes are all over the place. Whether it is Zombies, or Paintball Wars, Community is never very realistic. Most of the characters still seem like cartoons (especially Abed and Troy), even after 2 seasons. Although there are some characters such as Shirley that seem grounded and real, as a whole the characters feel like caricatures. Although the show may be wildly funny and better then a lot of comedies, it seems more like The Simpson's then it does like a live action TV show. Don't get me wrong you will laugh, but you won't get the character driven and realistic humor of the earlier seasons of The Office or Parks and Recreation. If it's on, watch it, but if something better like Parks and Recreation is on, watch that instead. It is for sure the worst in NBC's Thursday Night Line Up returning next year.

…

Expand