Network:

Netflix

Series Premiere Date:

Jan 24, 2019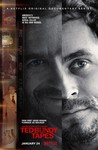 Summary:

The four-part documentary series from Joe Berlinger features previously unheard audio of interviews with serial killer while on death row in Florida.

Genre(s):

Movie/Mini-Series

,

News/Documentary

,

Documentary
Show Type:

Mini-Series

Season 1 premiere date:

Jan 24, 2019
The result is haunting, underscoring the evil you feel emanating from your screen that sticks to your bones. [25 Jan 2019, p.47]

Berlinger arguably could have kept much of the documentary's archival source material, with its heavy emphasis on Bundy, while reframing the killer's story as one about the women whose lives he cut short. Instead, he produced a perfectly serviceable Conversations that adds little to the conversation at all.

Ethical questions aside, the series' dependence on Ted Bundy to tell the truth about Ted Bundy means that it doesn't really bring much new information to the table.

Ultimately, Conversations with a Killer isn't primed to make a person's skin crawl. Unless the viewer is on the younger side and unfamiliar with Bundy, it contains no surprises, either. This isn't the series' fault, but a feature of time and entertainment trends.

Despite the editors' superb interweaving of personal photos, police evidence, and archival footage of '70s Seattle, Conversations with a Killer seems largely unaware of its own obliviousness. Just because the series, like Michaud, can't get to the center of Bundy doesn't mean that the only potentially interesting storytelling avenue has been obstructed, and therefore there's nothing a filmmaker can do but say, "People are ultimately unknowable, and Bundy is no exception."

Bundy is at best an unpleasant companion through four long episodes, and at worst repellent--makes Conversations With a Killer a must only for true-crime completists. ... For the uninitiated, though, the film takes the form of the banal audio footage at its core. ... [Director Joe Berlinger] never proves why Bundy matters as anything other than a case study in narcissism.
It took me two viewings of this series back to back before I could understand what this adds to the conversation and study of serial killers,

It took me two viewings of this series back to back before I could understand what this adds to the conversation and study of serial killers, psychopaths, and of course Ted Bundy. What is so haunting, and what really creeped me out the first time I watched this, is the fact that this show feels almost tame and without as intense of focus on the depravity and sadistic violence of the killer and instead chooses an angle that strongly allows for Bundy to maintain his narrative. I remember finishing this the first time and thinking, "I realize objectively that he is one of the worst serial killers of modern history, but I can't tell if I think he's actually a terrible guy." And it's because this series is able to tell its story with his social performance of charm and charisma at the front.
Upon the second viewing was when the point really stuck: that's just how intensely powerful superficial behaviors are for most when determining the social merit of a person. It's easy to think when reading a history book about these individuals, "How come nobody could tell? It must have just been a continuous oversight that could have been rectified simply."
Then of course, the analysis of the trial was completely fascinating to me. I think in general, American and British media alike tend to force a narrative about serial killers comparing them and perceiving them as if they are all Hannibal Lector--psycho genius with superior, emotionless intellect without any weaknesses. American celebrate psychopaths for being free of emotion, and they are elevated into being super villains. This documentary breaks that mold though, and it's so important! We see in the trial how Ted Bundy's psychopathy is not his greatest strength, it's an incredible weakness. He is a danger to himself and to others. Why? He is incapable of being emotionally vulnerable with anyone, including himself. He can't admit to his shortcomings, not his real shortcomings, and because of this we see how prevalent this dysfunction is and how much it hinders his ability to 1) defend himself productively, 2) let others defend himself, 3) retain an actual, emotional and feeling connection with humanity.
This docu-series made me realize that psychopaths have a lot more in common with regular people, but with no way to rectify and satisfy and truly address their own emotional needs. They still feel the same feelings of emptiness, meaninglessness, melancholy, and go through accepting how tiny they are compared with the rest of the world. The problem is that, with the psychopathy disorder, their response to dealing with these feelings is by denial, being the ultimate forms of selfish, and trying to fill themselves up with superficial purpose (namely, killing others and becoming "famous" and "powerful" in doing so). From this, I finally saw and could understand: psychopathy is, in fact, the ultimate personified form of personal trauma; the individual is forever locked in their disability of confronting their weaknesses and growing and moving on. Not that it justifies serial murders.

…

Expand

This documentary set out to detail the disturbing story of Ted Bundy and it did just that, albeit in a bland, uninspired style.

Netflix drops on us this Ted Bundy documentary and after its four episodes, I found myself wanting more, but not in a good way. The content is

Netflix drops on us this Ted Bundy documentary and after its four episodes, I found myself wanting more, but not in a good way. The content is interesting but I would have preferred a deeper and more detailed dive into this utterly insane story. If this would have been an 8 episode run with more time spent on all of the events that surrounded this story, I believe it would have left us with a more engaging story arc to follow. With all that in mind, it's still a decent docuseries that's worth watching but when compared to other true-crime shows, doesn't quite match up. 6 out of 10

…

Expand

there sure is an eery feeling throughout the series, but in my opinion, looses focus very shortly on the importance of the tapes, that was

there sure is an eery feeling throughout the series, but in my opinion, looses focus very shortly on the importance of the tapes, that was what drew me into watching the show. otherwise it doesn't seem to add anything new about Bundy.

…

Expand

The episodes help give an explanation of what the Ted Bundy case was like and what happened without adding much else. There is too much focus

The episodes help give an explanation of what the Ted Bundy case was like and what happened without adding much else. There is too much focus on this show being scary instead of looking at what this man did and it being looked at seriously. Conversations with a killer could be better if the focus was placed on what happened instead of trying to amp up the scariness. The actions of this one man are scary enough

…

Expand

The show tried hard to bring a scary, eerie vibe, but you won't get much of that here. It's a psychopathic narcissist talking on tape, and

The show tried hard to bring a scary, eerie vibe, but you won't get much of that here. It's a psychopathic narcissist talking on tape, and much of the first episode involves listening to the interviewer bragging about how to get that narcissist talking. It's just not good television. The parts about the facts of the murders were told well, but ultimately, anyone who cares about this show probably knows those facts already anyway.

…

Expand