Network:

CBS

Series Premiere Date:

Sep 22, 2005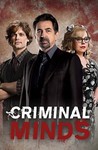 Starring:

Paget Brewster

,

Shemar Moore

,

Joe Mantegna

Summary:

Surprise! It's another police procedural on CBS. This one follows an elite team of FBI psychological profilers who solve grisly crimes with smarts. Or something like that.

Genre(s):

Drama

,

Action & Adventure

,

Suspense
Creator:

Jeff Davis (I)

Season 1 premiere date:

Sep 22, 2005

Episode Length:

60
Please enter your birth date to watch this video:
You are not allowed to view this material at this time.
From the evidence of the first few episodes, "Criminal Minds" may be a hit, and deservedly.

Viewers certainly like this sort of thing. CBS has become the No. 1 network with an incessant stream of it, and Criminal Minds is as well-made as any of them.

The problem with "Criminal Minds" is its many confusing maladies, applied to too many characters. As a result, the cast seems like a spilled trunk of broken toys, with which the audience - and perhaps the creators - may quickly become bored.

It's not a cool-science show, but its crimes blur together with what we already see on the ''CSI" series, and its supporting cast is indistinct.

Unfortunately, Criminal Minds confuses critical thinking with supernatural abilities.

The whole project feels salaciously sleazy, unless you're enjoying the proceedings, in which case it's juicily depraved.
A crime show with an outstanding cast, well written plot and amazing facts displayed in every episode. Some may be a bit visual, but you love

A crime show with an outstanding cast, well written plot and amazing facts displayed in every episode. Some may be a bit visual, but you love seeing your favorite FBI agents profile those jerks to a tee. They all have such amazing chemistry with each other. Paget Brewster is amazing, with A.J. Cook's likability and with Kristen Vangsness,you just want to take her home!

…

Expand

One of my favorites! Critics are tough on it, but I do enjoy it regardless. It has matured and I believe the cast compliments each other very

One of my favorites! Critics are tough on it, but I do enjoy it regardless. It has matured and I believe the cast compliments each other very well. Critics are just people who overthink and have generally useless opinions, so I recommend ignoring them and checking this show out. User comments across the web, including IMBD and here, have been extremely favorable, so I am curious what the critics here are smoking. Just arrogant I guess. Enjoy the show, it is worth it.

…

Expand

All you need to show is that I go out of my way to be home 9pm on Wednesdays to catch this in HD. I can't record HD programs (only SD)

All you need to show is that I go out of my way to be home 9pm on Wednesdays to catch this in HD. I can't record HD programs (only SD) and this NEEDS to be seen in hi-def. After the unbelievably great 11/2 show, this is officially my favorite show on TV.

…

Expand

I'm obsessed with this show lately. I love Dr. Spencer Reid and the entire plot is fascinating. I like how it focuses on the cases but still

I'm obsessed with this show lately. I love Dr. Spencer Reid and the entire plot is fascinating. I like how it focuses on the cases but still manages to keep developing the characters. The entire show is fascinating!

…

Expand

Criminal Minds is thought provoking and well-written. With stories that intrigue and twists that surprise, I make a point of watching this

Criminal Minds is thought provoking and well-written. With stories that intrigue and twists that surprise, I make a point of watching this one. Of course, I record Lost to make sure I don't miss it (why do they always put the good shows up against each other, then leave huge chunks of time with nothing but bad shows to choose from?). If you enjoy shows that allow you to think, give this one a try.

…

Expand

I miss Gideon. But, I'll still watch hoping he'll be back somehow.

Such ignorantly manufactured socialist junk should be deceased straight to the trash bin and forgotten. Watching this propatainment should be

Such ignorantly manufactured socialist junk should be deceased straight to the trash bin and forgotten. Watching this propatainment should be a crime, and, indeed, is so, morally and intellectually.

…

Expand