Network:

ABC

Series Premiere Date:

Oct 10, 2014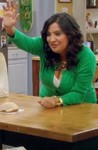 Starring:

Sam McMurray

,

Carlos Ponce

,

Maria Canals

Summary:

Cristela (Cristela Alonzo) juggles law school, a job, and her skeptical family that includes her mother (Terri Hoyos), sister (Roxana Ortega), brother-in-law (Carlos Ponce), and cousin (Gabrielle Iglesias).

Genre(s):

Comedy
Cristela resembles past attempts to graft multiculturalism onto the vanilla-fied vapidness of the American sitcom format. But Cristela wins the day with its easygoing attitude and superbly smooth cast. Alonzo has a bite to her wit that is reminiscent of the earliest, best days of "Roseanne."

The twist here is that on top of the jokes, Cristela has things to say, and it says them in English and Spanish. Fortunately, it's pretty funny in both languages.

A fairly standard family sitcom that rises above its pedestrian premise thanks to star Cristela Alonzo, a comedian who makes a favorable impression in this series about an Hispanic Texas family.

Episode 2 is considerably weaker than the watchable premiere.

The show's classic sitcom format, with recorded laughter and pauses between punch lines, is stifling--too much like "The George Lopez Show" and not tailored enough to Ms. Alonzo's own brand of humor.

Much of the first two episodes of Cristela feels dishearteningly retro.... Still, Alonzo is a pleasure to watch.

Everything about this comedy felt canned, artificial and forced. The dialogue was awkward enough that the actors didn't look comfortable delivering their lines, the audience wasn't always sure when and how to react, and I wasn't sure how much longer I could take it.
I just saw the first episode and I have to tell you I was in stitches. Hysterical! Laugh out loud funny! Besides, it's so refreshing to

I just saw the first episode and I have to tell you I was in stitches. Hysterical! Laugh out loud funny! Besides, it's so refreshing to witness the very first latina created and written and starring in sitcom in prime time. About time.

…

Expand

Fun slapstick comedy. I could do without the racial caricatures but still really enjoyed the show. Cristela was hysterical, great chemistry

Fun slapstick comedy. I could do without the racial caricatures but still really enjoyed the show. Cristela was hysterical, great chemistry with her sister and niece. Their mom was a bit forced, but should grow into a multidimensional character over time. The back in the old country theme to her character reminds me of the Golden Girls of the 80s.

…

Expand

Mostly charming, if inoffensive family sitcom. Cristela herself has a palpable spark and twinkle in her performance that carries a lot of

Mostly charming, if inoffensive family sitcom. Cristela herself has a palpable spark and twinkle in her performance that carries a lot of this show. She seems like one of those people you would actually like to get to know. I find the frequent laughter punctuating each joke and subsequent punch line to be as unwelcome here and as much of a distraction as in most sitcoms. I think this show would work better as a single cam minus any live or canned laughter. Overall, I thought this was a respectable and enjoyable 30 minutes. Too bad it is paired with the less enjoyable Last Man Standing.

…

Expand

2/5★ A throwback to classic sitcoms of yesteryear. Cristela draws all its energy from the titular character played by Cristela Alonzo who

2/5★ A throwback to classic sitcoms of yesteryear. Cristela draws all its energy from the titular character played by Cristela Alonzo who created, produced, starred and wrote for the show becoming the first Latina to do so in a network series.
Sitcoms with laugh tracks are low on my viewing list, and Cristela had plenty of weaknesses (mainly the supporting cast and iffy writing) but Cristela herself was fun to watch.
Verdict: For fans of 90's family sitcoms

…

Expand

After tweeting with the star. The traditional studio audience family comedy produced this way on purpose. While Cristela shines, the rest of

After tweeting with the star. The traditional studio audience family comedy produced this way on purpose. While Cristela shines, the rest of the cast is dull. The jokes consists of recycled tropes from successful sitcoms from the 20th century. This show feels dated and uninspired. The show should aim for the Mindy Project instead of All American Girl.

…

Expand

This show is one of the worse shows on TV. I can not see how ABC got it so wrong. It is not funny, the parts the actors play are weak and

This show is one of the worse shows on TV. I can not see how ABC got it so wrong. It is not funny, the parts the actors play are weak and under develop. The scrips are not with a flip it is like they tried to remake a screwed up Rosie remake and missed the mark by a mile. To much stereotyping that is unrealistic and not even close to what people think of the different groups portrayed. It could be funny without the over done stereotypes.

…

Expand

I am glad this show features a laugh track or else I would would never have known it was a sitcom. It exploits the easy jokes of being a

I am glad this show features a laugh track or else I would would never have known it was a sitcom. It exploits the easy jokes of being a Mexican American, without providing any redeeming value for how poorly it handles the execution. The characters (especially Cristela) are 1 dimensional, and all the jokes have been done before, only much better. This show will be lucky to last a season, but with today's audience (and a laugh track to tell the sheep when to laugh), it may plague us for a couple of seasons before people see through its simple and shallow premise.

…

Expand