Network:

TNT

Series Premiere Date:

Jun 13, 2012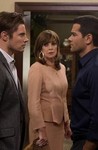 Starring:

Jordana Brewster

,

Brenda Strong

,

Patrick Duffy

Summary:

Based on the Emmy-winning CBS series of the same name, the TNT series follows the lives of J.R. and Sue Ellen's son John Ross and Bobby and Pam's adopted son Christopher, who differ on whether to drill for oil or look for alternative energy sources.

Genre(s):

Drama

,

Soap
Season 1 premiere date:

Jun 13, 2012

Episode Length:

60
Please enter your birth date to watch this video:
You are not allowed to view this material at this time.
It's both old and new, a comfy piece of nostalgia that doubles as a fresh guilty pleasure. [18 Jun 2012, p.39]

TNT's brighter, shinier Dallas makes an impressively staged re-entrance Wednesday night.

As the premiere episode nears its end, the plot begins thickening agreeably with so many secrets, dark revelations, shocks and betrayals it all begins to seem familiarly and comfortably absorbing.

Henderson gives a lunky, forgettable performance, coming nowhere near anyone's idea of a stronger, meaner version of J.R. Thanks to the rest of its ensemble, however, the new Dallas gains some traction and kicks up a little dust.

Dallas is full of implausibilities. So are a lot of soaps. But this one offers something the others don't: a nostalgic romp in a dysfunctional ranch that was a Friday night fixture on many a TV set.

Hagman--and to a lesser extent fellow returning stars Patrick Duffy and Linda Gray--are so much more fun to watch than their four new, young co-stars that the new Dallas plays less like a passing of the torch than a suggestion that torches were better back in the '80s.

Dallas is terrible....The writing is brutal and obvious, the acting is comical, and none of it is bettered by the directing.
I still don't get it why the new Dallas gets so many negative reviews and why some say that it's not plausible. Lemme clarify this for you:

I still don't get it why the new Dallas gets so many negative reviews and why some say that it's not plausible. Lemme clarify this for you: it's a tv show (soap), you phuckwits.

…

Expand

one of the best shows on tv its rather sad though that tnt cancelled the show because they want to do more reality shows. i hope another

one of the best shows on tv its rather sad though that tnt cancelled the show because they want to do more reality shows. i hope another network picks it up

…

Expand

The second season of Dallas is really rocking. It is a breath of fresh air. dallas1954. Truly glad to see it and hope that it will be around

The second season of Dallas is really rocking. It is a breath of fresh air. dallas1954. Truly glad to see it and hope that it will be around for a while. Great revival of the who shot J.R. from a few years ago. I will miss Larry Hagman, but I see that the show will and can go on without him.

…

Expand

In a world where so many shows are just another cop or doctor show, this one glistens with life. Finally a show about oil, energy, business

In a world where so many shows are just another cop or doctor show, this one glistens with life. Finally a show about oil, energy, business and family that is constantly exciting and relevant. And yes JR rocks. :)

…

Expand

Just watched the two first episodes and so far so good!! It is very well acted, the plot is great too. I am hooked for now. Will see what the

Just watched the two first episodes and so far so good!! It is very well acted, the plot is great too. I am hooked for now. Will see what the next episodes reserve us.

…

Expand

Nine episodes in and I have to admit that I've become a Dallas fan once again. The new series starts a bit slow. Give it a chance. By episode

Nine episodes in and I have to admit that I've become a Dallas fan once again. The new series starts a bit slow. Give it a chance. By episode 4 you will be hooked. It's not as instantly addictive as the fabulous and uber original Revenge, but Dallas 2012 has managed to re-invent itself for today's viewers. It mainly focuses on the younger generation of Ewings but every time Larry Hagman and Linda Gray are gracing our screens you really know it's Dallas. Welcome back.

…

Expand

It is good to have JR back; the character we love to hate. I have been keeping up with the episodes of the 1st season, and they are quite

It is good to have JR back; the character we love to hate. I have been keeping up with the episodes of the 1st season, and they are quite good. I grew up watching the old Dallas; always loved the show, the characters are all great!

…

Expand