Network:

Syfy

Series Premiere Date:

Jun 12, 2015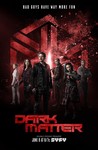 Starring:

Roger R. Cross

,

Zoie Palmer

,

Anthony Lemke

Summary:

Based on the graphic novel of the same name, the crew of a spaceship awaken with no memories of themselves or how they joined the voyage.

Genre(s):

Drama

,

Science Fiction
Season 1 premiere date:

Jun 12, 2015

Episode Length:

60
Please enter your birth date to watch this video:
You are not allowed to view this material at this time.
It's tough to become attached to anyone just yet, but fun scenes of discovery and a twist ending should keep you interested for at least one more episode. [12 Jun 2015, p.71]

Not all of the cabler's dramas are created equal, and Dark Matter feels like it could be a modest cut above.

A lethal robot (Zoie Palmer), who tries to kill one of the six before they wipe her memory. She then sets about reconstructing the ship's data, eventually learning the ship's destination and their possible purpose that throws everything the audience has learned in the show's first hour into question. It's a good twist. What Dark Matter makes of it in future episodes remains to be seen.

Dark Matter is a dud, and likely to make as much of a dent in the pop-cultural consciousness as the invisible substance it's named after.
This is now my favorite show on TV. I find myself muddling through the week just to get to Friday. I do like killjoys but for me it just

This is now my favorite show on TV. I find myself muddling through the week just to get to Friday. I do like killjoys but for me it just doesn't have the depth and and the characters that dark matter has. The acting is first rate, not a usual formula for SYFY. The premise is excellent and has many roads that can be traveled. The cast is movie quality. It is the closest thing to firefly yet. And as we'll know firefly was the best show ever. I am already awaiting the blu ray set. Let's keep this ship flying.

…

Expand

Thank God they renewed it and didn't leave us permanently hanging. More character action space opera than sci-fi, but enough sci-fi delivered

Thank God they renewed it and didn't leave us permanently hanging. More character action space opera than sci-fi, but enough sci-fi delivered every now and then to be interesting. It's possible I am too blinded by the glory of Two to be objective, but in that case the show still delivers.

…

Expand

I thought it was great! It has a Star Wars/Star Trek/Firefly vibe to it, with it's own unique identity and storyline. I watched it last

I thought it was great! It has a Star Wars/Star Trek/Firefly vibe to it, with it's own unique identity and storyline. I watched it last night and thought it was great and it the morning I thought about it again and liked it even more. It's tough to judge based on just one episode, especially with so many mysteries introduced in the first episode, but I'll certainly tune in next week to see where it goes. I don't want to put in any spoilers, but if you like any of the shows or movies I mentioned above I would definitely check it out.

…

Expand

Found the show by accident when researching the actual dark matter for a uni project. Read the premise gave it a go and im pleasantly

Found the show by accident when researching the actual dark matter for a uni project. Read the premise gave it a go and im pleasantly surprised, characters are good, story is interesting. It has vibes of Farscape or Andromeda (you should also watch they are great) but modernised and with less one dimensional characters. Its also nice to see good guys who are flawed and selfish (for the most part), yet are also likeable, which I think is a sign of good character creation.

The universe is pretty interesting and borrows ideas from Eve Online and Battletech. This isnt a bad thing as its inspiration is from great sources and has managed to create a rather deep universe which is different enough from others to be new and interesting.

Casting was very good and all the cast deliver great performances for the most part. My personal favourite is 5 as we see go from random person to member of the crew and badass in her own right. But even the most unlikable of the characters Three (imo), has moments where his character is shown to have depth and likeability and its all acted out very well.

CGI is good for the budget and although we dont get to see too much cgi action, i assume due to the budget, the bits we get are nice and crisp. I especially like the FTL travel style when they jump, its very cool.

The story and pacing is excellent, it hands out revelations and backstory fast enough to keep you interested but not so fast as to blow its load all in one episode. Its has enough shocks and twists that they are fun and unexpected without being overused.

A fun side note its always good seeing some of my old favourites returning as new characters, Drs Rodney McKay and Elizabeth Weir being as awesome as ever :P.

I hope the show continues to be made after season two, I hope SyFy have faith in the show they have a bad habit of cancelling shows. Ive been telling everyone I know about the show and given how randomly I found out about it I suggest others to do the same. Its a good Sci-Fi TV Show and deserves more viewers than it gets. It has a story and characters which put some other well advertised shows to shame but sadly not the budget.

…

Expand

This is one of the better scifi shows to come along in a while. It pays tribute to just about everything out there scifi. There was even an

This is one of the better scifi shows to come along in a while. It pays tribute to just about everything out there scifi. There was even an episode that paid homage to Event Horizon.

Pretty decent casting. For some reason it's not everyone's cup of tea, but I'm not sure what they are comparing it to, since most everything in the last few years has been garbage.

It's good to see SyFy coming out with a decent show since their latest efforts (Sharknado?) have been laughable.

Definitely watch the first three episodes, then I think you'll be hooked. Like most shows, you can't really just go by the first episode.

…

Expand

I found the show starts off pretty weak. The characters are incredibly cliche' and the fighting is your standard cheesy, yet flashy action

I found the show starts off pretty weak. The characters are incredibly cliche' and the fighting is your standard cheesy, yet flashy action sequences. That being said, the show did start to grow on me as I watched on further. There is a lot of character development and dialogue, which I find to be where the show's strengths are at. Once I developed an attachment and understanding of the characters I found the show a lot more entertaining. It always has it's cheese moments that have me thinking 'wow...really?', but for me it's worth it for the characters.

…

Expand

After watching the first season I have come to the conclusion that this is only a good sci-fi show if you've never seen a good sci-fi show

After watching the first season I have come to the conclusion that this is only a good sci-fi show if you've never seen a good sci-fi show before. The show seems to want to be Firefly but without the charismatic characters or witty writing. There are some blatant ripoffs. Watching Anthony Lemke is like watching a terrible impression of Adam Baldwin. Jodelle Ferland also seems to channeling her inner Summer Glau. The majority of the acting is as bland as cardboard and equally banal. When Will Wheaton puts in the best performance of the first season you know it's pretty bad. Nearly the entire cast is miscast. Melissa O'Neil is horribly miscast as the ship's "leader." I can't stop laughing at her fight scenes because she can't even manage a believable kick above her waist. Note to those casting a show: Make sure an actress is athletic enough to carry out a fight scene before casting her in an action role. She is also easily the most annoying character in the show largely due to the material given to her. Every episode I find myself hoping that the show will kill her off only to be disappointed. Zoie Palmer would have been a much better choice for that role. Her talent is wasted as the android (although her performance is one of the few positives ... even though it's unoriginal). Roger R. Cross is the only other actor to put in a worthwhile performance. The show would have been better off casting him in the lead. As far as the stories go, nearly every episode is predictable since most of the material is ripped off of superior intellectual property.

…

Expand