Network:

Freeform

Series Premiere Date:

Jun 28, 2016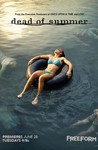 Summary:

The drama series from Adam Horowitz, Edward Kitsis, and Ian Goldberg is set in the 1980s at Camp Stillwater, a midwestern summer camp where danger also looms.

Genre(s):

Drama

,

Fantasy

,

Horror

,

Suspense
Season 1 premiere date:

Jun 28, 2016
It's that fuck-it sense of kitchen sink 80's nostalgia that endears me to Dead of Summer, despite its failings. It's overkill, but at least it's trying to be more than the next show down the thriller list on your DVR whose season pass you delete after 2 weeks.

Dead of Summer starts out feeling like an homage to '80s slasher films with a dash of "Beverly Hills 90210" here and a sprinkling of "Heathers" there. And that could be a lot of fun, but it's a hard tone to authentically sustain, and soon enough the pilot episode becomes more like a library book in the young-adults section that never gets checked out anymore.

While this new series makes some dubious choices with its characters and setting (Why did it need to be set in 1989?), the premiere of Dead of Summer provided much of what I look for in a summer show--an enjoyable distraction.

This is not a show that is particularly original; every twist is a cliché, and every character is playing to type. But with so many well-worn at play, Dead of Summer makes for a schlocky hour that never quite gets boring.

This mélange of styles may be intentional, but it fails to cohere into anything amusing or frightening.

There's a different version of Dead of Summer in which having a character half-named after the Antichrist and half-named after the 20th century's most notorious occultist prophet would be part of a general wink-and-nudge approach to a slew of genre conventions. The actual version premiering on Freeform June 28 is not that fun, smart or creative, and not satisfyingly scary, mysterious or disturbing either.

After watching a mere two episodes, I felt as though I'd squandered an entire summer watching Dead of Summer, a supernatural/horror/YA drama/soap opera, which starts moldering on Freeform Tuesday night.
To me, this show has very refined actors and the creep factor is up to 8, not a full 10 allowing for viewers with a softer spine to stomach

To me, this show has very refined actors and the creep factor is up to 8, not a full 10 allowing for viewers with a softer spine to stomach it. It's a gem surrounded by the sea of coal we see in the so called Freeform tv shows such as Shadowhunters and Guilt.

…

Expand

At the first episodes, it was boring and it looks like a parody, but the characters are very interesting and the plot twist was amazing. I

At the first episodes, it was boring and it looks like a parody, but the characters are very interesting and the plot twist was amazing. I love It.I highly recommended it. The actress who plays Amy is very talented

…

Expand

This is not a bad show once you get past the confusing/boring first 20 minutes. I think that over time the show will develop but I'm not sure

This is not a bad show once you get past the confusing/boring first 20 minutes. I think that over time the show will develop but I'm not sure it will make it that long because a lot of people have posted bad reviews. It is not as bad as some people make it seem. Let the show develop and then you can say it is either good, bad, or terrible.

…

Expand

The show was slow to start but started picking up when the character development kicked in. The overall show was decent with the 9th episode

The show was slow to start but started picking up when the character development kicked in. The overall show was decent with the 9th episode (hopefully season, not series finale) Twist ending making all worth it!

…

Expand

This show had it all, a little Jason, a little Friday the 13th, and cultish. This would be a great show to come back in the spring and summer

This show had it all, a little Jason, a little Friday the 13th, and cultish. This would be a great show to come back in the spring and summer because it would be a great show to watch on the warm nights and thinking of what strange things happen at camp. Show has to return.

…

Expand

Don't listen to bad reviews this is a breath of fresh air and pays homage to the 80s summer camp horror movies in a beautiful way. After

Don't listen to bad reviews this is a breath of fresh air and pays homage to the 80s summer camp horror movies in a beautiful way. After watching two episodes in hooked and want to find what happens next. The characters aren't just stereotypes and I actually like and hate some of them. The mystery is very interesting and it's very well paced, something bad definitely happened here and it makes you think and wonder what happened or will happened. It in fact reminded me ALOT of the ps4 title until dawn it has a similar feel and look and I loved that game. It's not perfect but it's a damn good watch imo and deserves a shot if you like horror mystery slasher films or love 80s style horror and it's oh so great tropes. I love it and I'm excited to see more! I found another great series to continue!! 9/10

…

Expand

For older people, or people who've been told a lot of stories, this show is terrible. It's a mishmash of everything you've ever seen before

For older people, or people who've been told a lot of stories, this show is terrible. It's a mishmash of everything you've ever seen before blended together for no good reason to no good end with random 80s references. Characters screaming at everything doesn't make something scary, and the acting is wooden at best, even the usually very good Elizabeth Mitchell. If you're really bored, and very lonely, or you're 14, this is for you.

…

Expand