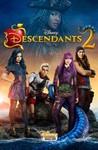 Summary:

The sequel to the 2015 TV-movie, Mal (Dove Cameron) finds life in Auradon difficult and returns to the Isle of the Lost, where she meets Ursula's daughter, Uma (China Anne McClain); Captain Hook's son, Harry (Thomas Doherty); and Gaston's son, Gil (Dylan Playfair). While Evie (Sofia

The sequel to the 2015 TV-movie, Mal (Dove Cameron) finds life in Auradon difficult and returns to the Isle of the Lost, where she meets Ursula's daughter, Uma (China Anne McClain); Captain Hook's son, Harry (Thomas Doherty); and Gaston's son, Gil (Dylan Playfair). While Evie (Sofia Carson), Carlos (Cameron Boyce) and Jay (Booboo Stewart) help Ben (Mitchell Hope), now King of Auradon, find her.

The TV-movie airs simultaneously on ABC, Disney Channel, Disney XD, Freeform, Lifetime, and Lifetime Movies.

…

Expand

Genre(s):

Drama

,

Movie/Mini-Series

,

Fantasy

,

Music
Show Type:

TV Movie

Season 1 premiere date:

Jul 21, 2017

Episode Length:

150
In any case, the noisy proceedings eventually work their way to a climactic group sword fight with a pirate theme. It's blood-free and choreographed like one of those stage shows you see at a Disney theme park: dazzling for the kiddies, endless for the adults.

Kenny Ortega once again directs the production, which is lively, tuneful and colorful, although the pace doesn't really pick up until the midpoint in the film. The production numbers are brilliant, in their way: You have to really look closely to figure out that the choreography is largely people skipping in unison, with an occasional synchronized twirl, and the use of quick cuts makes it appear as though every member of the main cast can dance as well as the professional dancers surrounding them.

The music and scale notwithstanding, this doesn't just play like any old episode of a Disney Channel live-action comedy, but a mediocre one at that.
This is quite a good children's film. (Bare in mind that I'm grading this by children's TV movie standards and it is what it is. I'm not

This is quite a good children's film. (Bare in mind that I'm grading this by children's TV movie standards and it is what it is. I'm not comparing this to Citizen Kane.) In fact, I'd say this is almost as good as the first one.

The cast is still having fun and the characters still work. The main plot about Mal trying to find herself is a bit predictable, but does the job. I actually found Evie's side story about her trying to leave the past behind to be more engaging and heartfelt.

What really makes the sequel are the antagonists who feel more complete than the villainous parents of the first film. Gaston's son plays the cliched dumb villain, but he does it so well you won't mind, this is fine family entertainment that while not perfect does make you feel about the characters.ind. Uma as the main villain is surprisingly three-dimensional. You can see that her evil is built through hurt and anger. She also has style and is not a mustache-twirler. But to be honest, it's her right-hand man Harry Hook who steals the show. He's a bit of a nut and steals each scene he's in with flair.

The sets for the Isle of the Lost and the costumes in this are a lot of fun. Very colorful. The musical numbers are one of the biggest draw of the film. With the possible exception of the final one, all the songs are good. (These are modern pop songs, mind you and if they're not your thing then they're not your thing.) The choreography is really impressive.

Compared to the original, I'd say the plot is stronger and more consistent, but the original had the stronger moments.

Ove

This is a fun film for the family that had more effort given into it than you'd suspect.

…

Expand

Make way for Uma!

The 103rd Disney Channel Original Movie. A sequel to the 2015 film of the same name. One of the most expected film, atMake way for Uma!

The 103rd Disney Channel Original Movie. A sequel to the 2015 film of the same name. One of the most expected film, at least for a television film and by the Disney fans. And the children. I am not one, but ever since I was young, I loved Disney films and never stopped, yet. Especially after the massive hit song, 'Ways to be Wicked', the countdown for July 21st had began. So here we are!

The first film was unexpected. I did not think it would work, but it did. Seeing from some fresh perspective, particularly the new generation of classic villains really brought a modern day flavour for the fantasy genre. BUT, this part was not as good as the previous one. An enjoyable film, no doubt on that, it had some decent moments. Yet what's really missing was the COMEDY. The original had lots of fun, whereas this film became more serious. Obviously it's still fall under PG. So in my opinion, the children might find it fun to watch than the grownups.

From the same director, who had helmed many films for Disney Channel. A decent graphics too, which did not required in the big scale, excluding in the climax. Visually, that part was acceptable, but I expected a bit more spectacular. An average story. It is mostly about a rescue mission, that takes place equally at Auradon and Isle of the Lost. From all, Uma's big entry marks this film. So it is more like a clash of the villains, where the heroes are sidelined with a limited scope.

As always, Mal led the entire film. Apart from her education, she's now more a Auradonian by appearance with a big makeover. Though, her relationship with Ben has been tested. And following that, the heartbroken Mal returns home. The real action-adventure began when Ben got into a trouble while pursuing his love. So the gang of the good villains and the bad ones had no choice, but to battle it out with all their strength. And with a small twist, the issue was resolved, revealing who ended where.

❝You can stick a tiara on a villain, but you're still a villain.❞

Truly it was like watching some Indian film, mainly because of the colours. Yep, it was enchanting with those colours, as it could be costumes or the backgrounds and settings, but I loved it. It makes the teen girls envious. Only if it has a better screenplay, would have been an even better flick. The performances were wonderful. The old cast was good as always. And the new ones had granted the film to get more powerful. Especially I'm talking about Uma, the daughter of Ursala, a sea witch from 'The Little Mermaid'.

The film opened with the YouTube hit song that I mentioned earlier. There are like ten songs and all were good that nearly covered the one-third of the film. Setting in different mood and place and with the characters, really it was well done on the musical side of the film. Crucially, none of them were annoying, because of placed in the right segment of the storyline. Usually I'm not the fan of modern musicals, but this was good, especially having short and sweet tracks.

This is not simply a fantasy film that of the two decades ago. It borrowed the present world technology, like the 3D printing concept. That thing had some important role in the story segment. But when the dog could speak, it was like going back to the classic like in the animation. By the way I felt like there's some connection between Dude the dog and 'Dog with a Blog'. So there were some brief ups and downs, but the entire film rode on just over the average.

It was telecasted simultaneously in all the sub-Disney networks, as well as worldwide in other kid's networks. So it is now the second most watched DCOM of all time. This ending was not perfect, yet opened the gate for possible widening its cast even bigger if there will be a third. As to how it was received, I don't see the Disney thinking to put a brake to the potential franchise. In my opinion, it might become the longest film series for Disney Channel, which could drag for coming decades. So, dear Disney, lets us know when's the next one's due. Meantime, you keep updated with the first two if you haven't seen them yet. Who knows, it might surprise you, but surely for your kids.

6/10

…

Expand

When I do a review I usually point out the ups and downs of the movie or tv show in question so here we go:
Ups)
+ Evie and Dude steal theWhen I do a review I usually point out the ups and downs of the movie or tv show in question so here we go:
Ups)
+ Evie and Dude steal the show
+ The other returning characters are great (Mal, Carlos, Jay, Ben, Jane and Lonnie)
+ The new characters are also great (Uma, Gil, Harry and Dizzy)
+ It teaches kids some valuable lessons
+ It leaves the door open for more
+ Action is great
+ Visual effects have improved (but could be way better)
+ Nice costumes

Downs:
- The music is god awful and there's too much auto-tune
- It doesn't top the first one's plot
- It was cringy and skipable at times
- Chad is just plain awful and unnecessary
- What's the point of having magic in it, if they don't use it. I bet Mal could have used a spell to teleport herself to Ben or to teleport Ben to her or to find out where Ben was or to to defeat Uma. Instead they go with a stupid plan to replicate Fairy Godmother's wand.
- Too childish
- Same problem I had with the first: The Modern Day setting. It doesn't feel right.

Overall: It was fun, most characters were great, the idea could have been executed way better, it doesn't top the first one. I think this idea could have been better executed as a TV Show not as movie.
Rating: 6/10

…

Expand

"Descendants 2 comes with better songs, choreographies and outfits however the sense of humor, many dialogues and the poor induction of new

"Descendants 2 comes with better songs, choreographies and outfits however the sense of humor, many dialogues and the poor induction of new characters were sins" - (PD: It has some spoiler alerts)

Remember the first installment? When evil and good people were trying to live together and the four-teenagers gang experienced many facts that were enjoyable? Well, unfortunately this one is about going back to your old routines, a damn party in a boat and an untold Mal's old-enemy. This movie starts so powerful with the great song: "Ways To Be Wicked" but immediately that sensation is gone because Mal has to face reality (SORRY FOR THAT SPOILER ALERT :c ). As the time goes by, you'll see too childish moments (take the dog, for example), so many doubts (like: why most of the people were pirates?) and nonsenses ( instead of killing each other they sing a **** song)

But not everything was bad, because as I told you the songs were catchy (even I downloaded two of them) and the choreographies (specially the first and final one), it also shows some teenage-relationships like love and it can result that kind of touching moments you were waiting for. It should be mention that the outfits were terrific (my acclaim to Mal's and Evie's ones)

So, this movie is a good movie and I could say that is as well as the predecessor JUST IF IS SEEN BY CHILDREN, but if you're all grown-up and liked the first one, this comes with less surprises than expected (58%)

…

Expand