Network:

Hulu

Series Premiere Date:

Aug 5, 2015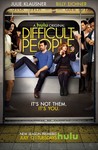 Starring:

Billy Eichner

,

Julie Klausner

Summary:

Originally developed for the USA Network, TV blogger Julie (Julie Klausner) and her best friend Billy (Billy Eichner), who works as a waiter, try out stand-up routines at night in New York City in this comedy from Amy Poehler and Dave Becky.

Genre(s):

Comedy
Creator:

Julie Klausner

Season 1 premiere date:

Aug 5, 2015

Episode Length:

25
The writing is hilariously great, as are the performances. But, mostly, it all works because Billy and Julie are so clueless. If they felt an ounce of shame or regret, the comedy wouldn't work.

The plotting is light, with the first three episodes largely structured around Julie and Billy's misadventures, which always puts extra pressure on the cast and dialogue to perform. But fortunately, this pays off.

They're awful, but they're the butt of the jokes, ruining the audition or bombing at comedy night. They may be difficult, but they're also inherently likable.

Granted, unrelenting cattiness might not wear all that well, but three episodes were previewed, and the quality was consistent. So while the title accurately describes the way Billy and Julie cattily interact with the world, watching Difficult People, happily, was no chore at all.

A well-chosen supporting cast rounds things out.... And yes, they are self-absorbed, hypercritical people who you would and should hate. But the reason the show works is that, very subtly, it's mocking them. Julie and Billy are all about self-loathing, and they invite you to loathe right along with them.

[Billy Eichner and Julie Klausner's] collision in this sitcom they've created for themselves is a black mushroom cloud that some viewers are going to find too strong to take.... Klausner and Eichner are such intelligent performers in every medium they've chosen, you have to root for the success of Difficult People. And I say that while still not entirely convinced that this is the best vehicle for those talents.

The series is thoroughly derivative and utterly parasitic on the most ephemeral, shallow aspects of the culture.
This is a terrific show about extremely self-absorbed, morally flawed people. It's very funny but it is about show biz and if you're not

This is a terrific show about extremely self-absorbed, morally flawed people. It's very funny but it is about show biz and if you're not interested in that then you possibly will not enjoy it. I don't advocate emulating these folks but it's fun to watch. Similar shows: "Extras" (Ricky Gervais) and "BoJack Horseman".

…

Expand

This is definitely one of the funniest shows on television. The writing is so strong and biting, you wish you never want to be on the bad side

This is definitely one of the funniest shows on television. The writing is so strong and biting, you wish you never want to be on the bad side of either of these people.
The one thing that concerns me is that it may be too New York and ethnic (er, Jewish) for the masses.
As a native New Yorker,I get homesick.
Right now I'm binging the first two season and hope to get to the current third season in a week.

A MUST WATCH!!!

…

Expand

It's not for everyone, but the characters are likeable despite being horrible because of their immense chemistry. I'd watch them heckle

It's not for everyone, but the characters are likeable despite being horrible because of their immense chemistry. I'd watch them heckle whomever any day.

…

Expand

If you are Jewish or gay or preferably both then you might find this show funny. I'm not and I didn't. Its Jackass for hipsters. Jerry

If you are Jewish or gay or preferably both then you might find this show funny. I'm not and I didn't. Its Jackass for hipsters. Jerry Seinfeld and Larry David are comedians. These two are just Twitter trolls.

…

Expand

The characters are just dull. I get it - they're banal, self-absorbed people - but if they were actually as funny as the world of the show

The characters are just dull. I get it - they're banal, self-absorbed people - but if they were actually as funny as the world of the show keeps insisting they are, maybe they'd be worth watching. I'm just not invested in two unfunny New Yorkers. I loved Billy on Parks and Rec, but haven't laughed once at him on this show. I'd never heard of Julie before Difficult People, and I can't say I'd follow her career after this series. Hulu series have been hit or miss for me. And this one was a real miss.

…

Expand

Difficult People is a show that has an interesting mix of characters and themes that had me excited for the possibility of a unique kind of

Difficult People is a show that has an interesting mix of characters and themes that had me excited for the possibility of a unique kind of comedy. For many reasons though, it flopped right on it's face and ended up being one of the most unlikable, cringe filled comedies of all time. It's characters are absolutely awful, both main and supporting alike, with some of that attributing to the fact that they were supposed to be "difficult people", instead of them coming off as unlikable and endearing, they are just terrible and annoying. Nothing is funny in the show, and with how extreme the jokes can be sometimes they need to at least be funny, or else they really come off as being bitter and hateful. Avoid this show at all costs, it's trash in the middle of a pile of garbage and has no redeeming qualities what-so-ever.

…

Expand

Aims right for the middle: Set in New York, tons of pandering to gays, very condescending and unlikable. Very uninteresting, not many (any)

Aims right for the middle: Set in New York, tons of pandering to gays, very condescending and unlikable. Very uninteresting, not many (any) laughs and in this golden age of great television, I can't see anyone wasting their time on this.

…

Expand