Network:

BBC America

Series Premiere Date:

Oct 22, 2016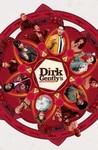 Starring:

Michael Eklund

,

Dustin Milligan

,

Samuel Barnett

Summary:

The adaptation of Douglas Adams series (which also was made as a 2012 BBC comedy) follows holistic detective Dirk (Samuel Barnett) and his assistant Todd (Elijah Wood) as they investigate cases.

Genre(s):

Comedy

,

Suspense

,

Science Fiction
Creator:

Max Landis

Season 1 premiere date:

Oct 22, 2016

Episode Length:

60
Please enter your birth date to watch this video:
You are not allowed to view this material at this time.
Dirk Gently's Holistic Detective Agency
It's equal parts outlandish, incoherent, funny, cartoonishly violent and confusing--all in a good way. It's one of those series in which you just have to kick back and enjoy the ride.

The tone bounces cannily from humor to pathos to suspense. The one knock against "Gently"? So much is going on here, the plot is so dense, this is a show that might be better off binged in a marathon. Just one more thing to look forward to, then.

Dirk Gently's Holistic Detective Agency" may start in an oddly untethered state, but it is marvelously strange and entertaining enough to warrant sticking around as its heroes and writers connect the dots.

Those who have devoured the swervy, same-named Douglas Adams books could very well find themselves immensely entertained. Those who haven't--guilty as charged--at least can admire the energy, cheekiness and slick production values without caring all that much how everything comes out.

What the show brings though is off-kilter energy, which is at times exhausting, but occasionally entertaining.

The series' attempts at cleverness come off as a screechy homage to Adams rather than channeling his wit and the big, silly heart hidden inside. [21/28 Oct 2016, p.95]

All in all, it's difficult to tell what the goals of this version of Dirk Gently are, given how manic, disorganized and incoherent it is.
What f$#@wit cancelled this show, it was the best American program out there!

With Westworld its the best show of 2016. What a performance from the actors!!! I was doubtful to see it cause the low metacritc scores

With Westworld its the best show of 2016. What a performance from the actors!!! I was doubtful to see it cause the low metacritc scores fortunately I believed the user scores!! What a show, so good so entertaining, i hope for a second season!

…

Expand

I love this show! Bizarre, funny, and plenty of head-scratching moments, much like the books. I really felt like I was on some sort of twisted

I love this show! Bizarre, funny, and plenty of head-scratching moments, much like the books. I really felt like I was on some sort of twisted journey with our characters and can't wait to see where it leads.

…

Expand

This is a completely weird series, not for everybody, and a must for some others.
I haven't read the books it is based on, but i wouldThis is a completely weird series, not for everybody, and a must for some others.
I haven't read the books it is based on, but i would absolutely loved to get them just to know how was the author's original idea on the characters, elijah wood has done something like this (i think it was named wilfred), a complete bizarre series-thing that you love or hate... I'm in the love section by the way

…

Expand

Dirk Gently started off as one of the most frustrating shows I had ever seen. Dirk himself as a character that selects specific information to

Dirk Gently started off as one of the most frustrating shows I had ever seen. Dirk himself as a character that selects specific information to give when it is obvious he knows more; however as the series progresses, the chemistry between the characters and the performances, especially by veteran Elijah Wood, really make the show worth watching.

…

Expand

Quite a nice surprise. Dirk Gently is a very original TV series. I find it funny with drama. The first episodes hides a lot of information

Quite a nice surprise. Dirk Gently is a very original TV series. I find it funny with drama. The first episodes hides a lot of information that you get later, and it's a nice sens of finding the truth and discovery. The acting from the two main characters (Elijah is very good) and the main villain is quite amazing, but the secondary actors are a work in progress. The best is to watch them in a succession of 2-3 episodes because it's eclectic you can be discourage to watch just one episode at a time. I recommend this series very gently at a rating of 85%.

…

Expand

Horrible show compared to the brilliant BBC 3 version we had a while back. Awful

The cast aren't as likeable, the writing is sloppy and youHorrible show compared to the brilliant BBC 3 version we had a while back. Awful

The cast aren't as likeable, the writing is sloppy and you can tell it has Max Landis written all over this.

…

Expand