Network:

Netflix

Series Premiere Date:

Aug 25, 2017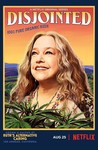 Summary:

The comedy series from Chuck Lorre and David Javerbaum focuses on an Los Angeles cannabis dispensary owned by Ruth (Kathy Bates) with the help of three "bud"-tenders (Elizabeth Alderfer, Dougie Baldwin, and Elizabeth Ho), her ambitious twenty-something son Travis (Aaron Moten), and a

The comedy series from Chuck Lorre and David Javerbaum focuses on an Los Angeles cannabis dispensary owned by Ruth (Kathy Bates) with the help of three "bud"-tenders (Elizabeth Alderfer, Dougie Baldwin, and Elizabeth Ho), her ambitious twenty-something son Travis (Aaron Moten), and a security guard (Tone Bell).

…

Expand

Genre(s):

Comedy
Season 1 premiere date:

Aug 25, 2017

Episode Length:

30
The show is broad, for sure, but it has some distinctions. It's best strength is the warm ensemble, led by Bates. ... The issues underneath the humor--the threat of corporate takeover, the medicinal applications of pot, the cultural shift from defiance to compliance--pull the show in interesting directions.

Though many of the show's jokes center around pot humor (one episode ends with a character sitting in her parked car, convinced she's driving down the highway), there's also some depth.

Based on the limited evidence provided by Netflix, Disjointed is also discombobulated and too often dim-witted. There's some cleverness amid its clutter. But Bates was better served as the bearded lady in American Horror Story: Freak Show.

Bates convinces as a hippie trying to resist transforming into a curmudgeon, and her performance would truly soar in a show that endeavored to contrast Ruth's charisma with a sincere exploration of her flaws. But Disjointed refrains from such inquiry, feigning intelligence through vulgarity and unfocused irony.

While "The Big Bang Theory" producer Chuck Lorre clearly felt liberated plying his trade for Netflix, the resulting stoner comedy, Disjointed, runs on fumes.

A second-rate multi-camera laugh-in filmed before a live studio audience.

Across the board, Disjointed is marred by very broad, yell-y acting, with the cast straining to sell woeful jokes that range from tired pothead stereotypes (boy, are they forgetful!) to vulgar double-entendres.
I've seen tons of sitcoms and I can say that I liked this one. I see it as a pot commercial, which can be both a good and a bad thing.

I've seen tons of sitcoms and I can say that I liked this one. I see it as a pot commercial, which can be both a good and a bad thing. Everything depends on your perspective.

…

Expand

Is this what a Netflix original sitcom looks like? I'm having hard time believing this is all of it. The show has huge potential and I'm

Is this what a Netflix original sitcom looks like? I'm having hard time believing this is all of it. The show has huge potential and I'm hoping it has a chance.

…

Expand

The negative reviews of this show are pretty harsh. Are some of the jokes a little forced and have obvious setups? Sure. But it's a

The negative reviews of this show are pretty harsh. Are some of the jokes a little forced and have obvious setups? Sure. But it's a fantastically funny program if you relax and just let it be its original setting self. This is clearly dedicated to a certain crowd..which I happen to be a part of. The cutaways and commercials are magnificent if you had earlier consumed a medicinal cookie! Also, Netflix is the perfect medium for this show-it's about time there's a program taking place in a dispensary. Kathy Bates is a great choice in the lead as a veteran political activist. Betsy Sodaro is brilliant as well! I don't, however, like the live audience: in my opinion it should never be used. In conclusion, I'm just a random, non-important guy in the Midwest and I loved it. I hope there's many more episodes to come!

…

Expand

Why not release all twenty episodes and only ten? I'm hooked on the show and love the characters. I'm going to need Netflix to release those

Why not release all twenty episodes and only ten? I'm hooked on the show and love the characters. I'm going to need Netflix to release those remaining episodes soon.

…

Expand

I'm leaving this review to start a movement for the show. Please google as i did reviews for the show and see just how much people are hating

I'm leaving this review to start a movement for the show. Please google as i did reviews for the show and see just how much people are hating on it. I really dont know why, as a film major, medicinal and recreational weed advocate, family member of PTSD patient and huge fan of the show i am appalled at some of the opinionated and Clearly government funded reviews on the show to try and prevent a second season. Check Voges terrible article on it. None of these "professional" websites offering reviews mention how it sheds light on so many current issues of our time not just surrounding the pot industry. Carters story is heartwarming and just the tip of the ice berg when it comes to this show, other cultural issues and social injustice issues are tackled either subliminally or directly and in a comedy sitcom style. I think this show is a powerful tool for anyone involved in this industry, as a patient or a dispensary owner or whatever, this show was just absolutely amazing and enjoyable and was able to even convince my very old fashioned parents to want to try to smoke weed. please anyone reading this continue to spread the gospil of the show. This is a show i think everyone should watch for some clear knowledge on the world and how medical marijuanna can really help people in need. it is just all around a fantastic show, weather you agree with how it was filmed or not or some of the jokes look at the bigger picture.

…

Expand

Kathy Bates does a pretty well job portraying an activist. She is able to bring nuances to her character, but it feels like she's miscasted

Kathy Bates does a pretty well job portraying an activist. She is able to bring nuances to her character, but it feels like she's miscasted here and her talent falls short.

…

Expand

Anyone watching this show for more than 2 minutes needs to see someone that can help them.
I needed to go outside and make sure I was OKAnyone watching this show for more than 2 minutes needs to see someone that can help them.
I needed to go outside and make sure I was OK after being attacked with stupidity for two minutes.
Hard to describe how absolutely awful this is.
Worse show I have ever seen in 65 years.

…

Expand