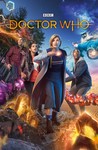 Starring:

David Morrissey

,

Kylie Minogue

,

Jenna-Louise Coleman

Summary:

Christopher Eccleston becomes the ninth actor to take on the role of the time-travelling title character in the BBC's latest incarnation (the first in 16 years) of its venerable sci-fi franchise, airing in the U.S. for the first time after becoming an unexpected hit in Britain last year.

Genre(s):

Drama

,

Action & Adventure

,

Science Fiction
If you're looking for allegorical, intriguing science fiction, this isn't it. If you're OK with rapid-fire, light-hearted dialogue with an occasional dig at politics and culture, this "Doctor Who" is your cup of tea.

Like so much British science fiction, especially Douglas Adams's "Hitchhiker's Guide to the Galaxy" series, this "Doctor Who" has a goofy, homemade quality; it's less interested in gizmos than in characters.

Despite a few missteps, there's much to recommend.

This remake achieves an Avengers-like balance of cheeky wit amid the cheesiness.

Silly, sophomoric stuff that is sure to please its television audience.

It's pretty decent hokum--fast, corny, genial, honest in its schlock.
As an American, British TV was irrelevant to me. That was until I stumbled on this masterpiece. About one year ago I discovered the TV show

As an American, British TV was irrelevant to me. That was until I stumbled on this masterpiece. About one year ago I discovered the TV show and soon watched every episode, eventually reaching Season 6, which I loved. If you are a fan of Sci-fi or just very intellectual story-telling, check this show out.

…

Expand

Great reboot of the original TV show. I really enjoyed it! I am an American Whovian who enjoys this so much I could dedicate a monument of a

Great reboot of the original TV show. I really enjoyed it! I am an American Whovian who enjoys this so much I could dedicate a monument of a TARDIS or a Dalek. Great show to watch for anyone. 10/10.

…

Expand

Doctor Who continues to get better with every doctor, season and episode. New Who is even better (in my opinion) then the original, and

Doctor Who continues to get better with every doctor, season and episode. New Who is even better (in my opinion) then the original, and Moffat is amazing as always.

…

Expand

I remember watching Doctor Who since i was 8, been hooked ever since, then moved to Canada where i forgot about it.. then came along Netflix

I remember watching Doctor Who since i was 8, been hooked ever since, then moved to Canada where i forgot about it.. then came along Netflix where i caught up with all the doctor who i missed in the past 5 years in about a week... Love the show and actors and can't wait for the new episodes of doctor who to come out

…

Expand

Doctor Who's main problem is its inconsistency. Some episodes are great, some disappointing and the rest in between. However, Christopher

Doctor Who's main problem is its inconsistency. Some episodes are great, some disappointing and the rest in between. However, Christopher Eccleston and Billie Piper are excellent in their respective roles and help make this season a very memorable one.

…

Expand

Dr Who was the greatest show ever, so I was disappointed that the formula had been tampered with to make it more of a soap opera. Who cares

Dr Who was the greatest show ever, so I was disappointed that the formula had been tampered with to make it more of a soap opera. Who cares about Rose's mother or boyfriend? Just when things looked to be getting on track in the last two episodes, it got totally out of control, with a climax like a Steven Speilberg nightmare. And Eccleston's Doctor looked and dressed like an undercover cop, rather than an eccentric time traveller.

…

Expand

oh boi where to begin:

I was never really interessted in Dr.Who in the beginning when i stumbled across the series in Cosplay events and inoh boi where to begin:

I was never really interessted in Dr.Who in the beginning when i stumbled across the series in Cosplay events and in some geek quotes. Then i got a bit more curious and started watching the episodes with Ecclestone as the doctor and was "mildly" intrigued.. when Tennant and smith took over i was full ablaze, binge watched full series and was full speed ahead whovian.. boguht the dvd edition and could not stop watching..

this idea of an Millenia old God like being that is wise , old and gentle while also capable of being cruel or emotional and solving issues of magnitude greater than himself with self sacrifice and the sacrifice of others was great.. it was awesome to watch and see his controvers character grow, see rivals rising to great power, and to start to see the stains on the former white vest of the almost almighty being "the doctor"..

in the end it was an almost superhuman person, old and wise with a superb and very nuanced humor and absolutely fearless, unless things really hit the fan. He is kind, unbiased in the most times and encounters new lifeforms always with open arms and a cheerfull attitude.. the sidekicks are worthwhile additions and have meaningfull story arches and deliver meaninfull additions to the narrative. Plus: the story has a big overarching background and you never have the impression that you "have seen it all" there was always a "wait a sec"..

Nowtime:

I was the first to propose a new , female doctor who to my friends.. i was advocating this since the 11th doctor and Amy .. i was proposing Tilda Swinton as the Doctor and Benedict Cumberbatch as the sidekick.. But i do understand that this would have put a big dent in the economy of most european states since probaly everyone would have been online and in front of the TV sets to see that Episode on air.. Tilda Swinton, because in order to be subtle funny without cracking jokes you need to be taken seriously in the first place. and she would have been a perfect Dr.Who.

what we got instead was Jodie.. a slapstick producing, magic wand wielding, comic relief of the serious background Dr. Who was playing in .. and she has another very bad habbit that doesnt suit Dr.Who well: she is a coward. almost every episode she is afraid of something.. -.-

in episode 9 when they land in Norway she is afraid to go to where the noise comes from.. i can't imagine a Tennand or Smith NOT sayin "oh beautifull there is finally someone we can probably ask" and wanders into the forrest.

i do NOT blame Whitaker for the scripts, but i do blame her for her poor acting skills when it comes to depcit a millenia "have seen it all" being from outer space and time. and she asdmitted it in an interview herself. The "doctor" she is playing is "Doc Brown" from "back to the future" who is according to whitaker "her favourite doctor"

the script writers obviously did not take their time to get to basics of the series: you cant alter history since it has already happened.. the 10th doctor even goes as far as explaining it to rose that this is not as easy as it seems because the past has already happened..
and this base cornerstone of Dr. Who, which made it the series we all loved and like is been cast out of the window and just made it anotehr episode of "back to the future in our magic schoolbus" "Education time!" instead of "Adventure time!"

Next Issue: what is this new trend that individuals cant be powerfull and successfull anymore.. the show lived from "the Doctor" (the clue is in the Title" and not "the Tardis Crew" or even more horrible: "Team Tardis" -.-

If you have an Episode of the Doctor, you will have an X amount of time to tell a story.. if you have ONE sidekick you must divide the screentime between those two. If you now introduce 3 sidekicks and their relatives you have to split screen time even further .. in the latest episode "Resolution" there are about 15 minutes (that 1/4 of the entire episode) people chatting to Ryans Father Aaron in an absolute unwarranted and boring way. This is not broadchurch ..

this is followed by a cringeworthy "action scene"..where team tardis attacks the dalek with a somehow popping up microwave oven that Ryans Father seems to carry around a lot. (for no given reasons.. )

Fazit: as a torchwood spinoff, okay
..as a "new who, the girl from space " okay.. i dont mind nor care..
but as an alledged episode of "Doctor Who", this is a complete miss. (like the whole series 11 so far -.- )

i am just waiting for a reasonable return to telling space, time and scifi stories. i dont need another feed for what i going on in the world around me. i am already covered for this.. i want distant shores not around the corner..

…

Expand