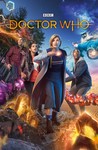 Season 8 premiere date:

Aug 23, 2014

Episode Length:

45
The episode is about making Clara, and the audience, feel at home with the new Doctor. She does, and we do.

There is a welcome weighty quality to this week's adventure tale, but its sense of substance comes from embracing the rich potential of the character's depth, not from overstuffing the hour with an excess of "clever" meta-commentary.

What Capaldi lacks in youthful energy, he more than makes up for in gravitas and wry eccentricity.... Everyone involved can take particular pride in the centerpiece restaurant tiff between Clara and the Doctor, which cements their new relationship and showcases the instant chemistry between Coleman and Capaldi.

For a program known for its harum-scarum pace and keep-up-or-shut-up iconography, the Season 8 Saturday premiere of BBC America's Doctor Who opens slowly--even with the T. rex--and radiates a newly modern self-consciousness, albeit dressed in Victorian garb.

Coleman's rich performance matches Capaldi's as Clara struggles with the regeneration of her Doctor.... The Doctor may be different, but he's as entertaining as ever.

Capaldi's Doctor is not just older but looks to be drier in his humor, more reticent, more coldblooded and dangerous. From a critic's point of view, that's interesting and potentially an improvement.... In other ways, the season premiere is a bit of a space holder, a middling story that's concerned mainly with introducing Mr. Capaldi and establishing the relationship between the new Doctor and his sidekick, Clara.

The story serves as little more than set pieces to the real conflict here, which is Clara's relationship with The Doctor.
Its always tough to get used to a new doctor, but Peter Capaldi does a good job of showing us how he is ready to take on the role. This season

Its always tough to get used to a new doctor, but Peter Capaldi does a good job of showing us how he is ready to take on the role. This season of Doctor Who continues to give the audience great science fiction action and just the right amount of weirdness that we are used to seeing in Doctor who.

…

Expand

While not as fun as other series, Into the Dalek, Listen, Kill the Moon, Mummy on the Orient Express, Flatline and Dark Water were fantastic.

While not as fun as other series, Into the Dalek, Listen, Kill the Moon, Mummy on the Orient Express, Flatline and Dark Water were fantastic. It's a step up from series 7, but it feels weighed down.

…

Expand

I'm liking Peter Capaldi and find him a nice fit for the roll. I love the 10th and 11th doctors for their own reasons and I'm certain I'll

I'm liking Peter Capaldi and find him a nice fit for the roll. I love the 10th and 11th doctors for their own reasons and I'm certain I'll come to love 12 just as much in time. As for the episodes so far and the tone of series 8 I'm enjoying the darker feel and find it a good change of pace.

…

Expand

This is certainly the weakest season of NoWho. The writers seemed to be unsure what they were trying to do with Capaldi, they were still

This is certainly the weakest season of NoWho. The writers seemed to be unsure what they were trying to do with Capaldi, they were still figuring out what kind of Doctor he is. The season felt very aimless, like we were heading no where. Missy was a great villain but with a lame story and a lamer solution. The entire love story of Pink and Clara was utter trash. I wasn not convinced either character could be loved, least of all by viewers.
Many episodes felt bland with no interesting solutions or characters. Just a very average season.

…

Expand

After watching this series for the past 9 years, I no longer have an interest in this show as it's literally the same thing season after

After watching this series for the past 9 years, I no longer have an interest in this show as it's literally the same thing season after season. The only interesting episodes are the last few episodes when there's a minor plot twist, or something actually happens to the Doctor. As he is literally invincible pretty much throughout every episode except the last few at the end of a season.

Whilst I do like Capaldri as the new Doctor, and Clara as the assistant, it's just really obvious as to how the episodes will pan out now. The Doctor and his assistant go to a dangerous place, they will either end up separated or end up close to being killed, but they will always end up back at the Tardis in some way for the next episode.

It's just really boring now, and I think it's about time they pull the plug as there's really no where else they can go with the show. It will literally be the same thing over and over, much like other shows on the BBC such as Eastenders, because people keep watching it, and will have no end in sight, and will keep on repeating itself endlessly until it ends again (much like it did before)

Rarely do any of the episodes relate or go back to one another, so they're pretty much non-existent adventures most of the time too.

There's only so much you can do with a TV series, before it turns stale, and uninteresting. Which is why you have shows like Breaking Bad that still to this day keep getting awards because it wasn't dragged on for financial gain and/or hype and was ended when it should have ended.

I wish Doctor Who would just make a final series that would actually have more meaning and excitement, and to actually see something really different and interesting happen, and end itself and to end itself on a high note rather than just see it dragged on for years to come, doing the same thing over and over again.

Oh, and this series ending was majorly disappointing. I expected the reveal of the mysterious character to actually be interesting. But it wasn't at all, because it has been done before.

…

Expand

Following a 50 year tradition, Doctor Who has had its ups and downs. This season was particularly unfruitful, taking away characteristics of

Following a 50 year tradition, Doctor Who has had its ups and downs. This season was particularly unfruitful, taking away characteristics of the Doctor that made the show so entertaining. Though that is not all to be blamed as the scripts and episodes also fell short of grand expectations held by long time fans. As Season 9 approaches we hope for a better start to the new Doctor.

…

Expand

Season 8 was SO bad! The show is zero fun now & the writing is embarrassingly bad. Clara is the worst companion, she is SO flat & boring &

Season 8 was SO bad! The show is zero fun now & the writing is embarrassingly bad. Clara is the worst companion, she is SO flat & boring & has brought the show to a all time low.
Capaldi is a great actor but his doctor is written so poorly it is hard to like him. So far he is the worst in the modern era by far. If S9 is more of the same I'm done with Doctor Who!

…

Expand