Network:

CBS

Series Premiere Date:

Jul 1, 2017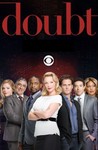 Summary:

Defense attorney Sadie Ellis (Katherine Heigl) becomes involved with a client (Steven Pasquale), who may have murdered a 15-year-old many years ago.

Genre(s):

Drama
Season 1 premiere date:

Feb 15, 2017

Episode Length:

60
Please enter your birth date to watch this video:
You are not allowed to view this material at this time.
The scripts exude a distinct touch of ambition. Their content isn't limited to cases grabbed from today's headlines--some of them reflect a certain consciousness of history.

The cases are what propel the drama, but it's the high-profile cast that will keep viewers coming back.

At first glance, it seems like just another glossy, TV exploration of law and order, with Heigl in the role of fireball attorney crusading for justice while click-clacking through courtrooms in high heels. In a lot of ways, that's exactly what Doubt is. But it also happens to be a solid showcase for Heigl and her fellow actors, including Laverne Cox.

So far it's strictly so-so on the storytelling front, but with some scenes that raise the bar beyond that. Those mostly involve Light, though. And she's not the one who's supposed to carry the load.

Sadie and Billy predictably debrief each other, supposedly complicating the ongoing case, but we're more caught up in the weekly cases, especially when Cam Wirth is handling them. Cox sashays away with the show, which ends up being a feeble and not especially imaginative "The Good Wife" wannabe.

Comfort food appeal to some viewers who could certainly do worse than this series that tends to be more lighthearted (listen for the bouncy music soundtrack), with enjoyably quirky supporting characters. It's just unfortunate the show's primary story is often overwrought and obvious.

The series seems to have been assembled by a particularly indifferent Victor Frankenstein, the parts crammed together without much regard for whether the stitching is visible or whether the finished product works.
The pilot was amazing and I think that this show might be a hit, good characters and an interesting storyline. Katherine Heigl is such a star,

The pilot was amazing and I think that this show might be a hit, good characters and an interesting storyline. Katherine Heigl is such a star, she was born for drama shows and I've missed her on TV.

…

Expand

Eu só vi a série por causa da Katherine Heigl (atriz marcante na série "Grey's Anatomy"). O piloto da série foi incrível e, realmente, eu

Eu só vi a série por causa da Katherine Heigl (atriz marcante na série "Grey's Anatomy"). O piloto da série foi incrível e, realmente, eu achava que a série seria um sucesso na TV norte-americana, mas isso não aconteceu. A série apresenta-nos bons personagens e um enredo interessante.

…

Expand

Doubt is a mixed bag. On the bright side, some characters are interesting, banter amusing, and cases serviceable if overwrought. However,

Doubt is a mixed bag. On the bright side, some characters are interesting, banter amusing, and cases serviceable if overwrought. However, other characters are legal drama caricatures, the background music is intrusive, and there are plenty of soap opera tendencies that feel out of place.

…

Expand

"Doubt" is just another by-the-numbers big city, high profile defense lawyer show. Big firm seeking clients. Lead female character with

"Doubt" is just another by-the-numbers big city, high profile defense lawyer show. Big firm seeking clients. Lead female character with baggage and ethical conflicts (Sadie) but loved by her boss (Isaiah), the by-the-book steely-faced lawyer (Albert), the grizzled courtroom veteran with her own underlying issues which drive her (Cameron), and the bright eyed but naive junior attorney (Tiffany). "Doubt" treads no new ground in this regard as we've seen this before in a prior CBS show called "The Good Wife". This would be fine if the characters in "Doubt" were strong enough to carry the show but they simply aren't. They're predictable at best, boring at worst. Couple this with the weak courtroom drama elements and it's a show destined for early cancellation or a single season at best.

…

Expand

On the basis of Episode 1 I've tried to be fair and gone 5.

The simple reason is that Doubt may well be an OK show, the storylines seemOn the basis of Episode 1 I've tried to be fair and gone 5.

The simple reason is that Doubt may well be an OK show, the storylines seem interesting enough, but I can't tell because of the overwhelming incidental music. It is relentless. I'm 59, I can tell 'quirky' or 'dramatic' without intrusive background music shouting at me.

Strong feeling this can only get worse and has no future.

…

Expand

not very compelling, can't grab attention. Wish it was more engaging and less bull. Was hoping for more interesting characters and interesting

not very compelling, can't grab attention. Wish it was more engaging and less bull. Was hoping for more interesting characters and interesting plot points was disappointed.

…

Expand

I DOUBT this show will last. The acting is strained. Only redeeming quality is Dulé Hill. I could only watch about 10 minutes of the show then

I DOUBT this show will last. The acting is strained. Only redeeming quality is Dulé Hill. I could only watch about 10 minutes of the show then switched channels to something that was entertaining. I was actually cringing at the acting and dialogue because it was so bad. It was painful to watch. I won't be tuning in next week.

…

Expand