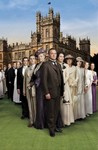 Summary:

Downton in 1924 is full of secrets, a fire, and new visitors including Simon Bricker (Richard E. Grant), Lady Anstruther (Anna Chancellor), and Prince Kuragin (Rade Sherbedgia).

Genre(s):

Drama
Season 5 premiere date:

Sep 21, 2014

Episode Length:

60
Please enter your birth date to watch this video:
You are not allowed to view this material at this time.
So does it remain a lavish soap opera? Of course. And so what? Watching remains pure pleasure.

Beyond the sloggy Mistah Bates! scandal, which still gets too much attention, it's a relief to find no secret rapes or pregnancy shame (yet) this season. It's time for these proper ladies to have some proper fun.

Startling incidents, odd coincidences and sudden turns of fate abound, sometimes to a ridiculous extent.

Change is afoot at Downton, and with it a redirection back to the frenzied elegance that defined its first few surprisingly engrossing seasons. The progress is with a grain of salt, though. The plot development is back, but it's more obtuse than ever.

Downton Abbey doesn't meet any objective criteria for brilliant television except for one: escapism.

Let's not kid ourselves, this is mainly escapist entertainment fare.... I'm sorry, but I cannot feel good about watching a drama that celebrates--yes, celebrates--one class of people oppressing another.
In this 5th season Downton Abbey remains to entertain and some characters keep surprising. Nice themes, stories, and character development.

In this 5th season Downton Abbey remains to entertain and some characters keep surprising. Nice themes, stories, and character development. What can I say other than: watch this!

…

Expand

Downton continues on as it always does from one crisis to another. Its a very comfortable show, easy on the eye and entertaining especially

Downton continues on as it always does from one crisis to another. Its a very comfortable show, easy on the eye and entertaining especially the manner of speech, the attention to detail is second to none. Numerous plots spin out and in and intertwine and usually end happily thankfully. That said there is always the potential for disaster and when there was horse back riding or shooting I was dreading yet another tragedy. A show with such a large cast and so many differing plots will always lead to favorites and dislikes. The Bates legal issues are now very tiresome, but I've warmed to Branson, Mosley and Miss Baxter and the usual favorite the Dowager Violet. Looking forward to season 6 already.

…

Expand

Much as I liked the previous 4 series, I found this one starting to get repetitive. The Bates are again in trouble with the law and I wonder

Much as I liked the previous 4 series, I found this one starting to get repetitive. The Bates are again in trouble with the law and I wonder if a real life employer would have put up with a couple of employees firever getting involved with murder. Mrs. Crowley gets yet another marriage proposal, but even this one does nout suit her. The plot involving sad sack Edith and her illegitimate child drags on forever. Edith is the most annoying character if the show, with her never ending misfortunes and she gets on my nerves. After months of indecision, Tom finally settles for the USA. Finally, Mary is still unlucky in love, which is surprising considering what a good catch she must have made. I hope the plot will pick up for the final series, because this one was a major let down, with not much development. Everything is left pretty much were season 4 ended.

…

Expand