Network:

The CW

Series Premiere Date:

Sep 13, 2017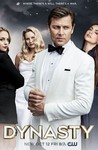 Starring:

Grant Show

,

Alan Dale

,

Elizabeth Gillies

Summary:

Fallon Carrington (Elizabeth Gillies) and her brother, Steven, (James Mackay) are called to the family mansion by their father, Blake Carrington, (Grant Show) to meet his new wife-to-be, Cristal (Nathalie Kelley) in this reboot of the 1980s Aaron Spelling nighttime soap opera.

Genre(s):

Drama

,

Soap
Season 1 premiere date:

Oct 11, 2017

Episode Length:

60
Fans of the original "Dynasty" know Fallon's nastiness is just a warm-up.

The worst thing you can say about this show is that it knows exactly what it is; the best thing you can say about it is that it goes above and beyond that realization. It has hints of wanting to build on one of TV's biggest soapy fortunes, rather than leech off it like a trust-fund brat.

Dynasty works a little too hard at living up (or down) to its splashy billboards in the early going, with Gillies overplaying the femme fatale shtick.

The new show wastes little time in setting up a similar relationship of mutual contempt between Cristal and Fallon. Yes, there is a physical brawl between them. Keep an eye out for one especially funny and over-the-top moment involving Fallon and a wedding cake.

The new "Dynasty" is well-written and features a competent cast, but it's not engaging enough to compete in today's world, where immersing viewers in the lives of a dysfunctional rich family is no longer an escape--it's an unavoidable reality.

I wasn't impressed by the premiere, which, despite its more sexually explicit tone, is fairly bland. The script strains to make it all relevant, referencing other current dynasties including the Kardashians and the Trumps, but the whole enterprise nonetheless feels dated.

Even though there's an abundance of gilt and Gulfstreams these days, the sizzle is nowhere near the same.
I had so much fun watching the pilot. It is a guilty pleasure with great outfits, lots of over the top drama and sassy lines. But it is also a

I had so much fun watching the pilot. It is a guilty pleasure with great outfits, lots of over the top drama and sassy lines. But it is also a good show with a diverse cast and female characters owning this show, especially Liz Gillies as Fallon is great as a strong and smart character always underestimated by her father and other men in her life. I think this show will be a hit!

…

Expand

what series, I'm liking a follow up for a pilot until it was not released by a competitor and very fast with action, and a lot of footprint we

what series, I'm liking a follow up for a pilot until it was not released by a competitor and very fast with action, and a lot of footprint we will wait for this series pro

…

Expand

This reboot made Dynasty a fresh, modern drama with both hints to the '80s version as remarks to our current society and politics. I can

This reboot made Dynasty a fresh, modern drama with both hints to the '80s version as remarks to our current society and politics. I can understand these changes will upset some old Dynasty fans, but I would urge everyone to give this serie a chance. The story lines are interesting and complicated, the characters all have something special and the cast is good. The diversity of the cast is also something this series should be applauded too.
Outstanding is Liz Gillies who plays main character Fallon Carrington. She is still relatively unknown, though people who watched FX's Sex&Drugs&Rock&Roll already know that Gillies is great in combining drama and comedy. As Fallon she outshines the rest of the cast with her strong appearance.
Netflix has bought Dynasty in a unique deal to broadcast it worldwide, indicating they, like me, expect Dynasty to become really big.

…

Expand

The Dynasty reboot is a perfect mix of old and new. It pays hommage to the Dynasty series from 1980 in lots of ways, using the music that was

The Dynasty reboot is a perfect mix of old and new. It pays hommage to the Dynasty series from 1980 in lots of ways, using the music that was the old Dynasty intro and doing the epic scene in which Fallon bites of the wedding cake's chocolate bridesmaid' s head.
It is also new, changing the subjects of the old Dynasty that now are seen as problematic like the homophobe reaction from Blake Carrington to his son Steven. Steven now is openly gay and there are no problems with that. The strained father-son relationship now comes from the fact that Mr. Carrington is in oil and fracking while Steven is a for fighter of green energy and protests against his father' s plans to exploit native american land.
New is also that the women are the main characters of the show. Daughter Fallion Carrington is now ambitious, smart and after the head position of her family's company.
This combination of old and new makes Dynasty a great watch for both fans of the 80' s Dynasty as new fans looking for some fresh, modern drama. Well done!

…

Expand

The show had a good pilot,introducing all of the main characters.
It has a good story that uses some references of real life's Dynasty,withThe show had a good pilot,introducing all of the main characters.
It has a good story that uses some references of real life's Dynasty,with strong characters showing up their Strongest Qualities.
The outfits are On Fleek!
And one of the strongest point of this Tv Show is the soundtrack!
there are some good Unknown songs that captivetes those importants moments.
Watching this I can imagine that the show is made in the least detail.
I must Highlight Elizabeth Gillies, she is rocking the show!
I fell sorry I cant say the same about Sam adegoke,he seems be in the wrong character.
No doubt he is the weakest character in the show.

…

Expand

I'm so surprised Esther & Richard Shapiro didn't put a stop to the travesty Josh Schwartz, Stephanie Savage and Sallie Patrick created. The

I'm so surprised Esther & Richard Shapiro didn't put a stop to the travesty Josh Schwartz, Stephanie Savage and Sallie Patrick created. The magic of the show is gone, nothing left from the original apart from names and some 80's songs. They changed the living daylight out of it and if they don't make a 180 degree turn and introduce a strong Alexis (like Lana Parrilla or Madeleine Stowe), plus hire really good writers, there will be no season 2. Krystal having made a sex-tape and involved in a drug cartel? No, no no Sallie, you got it all wrong. Krystal and Steven were the purest people on the show. Making them having nasty pasts does not help the show. you just demolished the show's foundation. Fallon's lack of morals is enough for the whole show. It is such a shame to ruin such a great franchise. Only Blake and Claudia are cast right. NO-ONE else !

…

Expand