Network:

Netflix

Series Premiere Date:

Sep 22, 2016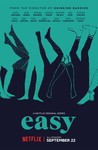 Summary:

The anthology series from Joe Swanberg is set in Chicago where characters played by such actors as Malin Akerman, Orlando Bloom, Hannibal Buress, Michael Chernus, Dave Franco, Jake Johnson, Marc Maron, and Gugu Mbatha-Raw deal with culture, love, sex, and technology.

Genre(s):

Drama
Season 1 premiere date:

Sep 22, 2016

Episode Length:

30
A naturalistic comedy of modern manners set among the young, less young and undeniably middle-aged people of Chicago, it's another basket of goodies turned up on the doorstep in a fall season barely started yet already full of them.

Subtext gives Easy its tart edge, emboldening it with an obsessiveness that resists fashionable platitudes. Swanberg captures the frictions between men and women and yuppies and bohemians, revealing a common core of fear that the other has got it better.

For as easy as it would be to get lost in the look and feel of the new series, Swanberg has a lot to say with Easy. Some arguments may be more compelling than others, and Easy itself is distinctly understated in almost every regard (much like its setting).

Ratajkowski's insightful observations cut through Maron's monologues, but there's no clear winner, of course. There are no buttons here so much as pins in a discussion. Swanberg's modular approach to storytelling offers one of the few true snacking options among Netflix's binging fare, which is almost as satisfying.

And yet one wishes that Swanberg had tried a bit harder to get out of his intimate, meandering comfort zone. It would be interesting to see what Swanberg would produce if he gave himself a more difficult challenge.

The Maron episode, the fifth, is the best of the bunch, and feels at least somewhat biographical. ... Other episodes have a tendency to feel narratively forced.

It throws a wide array of actors, including Gugu Mbatha-Raw, Aya Cash, Marc Maron, Elizabeth Reaser, Orlando Bloom, and Raúl Castillo, into varying scenarios about love, sex, marriage, and everything in between, and the results are, predictably, mixed. In the end, though, the series indulges way more mundane ramblings than anything particularly interesting.
A show that feels real, as opposed to the stand-up fakery of similar shows like Master of None. Contemporary, challenging, intimate, and

A show that feels real, as opposed to the stand-up fakery of similar shows like Master of None. Contemporary, challenging, intimate, and uncomfortable in the best way possible, Easy is a show to cherish.

…

Expand

Easy is a trying to tap into something that is rarely done in television; utilizing the anthology format to emulate real life. The show

Easy is a trying to tap into something that is rarely done in television; utilizing the anthology format to emulate real life. The show features 30 minute vignettes of an extremely diverse cast of characters living in Chicago.

While many stories covering extremely specific aspects of romantic/sexual relationships, it's focus is really any and all relationships. Parents/kids. Neighbor/neighbor. Brother/Brother.

The subjects and themes which are explored are as varied as the characters, so it's difficult to get behind any one thing. But with certain characters being given multiple episodes and with many other characters popping up in each others stories in subtle, natural manners, I'm excited to see all these things grow and the show run for another 10 or 20 seasons.

Yes, there many be some characters/situations you don't agree with, as with an anthology, you don't need to be exposed to them for long and there'll be another character/topic that will resonant with you.

My major gripe is with the marketing focusing on sex, when that's not quite the focus of the show (maybe only being a factor in half of the episodes?) and that it is only given 8 episodes a season.

The show is weaving such a rich tapestry of a city and it's inhabitants, represented in such a raw, honest way and it is a shame that is isn't given most time to do so per year. Something special is present in the show, it hasn't blossomed yet, but by the end of the second season you can really see the bud forming.

…

Expand

I feel like this shoe is misunderstood and I created an account just to express how much I loved what Swanberg tried to do here. If you

I feel like this shoe is misunderstood and I created an account just to express how much I loved what Swanberg tried to do here. If you haven't seen his films, they are very similar to the style he uses here and I think the formatted presented with this show is the optimal way for him to express it. The acting is solid, the writing is subtle and complex. There is a lot going on under the current of what is shown on screen

…

Expand

I watched the first episode of this. It's an anthology, so it's hard to know how the other episodes compare, but I could not get into this

I watched the first episode of this. It's an anthology, so it's hard to know how the other episodes compare, but I could not get into this one. It had a vaguely interesting start, but the low-key, improvisational feel made it a little too close to real life to be all that interesting. I just didn't care about these people or their problems, and didn't make it to the end of the episode.

Seems like something some people might really like, but definitely not good for me.

…

Expand

Easy is a Netflix Original Series that follows the lives of different people all living in Chicago as they fumble through the modern maze of

Easy is a Netflix Original Series that follows the lives of different people all living in Chicago as they fumble through the modern maze of love, sex, technology, and culture.
With that all out of the way, this is a terribly written, lousy TV series. With weird capping plot holes and very poorly developed plot lines, the episodes stumble through bad comedy with very obvious agenda pushing undertones. Some of the comedy and plot lines are so forced I felt like I was getting lectured rather than showing a Television show. They tackle issues in such a stereotypical and poorly executed manner that they ruin any chance of interest or insight into them.
The only upside I could see is that many of the actors performed quite well and some of the set designs are really nice.
All in all, I say give this one a pass.

…

Expand

Tries too hard to seem naturalistic but nobody in reality talks like that. It just has the effect that many of the conversations are

Tries too hard to seem naturalistic but nobody in reality talks like that. It just has the effect that many of the conversations are unbearable. And it's just BLA BLA BLA while not much of substance comes across. But they are all very easy and fun. If that was the purpose of the whole thing, saying nothing but very casually, then they succeeded.

…

Expand

I had to create an account here just to express how bad this major cringe-fest is, probably one of the worst series I have ever watched on

I had to create an account here just to express how bad this major cringe-fest is, probably one of the worst series I have ever watched on Netflix. It surprises me that all of the mainstream outlets are giving this relatively OK reviews because the show is absolutely terrible. The show uses stereotypical forced feminist comedy and it's just not enjoyable to watch unless you are laughing at the show itself.

…

Expand