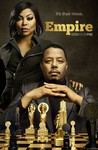 Summary:

After discovering he is ill, rap mogul Lucious Lyon (Terrence Howard) must decide which of his three sons will inherit his company. This hip-hop family soap from Lee Daniels and Danny Strong (The Butler) also stars Taraji P. Henson and Gabourey Sidibe and features original music from Timbaland.

Genre(s):

Drama

,

Music
Season 1 premiere date:

Jan 7, 2015

Episode Length:

60
Please enter your birth date to watch this video:
You are not allowed to view this material at this time.
There's something soapy and delicious about Empire.... But it's a double-edged sword: Empire will either continue to be fun and splashy, while staying grounded and engaging, or it will flame out as so many primetime sudsers have before it, becoming too ridiculous for its own good.

Doesn't really matter if hip-hop is your musical genre of choice, because the beat the deliciously entertaining Empire grooves to echoes the more traditional and timeless rhythms of grand soap operas. [5-18 Jan 2015, p.16]

Just when you're smirking at Empire, it reaches out and hooks you.

The series has great potential. The question is whether Empire should stick to being a good family drama in a vibrant contemporary setting with a topical issue woven into the story, or whether it can measure up to the pretensions to great literature.

Though the result can be obvious, even cornball, at times, the show--which is smart enough, often enough--works.

If Lucious and Cookie and Jamal's dynamics seem unique and complex, other parts of the show are messy and flat.... Generally speaking, the arc of the soap opera is long, and it bends toward insanity. But, one episode in, Empire feels insane in exactly the right measure.

Derivative to the point of parody.... [But] despite the general lameness of the show, Ms. Henson is so convincing--and charismatic--you might just keep watching.
First, the acting on this show is superb. We know that Taraji/Cookie is the star of the show, but the rest of characters are so different and

First, the acting on this show is superb. We know that Taraji/Cookie is the star of the show, but the rest of characters are so different and interesting to follow (great actors too). Every characters has different issues to deal with and they are so relatable these days. Other than Empire, I guess there's not that many TV Drama with ensemble cast that could keep equally good writing for each characters.
What makes this show better than other soap operas is that Empire has a very strong story line and we could kinda see how this show ends. As long as the writing is still strong and not gonna end up being "all over the place", Empire is on the right track. Oh, and the music is so goood!!

…

Expand

10! Fantastic series! Hooked from the previews. Two thumbs up! Acting is amazing!! Story line is edgy and keeps you engaged from start to

10! Fantastic series! Hooked from the previews. Two thumbs up! Acting is amazing!! Story line is edgy and keeps you engaged from start to finish, If you haven't watched it tune in!

…

Expand

I have always been interested to see what Director Lee Daniels has bring to the project, to please us fans and he does it perfectly with

I have always been interested to see what Director Lee Daniels has bring to the project, to please us fans and he does it perfectly with Empire. Terence Howard as Lucious Lyon a gangster who thanks music from saving his life, and makes the empire, not to mention that Howard's character is a selfish dick with the bling. Also Taraji P Henson is a huge charmer as Cookie an ex-wife who wants to get her company from Lyon. From the team of (Lee Daniels' The Butler) Writer Danny Strong and Director (Daniels) have made this entertainment, drama of Hip- pop a huge puzzling event. Grade A-

…

Expand

The music. The music is what makes this show what it is. If you were to strip it down to only the characters and the storey the show would

The music. The music is what makes this show what it is. If you were to strip it down to only the characters and the storey the show would fail to grab everyone the way it does. So much of the emotion of a key point in the show happens through song or performance. A very refreshing change to all the reality TV and Police/Hospital drama's on TV currently.

…

Expand

The one thing i love about this show is Cookie and i think its the only reason to love it. It may come off as a bit of musical dark soap opera

The one thing i love about this show is Cookie and i think its the only reason to love it. It may come off as a bit of musical dark soap opera but its a very funny show and its not even a comedy.

…

Expand

Good but not groundbreaking, the addicting Empire nevertheless thrills with interesting characters, an unpredictable plot and brilliant music

Good but not groundbreaking, the addicting Empire nevertheless thrills with interesting characters, an unpredictable plot and brilliant music to complement the show.

…

Expand

Awful show ... cannot stand Courtney Love or anything she is associated it. I believe she killed Kurt Cobain and it is just wrong that she has

Awful show ... cannot stand Courtney Love or anything she is associated it. I believe she killed Kurt Cobain and it is just wrong that she has gotten away with it. That isn't why I don't like the show. I hated the show when I watched it. The fact that she is in it made it hard for me to even watch it the times I did, but in all fairness wanted to give it a chance. I watched, I hated it, I hate her, I'm done. I just wish I could give it negative 100.

…

Expand