Network:

CBS

Series Premiere Date:

Jul 9, 2014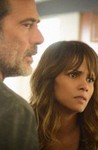 Starring:

Michael O'Neill

,

Goran Visnjic

,

Camryn Manheim

Summary:

Astronaut Molly Woods (Halle Berry) returns from a 13-month solo mission to her husband (Goran Visnjic) and son (Pierce Gagnon).

Genre(s):

Drama

,

Fantasy

,

Suspense

,

Science Fiction
Creator:

Mickey Fisher

Season 1 premiere date:

Jul 9, 2014

Episode Length:

60
Please enter your birth date to watch this video:
You are not allowed to view this material at this time.
The opener is absolutely superlative--a thing of real beauty, even elegance.... Berry delivers a performance that's surprisingly layered and nuanced.

If the rest of the 13-episode Extant remains as compelling as its first episode, this will be the standout show of the summer season.

Extant is laying some intriguing groundwork and doesn't shy away from difficult conversations about humanity and artificial intelligence, particularly in John's heated debate with a board that is considering financing his android work.

I am not yet sold, but I will stick around a while to see what this future holds.

The mostly intriguing premiere raises many questions, not least of which is: Will the story be too out there for a mainstream audience?

You're left to wonder about what she sees, or whether she believes what she sees, a set of questions that might be intriguing (watching her distraught face as she watches herself) or annoying (watching her vaguely worried face as she spots a stranger at the end of her driveway in the dead of night).

Extant is a hodgepodge that serves up some creepy moments but gets bogged down by the inelegance of its copycat nature. It rumbles when it should roar. It stumbles when it should soar.
Excellent start to a great new show. This is a great mix of sci-fi and drama. This is a homerun for the shows creator Mickey Fisher, and the

Excellent start to a great new show. This is a great mix of sci-fi and drama. This is a homerun for the shows creator Mickey Fisher, and the writting, acting and direction are superb for a summer show (this would also give most fall premiers a run for their money). The premier hits the ground running while at the same time allows good character development. Halle Berry really adds dimension and personality to the lead role. I liked that its sci-fi without being obvious. I am excited to see where the casts takes us, but if it continues where the pilot left off, we are all in for a wild ride.

…

Expand

Season 1 was about 60 - 70% rating. It is sad to see that this series might be cancelled as season 2 really shows how amazing this series is

Season 1 was about 60 - 70% rating. It is sad to see that this series might be cancelled as season 2 really shows how amazing this series is becoming! Season one gives great background to go back to and was a nice build up to where we are now but if Season 1 was as gripping as season 2 this show would have had much better ratings! I hope more people watch season 2 and get more people into it.

…

Expand

Extant is everything and much more than I expected from a sci fi tv series. It's a series that is especially interesting for women. There is a

Extant is everything and much more than I expected from a sci fi tv series. It's a series that is especially interesting for women. There is a lot to relate to, for mothers and working women. The plot is from the start on very engaging. You don't need to drag yourself through terrible pilots like many other tv series. The pilot doesnt need sex or violence to sell itself, its the great story being told that makes it worth while from the beginning.

The photography is absolutely gorgeous, with many CGI that really matter. The settings are also mind blowing, each building, room or car is beautifully styled.

Then we have Halle Berry, she must be the most beautiful woman on earth! Her face is marvellous and she doesn't have had any plastic surgery or botox, her face can express everything. Great actress! Her tv series son is played by a talented child actor, Pierce Gagnon. He is truly intriguing and has a dark undercurrent. I love his part. Im so glad this series has been made, because it has style and the Halle Berry character is a great role model.

You see, lately I got very bored with all the sex and violence and serial killers and tortured detectives. It's a pity that tv got so obsessed with violence.

All together I find Extant a classic, very well crafted series that deserves attention.

…

Expand

The concept is very interesting, allowing the writers to explore ethics questions about our scientific capabilities versus our humanity. With

The concept is very interesting, allowing the writers to explore ethics questions about our scientific capabilities versus our humanity. With such fertile ground there is much to plow through. However, the writing, acting and directing leaves me with a feeling that everyone is just a little too tired to move through at an engaging pace. The storyline and plot could be interesting. For me, the pacing is off, the dialog and interactions are too light to keep me engaged for any length of time. I hope they employ someone to help them fix what could be a promising show. They have a great cast so the talent is available but the chemistry, timing, writing and direction feel lax.

…

Expand

Extant's pilot show feels tired and uneven, like the director couldn't quite figure out what tone the series should have. Rather than a

Extant's pilot show feels tired and uneven, like the director couldn't quite figure out what tone the series should have. Rather than a narrowly focused, tight narrative, Halle Berry's mostly tolerable performance bounces around the loose confines of a show that doesn't seem to know what it's supposed to be.

It's not all the bad direction. Extant's plot lumbers around knocking over the furniture rather than finessing anything. Extant obviously wants to build on shows like Under the Dome or Helix, but instead its pilot feels like it's trying to stuff all the plot points for the whole first season into an hour. Indeed, the most nuanced performance in the whole hour comes from Helix regular Hiroyuki Sanada, essentially recapping his better performance in Helix for the benefit of people who don't watch Syfy.

I'm not going to give up on the show immediately, but Extant doesn't feel like it has a lot to offer that hasn't been done before, better.

…

Expand

After a promising start, the show started to decline rapidly. It had an interesting and good concept for a TV show, but they failed to deliver

After a promising start, the show started to decline rapidly. It had an interesting and good concept for a TV show, but they failed to deliver on it. Throughout the whole season, it seems like most episodes are carbon copies of one another. It's the same thing over and over again. It took long to accelerate the show as the middle was a complete waste. The final 2 episodes were significantly improved, but it was already too late. The show would have been better with fewer episodes. Writing has been decent and at times; sloppy. They just did not know what to do with the 3 story lines. Getting into the story lines, I really didn't care for Ethan. The kid who plays him does a good job though. Halle Berry does a good job with her character, but the rest is just average. They had really good production values and the music was pretty good. The alien reveal was lame and it took way too long to finally see it. At the end of the season, the show was just okay. Nothing special and I don't think it deserves a season 2.

…

Expand

I am pained by how bad this designed-by-committee utterly visionless trash is. I am angered that I gave it a chance and kept watching hoping

I am pained by how bad this designed-by-committee utterly visionless trash is. I am angered that I gave it a chance and kept watching hoping it might get better... and it got worse! I am enraged that many good series have been canceled, and this is what they give us instead.

And did I not see a movie (or two) with this same premise except better executed?

…

Expand