Please enter your birth date to watch this video:

You are not allowed to view this material at this time.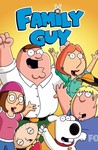 Episode Details & Credits
FOX |
Air Date:
March 7, 2000
Summary:
Lois suspects Stewie is the one creating all the pee stains around the house, so she decides to potty-train him. When an incident in the supermarket reveals that Brian is the one responsible, he goes to see a therapist. Brian finds out that his love of Lois is causing his accidents, so he decides to confront her.
Genre(s):
Comedy

,

Animation
Seasons & Episodes
Season 20

Season 19

Season 18

Season 17

Season 16

Season 15

Season 14

Season 13

Season 12

Season 11

Season 10

Season 9

Season 8

Season 7

Season 6

Season 5

Season 4

Season 3

Season 2

Season 2 Overview

Air Date: September 23, 1999

S2:E21. Fore, Father

Air Date: August 1, 2000

S2:E20. Wasted Talent

Air Date: July 25, 2000

S2:E19. The Story on Page One

Air Date: July 18, 2000

S2:E18. E. Peterbus Unum

Air Date: July 12, 2000

S2:E17. He's Too Sexy for His Fat

Air Date: June 27, 2000

S2:E16. There's Something About Paulie

Air Date: June 27, 2000

S2:E15. Dammit, Janet!

Air Date: June 13, 2000

S2:E14. Let's Go to the Hop

Air Date: June 6, 2000

S2:E13. Road to Rhode Island

Air Date: May 30, 2000

S2:E12. Fifteen Minutes of Shame

Air Date: April 25, 2000

S2:E11. A Picture Is Worth 1,000 Bucks

Air Date: April 18, 2000

S2:E10. Running Mates

Air Date: April 11, 2000

S2:E9. If I'm Dyin' I'm Lyin'

Air Date: April 4, 2000

S2:E8. I Am Peter, Hear Me Roar

Air Date: March 28, 2000

S2:E7. The King is Dead

Air Date: March 28, 2000

S2:E6. Death is a Bitch

Air Date: March 21, 2000

S2:E5. Love Thy Trophy

Air Date: March 14, 2000

S2:E4. Brian in Love

Air Date: March 7, 2000

S2:E3. Da Boom

Air Date: December 26, 1999

S2:E2. Holy Crap

Air Date: September 30, 1999

S2:E1. Peter, Peter, Caviar Eater

Air Date: September 23, 1999

Season 1