Network:

AMC

Series Premiere Date:

Aug 23, 2015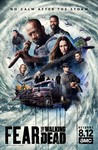 Starring:

Rubén Blades

,

James Henrie

,

Kim Dickens

Summary:

The second season expands to 15 episodes (although the latter eight episodes will air in the fall) as the survivors find the ocean is no refuge from the zombies.

Genre(s):

Drama

,

Action & Adventure

,

Horror
Season 2 premiere date:

Apr 10, 2016

Episode Length:

60
Please enter your birth date to watch this video:
You are not allowed to view this material at this time.
Fear the Walking Dead's second season manages to maintain the great momentum of the first, even as it transitions to a new arc. It's also much more fun than it sounds (even though half of the cast is made up of angsty teenagers), as the show takes typical story tropes and manages to smoothly mix them with zombie-horror adventures.

There's a fine line between "calming" and "soporific," but the new season mostly manages to stay on the right side of it, judging by the first three episodes.

As The Walking Dead began its second season, the characters became mired in an endless storyline at a small farm in rural Georgia, a farm where they stayed for almost the entire season. The comics had done it, so the show did too. Fear the Walking Dead tells what appears to be a similar story, but it's over within an episode. Sometimes not having anybody to copy is the best thing that can happen.

The idea of capturing the zombie apocalypse as it began, from a character-driven, family drama point of view, wasn't a bad one, but this "Walking Dead" spin-off thus far hasn't developed a cast to keep the premise afloat.

The stumbling spin-off makes a wearisome return by quickly reverting to that frustrating first-season form.

Fear's second season flattens its characters, stifling much of what made them interesting in the first go-round.

The series fails so spectacularly on the level of characterization that its occasional grace notes, mostly concerning how catastrophe changes the circuitry of family dynamics, feel accidentally stumbled upon.
I don't know why so many people are complaining, this show kept me at the edge of my seat and left me wanting more.I highly recommend this

I don't know why so many people are complaining, this show kept me at the edge of my seat and left me wanting more.I highly recommend this show if you like drama/thriller series.

…

Expand

great story, great development, great action.

I like how they take their time to describe the apocalypse and i like how everything is graygreat story, great development, great action.

I like how they take their time to describe the apocalypse and i like how everything is gray and there is no more right and wrong.

Has game of thrones potential.

…

Expand

The low scores from other users proves to me again that our audience today suffer from a short attention span. The first season was chopped

The low scores from other users proves to me again that our audience today suffer from a short attention span. The first season was chopped up and struggled to find a footing at times, however, I forgave the shortcomings because I could see the build up. Imagine yourself in a time of crisis when everything is strange and unknown, a lack of clear communication and a mistrust because of the world we live in. So, we see a family, just like many, broken but trying to make it work, they are stuck in this crisis.... no one can truly say they wouldn't make mistakes when they have never encountered such a messed up situation. Season 2 pulled it together, putting this family in situations where they still make mistakes but you witness each person learn something about survival, choices and about themselves. I miss the days when cinema used the slow burn technique, a gradual buildup that made the crescendo heart racing. This season so far only on episode 4 has executed the slow burn excellently and I will continue to watch just to see how each character develops and survives.

…

Expand

I am officially done with this show. I thought after a mediocre first season they would have learned from their mistakes and made a real,

I am officially done with this show. I thought after a mediocre first season they would have learned from their mistakes and made a real, hardcore, AMC show. But no, once again, they've disappointed. I have seen one episode this season, and that is all I am going to see.

…

Expand

I have given this show two seasons. There are some things I like, some things I do not. Some episodes were extremely compelling. Season two

I have given this show two seasons. There are some things I like, some things I do not. Some episodes were extremely compelling. Season two did finally build up to some very good episodes in the end. I do think the show needs more work to survive audiences these days. I think Season three can make or break the show. I hope the writers give some of these talented actors great material to work with.

…

Expand

A complete snoozefest--until the last 15 minutes--and then at least the writing was so bad that it added some unintentional humor to entertain

A complete snoozefest--until the last 15 minutes--and then at least the writing was so bad that it added some unintentional humor to entertain everyone. This is a bad show.

…

Expand

This is horrible... its like a lifetime drama. No suspense just people making dumb decisions or reflecting on their dumb decisions, I honestly

This is horrible... its like a lifetime drama. No suspense just people making dumb decisions or reflecting on their dumb decisions, I honestly never thought a zombie show could be so boring.

…

Expand