Network:

AMC

Series Premiere Date:

Aug 23, 2015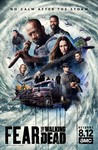 Starring:

Rubén Blades

,

James Henrie

,

Kim Dickens

Summary:

The Walking Dead spin-off is set in Los Angeles where a divorced teacher named Travis (Cliff Curtis), his fiance Madison (Kim Dickens), and her two children (Frank Dillane and Alycia Debnam-Carey) face the coming zombie apocalypse.

Genre(s):

Drama

,

Action & Adventure

,

Horror
Season 1 premiere date:

Aug 23, 2015

Episode Length:

60
Please enter your birth date to watch this video:
You are not allowed to view this material at this time.
Fear the Walking Dead pulls off a great feat in prequel land: using that nagging sense of inevitability to its advantage. It shouldn't work, but it totally does.

It's off to a very good start. Dickens and Curtis and the actors playing their kids (Dillane, Alycia Debnam-Carey, and Lorenzo James Henric) are terrific.... Fear The Walking Dead has art on its addled mind, and is all the better for it.

The slow burn approach actually works nicely, assuming you can calm your appetite for immediate destruction.

The new series is compelling in its own way, but it will take a while to see how it congeals. Or, more aptly, if it coagulates.

Shades of new angles to the zombie genre fleetingly emerge, but too often they're smothered by the writers' slavish devotion to their own established norms.

The 90-minute first episode and the hour-long second episode are, while not actually boring, certainly less magnetic than the original.

Unfortunately, despite strong performances, particularly from Dickens and Curtis, it's hard to care what happens to anyone, or to listen to the dialogue and not pray for some kind of bear attack.
Zombies, Death, tearing of flesh....and running in fear....I hope this movie has the same life span as the original show.

I will beZombies, Death, tearing of flesh....and running in fear....I hope this movie has the same life span as the original show.

I will be watching this every week without fail.

…

Expand

a good beginning and I hope it moves along quickly and does not drag too much; I say a good beginning because the original show never gave us

a good beginning and I hope it moves along quickly and does not drag too much; I say a good beginning because the original show never gave us that beginning!

…

Expand

Contrary to the low expectations I've had because of the bad reviews and the fact it's a spin-off, the first season of this show proved to be

Contrary to the low expectations I've had because of the bad reviews and the fact it's a spin-off, the first season of this show proved to be better than most seasons of the original show. The cast is quite good since the production value was higher than when first TWD was made - we don't see any Carls or Shanes whose performances make your eyes bleed and make Kristen Stewart seem like an Oscar winner.

The pilot episode is not promising, but it just gets better and better by the end of the first season. Most reviewers here saw the first episode (probably not even in its entirety) and thought "where is Rick, what is this, I miss Carl" and proceeded to bash the show for that reason. In reality, the production quality, filming, writing, even audio - modern, engaging, deep storytelling - something the original series never achieved. The fear is palpable, not just from these scary dead people, but also from the authorities which are themselves scared, their motives unknown, creating a widespread sense of insecurity and uncertainty. The show tries to decentralise the characters, so you don't know which one might die next - unlike Rick, whose life was known to surpass the 8 seasons without even watching beyond the pilot episode.

I am unsure if the show continues to positively surprise into the second season since the initial apocalypse time frame will come to an end, bringing a monotone existence of scavenging-sleeping-scavenging or training-sleeping-fleeing we see throughout the seasons of the original series, which often had you forget about the walkers, and worry more about the soap opera drama with a regular mishap leading to a character's death now and then. And of course the ridiculous conflicts with other groups that are always so unrealistically hostile.

I expect the same to happen with Fear TWD, maybe even beginning with season 2, but I hope they managed to bring a new flavour to the same rinse-repeat story that we see from the 3rd to the last season of the original show.

I am a fan of the original show, but the truth is the show is quite mediocre and the only thing that kept it interesting is the post-zombie-apocalypse premise, since the writing is predictable and poor, while the cast is mostly not talented, to say the least. You'd just wait for a thriller scene when someone dies, while the rest was unsuccessful and boring "character building". FTWD has a chance to utilise the premise and revitalise the idea.

…

Expand

I was expecting something different, a introduction perhaps, but I saw more of the same thing without the intensity of the original show.

I was expecting something different, a introduction perhaps, but I saw more of the same thing without the intensity of the original show. Maybe the next chapters change something but i dont think that this is the way that the series will continues.

…

Expand

As a big Walking Dead Fan, this prequel is a disappointment. Cliches and the characters often fall into a stupidity track often lacking common

As a big Walking Dead Fan, this prequel is a disappointment. Cliches and the characters often fall into a stupidity track often lacking common sense and unrealistic reactions. It feels like some B movie writer came up with this script and was able to just slap on the Walking Dead logo to make it more well-known than what it should be.

…

Expand

This review contains spoilers

, click expand to view

. I want to punch everyone in the face. boring episode 1 and stupid decisions episode 2. By the end of ep 1, the son, father and mother know that something very weird and dangerous happens. What to do next?... lets split up in 3 group and dont tell anyone about it. Especially our stupid daughter who will run into the arms of his soon to be eating flesh boyfriend...

I know, people in zombie movie dont know **** about zombies... I would have love a fast opening for once.. with smart peoples. They serve us, once again, the chase our kids all over the town while they put themselves in the middle of the danger, hanging up on phone warning. O and by the way, the father is very lacking any skill to make things clear on the phone eather ''there are unkillable, very violent people that try to eat the flesh out of your face all over the town, and it seem to spread very fast, our son is in great danger''... TALK TO PEOPLE...

And why the F** the mother didnt get the giant stack of food the kid had prepare??

This show is dumb. And I really hope we are done chasing and convincing people.

…

Expand

SICK AND TIRED of Walking Dead, and Fear the.... Crappy dialog and acting with story lines I could care less about, and gore sequences

SICK AND TIRED of Walking Dead, and Fear the.... Crappy dialog and acting with story lines I could care less about, and gore sequences overdone 1001 times since the 1980s started the Zombie genre. Get it off my TV, AMC, or I'll eventually get rid of cable. Yes, it's that BAD.

…

Expand