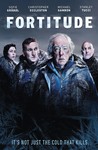 Summary:

The murder of a British scientist in the small, Arctic town of Fortitude is its first violent crime. Sheriff Dan Anderssen (Richard Dormer) must work with British DCI Morton Caldwell (Stanley Tucci).

Genre(s):

Drama

,

Horror

,

Suspense
Season 1 premiere date:

Jan 29, 2015

Episode Length:

60
Please enter your birth date to watch this video:
You are not allowed to view this material at this time.
An enigmatic and engrossing whodunit that should move to the top of everyone's DVR queue.

Fortitude's allure is its off-puttingness; those making a home there must indeed be tenacious, and with Fortitude, the same tenacity is required of its viewers.

With its strong cast, diverse ensemble of interesting characters, beautiful visuals, and patient direction, Fortitude is a promising freshman outing from cable obscurity Pivot and a worthwhile addition to an already over-stuffed subgenre.

If you're looking for a winter-time mystery that will show you people even colder than you may be these days, Fortitude is an absorbing one.

Fortitude's only safety net is a cat's cradle of inter-linked, understated and strangely powerful performances.

It's still an open question whether its central murder mystery can sustain a number of false leads and other mis-directions for a full 12 hours. But the resplendent panoramic visuals are a show in themselves. So the bigger your HD screen the better, with Fortitude's overriding whodunit gradually firming its grip while those icy, snowy vistas stay strong.

Simply being cryptic, though, doesn't really advance the story, and at a some point, as hypnotic as all those snowy backdrops are, it's easy to grow impatient with the assiduous, disjointed nature of the plotting.
Each week this show gets weirder and weirder and better and better... this show isn't just another murder mystery... it is different... for

Each week this show gets weirder and weirder and better and better... this show isn't just another murder mystery... it is different... for that it wins major points. Just finished episode 6 and I am on pins and needles to see the rest of the season.

…

Expand

Really like the show. Super who done it. Not too many show keep me guessing,like this one. Writers of so many other shows don't keep the

Really like the show. Super who done it. Not too many show keep me guessing,like this one. Writers of so many other shows don't keep the suspense. I feel like we are treated like morons,with no intelligence,when it comes to figuring out the who done it aspect of a show. PBS with their English mysteries is another good one for me,at least. I need a little more stimulus and enjoy the figuring out part, instead of watching some detective (except for "backstrom" another good series). Infrequent a little convoluted,but still enjoying the series. Thumbs up for an older baker

…

Expand

Fortitude is not like any other murder and mystery crime series. Every single episode leaves you wondering what is going to happen next and

Fortitude is not like any other murder and mystery crime series. Every single episode leaves you wondering what is going to happen next and bit by bit you get to know what's going on. It will probably need a bit of patience to get attached to it since Fortitude appears very confusing at first. The cast is brilliant, you'll see "newcomers" and well known actors such as Stanley Tucci (who is outstanding in this!) come together in this thrilling show with its absolutely fitting setting and theme.

Give this show a chance, it deserves one!

…

Expand

First episode in and the main thing i can ay is this: i am interested. There hasn't been too much character building and some parts just feel

First episode in and the main thing i can ay is this: i am interested. There hasn't been too much character building and some parts just feel so oddly made along with being a bit convoluted at parts. However, the story is the interesting part at the moment as it's giving you little teases but leaving you in enough darkness to make it a mysterious watch. Acting seems decent overall, nothing amazing but couldn't call anyone out for being bad yet really, and direction overall is kinda average. However, what gets this from a 5 to a 6 is the fact that you have no idea fully what is going on yet. I will continue watching this to see what ends up in conclusion of it. I will adjust my score as the series progresses but from episode 1 i'm giving it a 6/10 so far. Oh on a side note, whoever the sound editor was on this did an awful job. There's almost always a wind sound or buzzing kind of sound in every scene but gets cut out whenever dialogue comes in. It's extremely frustrating at some points.

…

Expand

The settings, theme, case, interesting enough to see conclusion.

The characters, castings don't pull it off well, the content is stretched.The settings, theme, case, interesting enough to see conclusion.

The characters, castings don't pull it off well, the content is stretched. Had this series descended into SyFi, some thing, almost bearable, otherwise painful watching drama unfold. Laughably comical attempts. Apex rage monsters reanimating. Throw lutefisk (herrings), charlie chaplin investigates the townsfolk of drunken wind chimes, cluedo is now played until scenario ends.

I believe a subtitled version would have worked better with any killing here.

…

Expand

Fortitude lacks a coherent plot and the storyline that it has is contrived and annoying. The characters are undeveloped and un-engaging. It

Fortitude lacks a coherent plot and the storyline that it has is contrived and annoying. The characters are undeveloped and un-engaging. It seems as though the writers tried to superimpose humanity on them by creating an absurd degree of emotional turmoil for every main character that manifested in soap opera revelations and melodramatic confrontations and speeches at many points in each episode. Because the characters uniformly lack pathos, it just felt like an embarrassing display of emotion without context. It also made this cast of fine actors appear to be overacting much of the time. Points for the visual experience only.

…

Expand

Can someone please tell me what this show is about? I'm at Episode 9 on Season 2. This movie seems to be made up of spare parts from

Can someone please tell me what this show is about? I'm at Episode 9 on Season 2. This movie seems to be made up of spare parts from someone's nightmare. I'm serious....what's the point? Are the writers deliberately obscuring the data that would make this show make sense?

…

Expand