Network:

ABC

Series Premiere Date:

Feb 4, 2015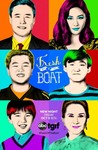 Starring:

Lucille Soong

,

Randall Park

,

Constance Wu

Summary:

11-year-old Eddie Huang (Hudson Yang) and his family move from Washington D.C.'s Chinatown to the suburbs of Orlando in 1985 in this comedy inspired by Eddie Huang's memoirs.

Genre(s):

Comedy
Creator:

Nahnatchka Khan

Season 1 premiere date:

Feb 4, 2015

Episode Length:

30
Please enter your birth date to watch this video:
You are not allowed to view this material at this time.
Along with FOX's "Last Man On Earth," Fresh Off The Boat is one of the best new network comedies of the spring and both are probably better than any network half-hour--allowing for "Jane the Virgin" genre wiggle-room here--that debuted last fall.

It's a relief to find that Fresh Off the Boat is not only genuinely funny and surprisingly broad but also a little bit subversive.

Fresh Off the Boat finds jokes in plenty of other, non-racial issues, and that's often the bonus that gives you confidence this is a show with legs.

Fresh off the Boat has soul, flavor and an incredible cast. Time will tell if the comedy finds the audience it richly deserves.

Fresh Off the Boat is charming, convivial, even--gasp--at times cute.

It won't be the hit of the year, but Fresh Off the Boat is worth a look.

The first episode focuses far too much on these stereotypes. On top of that, it's not even funny. But what a difference a second episode makes.... The real difference between the first and second episodes, though, is not just that the stereotypes are eventually turned upside down but that the characters are no longer just those stereotypes.
I really enjoyed the show and thought it is a breeze of fresh air. It is funny but not over the top. It does define some core values in

I really enjoyed the show and thought it is a breeze of fresh air. It is funny but not over the top. It does define some core values in Chinese culture and how Chinese ppl react to certain things that happen in western world. I hope the show can keep going for many seasons.

…

Expand

the channel ABC has really got some really hilarious shows coming out this year, and Fresh off the boat is one of those shows that has good

the channel ABC has really got some really hilarious shows coming out this year, and Fresh off the boat is one of those shows that has good foreign comedy and the stereotype formula for this show is why it is so perfect. Grade B

…

Expand

This review contains spoilers

, click expand to view

.

I lovveee this show so much, omg . And, finally, a show about Asians! I've been waiting for this day. There is just something about Asians that I like so much, they're amazing! The show is absolutely hilarious, everyone should definitely watch this show!

…

Expand

we watched it as a family after the middle and the wongs really won us over it was hilarious loved the father and the two little kids didn't

we watched it as a family after the middle and the wongs really won us over it was hilarious loved the father and the two little kids didn't really like eddy or the mother my self but I loved everything else the kids girlfriend is hilarious as well can't wait till Tuesday to see more of the show you should really try it if you haven't already highly recommend that you watch

…

Expand

Binge-watched this show in the last week and enjoyed it. The parents and the little brothers are much more interesting and like-able than the

Binge-watched this show in the last week and enjoyed it. The parents and the little brothers are much more interesting and like-able than the main character/narrator, but Eddie is more meh, than bad, so it doesn't throw off the show too much. Constance Wu is awesome as the semi-tiger mom and livens up any scene she is in. This isn't the best show I've ever seen, but it is funny and interesting enough for me to look forward to the next season.

…

Expand

According to the Urban Dictionary, the phrase »Fresh off the boat« means: « Someone of Asian descent who has recently immigrated to a new

According to the Urban Dictionary, the phrase »Fresh off the boat« means: « Someone of Asian descent who has recently immigrated to a new country (usually the US)«. And that is almost what the series Fresh Off The Boat is. We follow the Huang family immigration from comfortable Chinatown in Washington D.C. to Orlando, where they face the problems of assimilation.

Inspired by Eddie Huang's memoir Fresh Off The Boat is (at least at first sight) an Asian Everybody Hates Chris (coming form Eddie's point of view) or an Asian Black - ish (coming from the whole family's perspective). Storylines and motives are expectedly overused, we experience a 'been there, done that' déjà - vu BUT not for very long. A talented cast, led by (undoubtedly) by a newcomer Constance Wu, and smart writing (even though it sometimes – intentionally – indulges into the stereotypes) saves the basic plots. Supporting Wu is Randall Park, pleasantly portraying subordinate but always - positive husband and father.

The series enjoys a network – style sitcom story concept (main story starts and concludes within the same episode), which enables it to explore a wide variations of problems for its main characters. From eating the »American food« at lunch breaks to adjusting to mostly white suburbs of Orlando, Florida.

The series is set in mid – 90s, so references are in order. From 2Pac, The Notorious B.I.G and Wu - Tang Clan to Air Jordans and O.J. Simpson.

I am entering the second season optimistically. Eddie Huang's narrative is departing, which means more time to explore stories of the whole family. Giving the 24 episode second season, that is extremely desirable.

…

Expand

This show bit off more than they can chew. I'm so sick of that same old cliches and stereotypes.
There are aliens! They are so-oo weird andThis show bit off more than they can chew. I'm so sick of that same old cliches and stereotypes.
There are aliens! They are so-oo weird and lame, ha-ha!

…

Expand