Network:

Netflix

Series Premiere Date:

Feb 26, 2016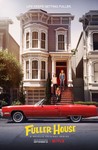 Starring:

Andrea Barber

,

Candace Cameron

,

Jodie Sweetin

Summary:

The Tanner family returns with D.J. Tanner-Fuller (Candace Cameron Bure) recently widowed and working as a veterinarian in San Francisco. Her sister Stephanie Tanner (Jodie Sweetin), best friend Kimmy Gibbler (Andrea Barber), and Kimmy's teenage daughter Ramona (Soni Nicole Bringas) move in

The Tanner family returns with D.J. Tanner-Fuller (Candace Cameron Bure) recently widowed and working as a veterinarian in San Francisco. Her sister Stephanie Tanner (Jodie Sweetin), best friend Kimmy Gibbler (Andrea Barber), and Kimmy's teenage daughter Ramona (Soni Nicole Bringas) move in to help take care of D.J.'s three sons--12-year-old Jackson (Michael Champion), 7-year-old Max (Elias Harger) and baby, Tommy Jr (the Messitt Twins). Dad (Bob Saget), Uncle Jessie (John Stamos), Uncle Joey (Dave Coulier), Becky (Lori Loughlin) and Steve (Scott Weinger) also visit.

…

Expand

Genre(s):

Comedy
Season 1 premiere date:

Feb 26, 2016

Episode Length:

30
Think of Fuller House as "Full House 2.0." Same premise, same vibe, mostly same cast.... A winner, strictly for fans.

Fuller House isn't going to win any awards for being exactly what its predecessor was--an utterly formulaic sitcom that ranked among prime-time's 20 most popular series in four of its eight seasons. But seriously, it's a surprise to see how well the grown-up Bure, Sweetin and Barber work together in the service of a show that employed them as kids, cast them off and now is welcoming them back instead of re-casting.

No one is ever going to say Fuller House is great TV, but as a nostalgia item, it will probably amuse its original, now grown, audience for an episode or two.

Fuller House begins as a sitcom family reunion. It becomes a self-conscious, dated and maudlin reminder of the ceaseless march of time and your inevitable demise.

Earnestness was Full House's selling point, but Fuller House is too contrived to be sincere.

Fuller House is like the childhood friend who never grew up, who still lives at home, still hangs out at places frequented by teenagers, still makes the same dated pop-culture references. Visiting that person usually isn't fun; it's just sad.

The blend of genres that subtract from each other speaks to the overall lack of effort from the series' writers (self-evident), actors (who can't even master one choreographed dance sequence among many) and producers (who are clearly in this for the money).
Loving this show so much!!! Forget what the critics say I personally love Fuller house !! I think it's a great sitcom , ready for season 2

Loving this show so much!!! Forget what the critics say I personally love Fuller house !! I think it's a great sitcom , ready for season 2 already !!

…

Expand

Watched this for the hell of it. It's actually funny once you get past the pilot. I agree with the other reviewer who said the 1st episode is

Watched this for the hell of it. It's actually funny once you get past the pilot. I agree with the other reviewer who said the 1st episode is the worst of the bunch. The show does improve later on. DJ and Stephanie are each extremely likable in their own ways, and their dynamic as very opposite sisters who love each other despite their differences works very well. Kimmy's still weird and a joy to watch, the kids aren't as annoying as I thought they'd be- although Ramona's the weakest and probably least necessary character on the show. Some of her scenes are cringe worthy, while the two little boys are surprisingly capable actors.
It has potential, I hope they renew it for a 2nd season

…

Expand

I think too many individuals are being overly critical of this show. I personally didn't have very high expectation for this show, except for

I think too many individuals are being overly critical of this show. I personally didn't have very high expectation for this show, except for being able to see how the characters have progressed. They kind of breezed though it in the first episode but, you do find out what has happened. The first episode was as predicted, full of reunions and all (ok almost all) of the cast returning to show their face. As someone who watched the show regularly as a child it was satisfying honestly. As far as the format for the rest of the show, it is a fairly decent show taken out of context. I think some individuals don't realize this is a show on Netflix and not a prime-time sitcom. Love it for what it is but, those who enjoyed the original will most likely enjoy it much more.

…

Expand

funny show. Throw back jokes from old full house for those of us that are fans. The show is still good wether you have seen full house or not.

funny show. Throw back jokes from old full house for those of us that are fans. The show is still good wether you have seen full house or not. Why people are giving it a 0 or 3 doesnt make any sense. This show is not full house by any means and i think people were expecting it to be like that show. Its a diferent spin and my wife and I enjoy it.

…

Expand

After reading a lot of negative reviews about this show, I went in expecting a lot of garbage. I was pleasantly surprised then when I found

After reading a lot of negative reviews about this show, I went in expecting a lot of garbage. I was pleasantly surprised then when I found that, buried behind a number of poorly timed and very predictable quips, there were actually several laugh-out-loud moments in each episode. I watched the show growing up, but I wasn't particularly attached to it. The 90's style sitcom tropes are prevalent throughout, meaning that only about 30-40% of the one-liners are actually intelligent or funny, but the ones that do land are what make the show worth watching. I'm saying this as someone who's not overly attached to the way that every episode seems to end with a heartfelt confession, someone saying "I love you guys", and a group hug as the "audience" sighs. That aspect of the show has always grated on me. As a side note, this show is much more mature than it was before- the show was once a squeaky clean white-bread America sitcom, but it's more edgy now, with a small bit of profanity, anatomical references, and sexual comments meant to go over the heads of kids. I wouldn't go so far as to call it a PG-13 show, but it's definitely not rated G.

…

Expand

Full House was just as fully great you wanted it to be, but Fuller House take the things that normally cause Full House to be a great TV show

Full House was just as fully great you wanted it to be, but Fuller House take the things that normally cause Full House to be a great TV show and throws them away.

…

Expand

I grew up watching this show with my family in the 90s. I did not expect Fuller House to be the same as Full House, however, I was very

I grew up watching this show with my family in the 90s. I did not expect Fuller House to be the same as Full House, however, I was very disgusted and disappointed at what I saw. First of all, there are children actors in this show under the age of 18 and sexual innuendos("irrupting my volcano") and adult content are used that no child or child actor should be subjected to. Kids will want to watch this show because there are cheesy mediocre, Disneyesque child actors that act like adults with flamboyant, unnatural hand gestures, however, I believe that this is not a show fit for children to watch. If you want to relive some warm, fuzzy nostalgia, I suggest watching the original Full House. This show is a train wreck of predictable, crude acting.

…

Expand