Network:

NBC

Series Premiere Date:

Apr 12, 2016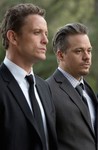 Summary:

25 years ago, Jackson (David Lyons) Gil (Michael Raymond-James), Shawn Polk (Larenz Tate) and Boots (Derek Phillips) caused an accident that sent them to the Quitman Youth Detention Facility. The secret the four kept from their time there reemerges in this drama series based on the Turkish

25 years ago, Jackson (David Lyons) Gil (Michael Raymond-James), Shawn Polk (Larenz Tate) and Boots (Derek Phillips) caused an accident that sent them to the Quitman Youth Detention Facility. The secret the four kept from their time there reemerges in this drama series based on the Turkish series Suskunlar (which was based on Lorenzo Carcaterra's 1995 novel Sleepers).

…

Expand

Genre(s):

Drama

,

Suspense
Season 1 premiere date:

Apr 12, 2016

Episode Length:

60
As the stakes of their revenge pact rise higher, and their ingenuity and morality get tested against seemingly unbeatable foes, don't be surprised if you're less and less bothered by the little fumbles in writing as you get more and more engrossed in the bigger picture.

While it mostly traffics in the idea of trying to right the past and how that can go so very wrong, it doesn't get bogged down, instead letting the action and mystery drive the story. For what it is, you likely will be entertained while watching it, but it probably won't stick with you very long.

A convoluted story that doesn't seem all that worthwhile to unravel, or peel--or watch..

Despite a fine job casting the show--including the principals' youthful alter egos--the story becomes less convincing as the layers and collateral damage pile up over the nine episodes previewed (with only the finale withheld).

The twists hold some interest, as plot mechanics often do; the characters, less so. No one's behavior makes much sense, and no one's relationship ever rings true.

As serialized mysteries go, Game isn't terrible but some of it is preposterous enough that viewers may not want to play it again.
The action moves fast and the story lines keep you guessing! The women of the show are strong and seem to contain as many secrets as there

The action moves fast and the story lines keep you guessing! The women of the show are strong and seem to contain as many secrets as there male counterparts. As the story unfolds I get the feeling that there are darker secrets that what we're first led to believe

…

Expand

This review contains spoilers

, click expand to view

.

The show is based on a Turkish show called Suskunlar, that in English translate to Game of Silence, i have to say i saw the Turkish version, so i know what this show is about, have to say that obvious in Turkey the show was even more dark. I saw the 1st episode, there was somethings that i didn`t liked, but were not enough to pay them attention. So in my opinion is a show worth seeing.

…

Expand

Yes, this is a show about vengeance; these men need to avenge their destroyed childhoods. Most importantly, this is a show about friendship

Yes, this is a show about vengeance; these men need to avenge their destroyed childhoods. Most importantly, this is a show about friendship and family. These characters support one another through each crisis and bombshell. They take care of each other. They face the darkness head on and are slowly finding that there is hope. The past does not have to dictate the future. A second chance is possible. Game of Silence is filled with twists, turns, secrets, and surprises. The cast and crew is fabulous. The writing is superb. It's a must watch!

…

Expand

Game of Silence is an awesome show! The cast is fantastic, and you never what's going to happen next with these characters. I've been hooked

Game of Silence is an awesome show! The cast is fantastic, and you never what's going to happen next with these characters. I've been hooked from the first episode. This show deserves a second season! Bring back Game of Silence!

…

Expand

Calm down StaceyJo - Texas does indeed have unions. It's a right to work state BUT Unions do exist just as in every other state that are

Calm down StaceyJo - Texas does indeed have unions. It's a right to work state BUT Unions do exist just as in every other state that are classified "right to work"

The plot is hardly "ridiculous". If you feel that strongly then don't watch it

…

Expand

Love this show. Excellent cast. Absorbing story line. No other show like it on tv. Very surprised over the low ratings. Sincerely hope NBC

Love this show. Excellent cast. Absorbing story line. No other show like it on tv. Very surprised over the low ratings. Sincerely hope NBC renews it for a second season.

…

Expand

Texas is a non union state. The plot is RIDICULOUS. There is no running the unions in Texas. The Trailer park neighborhood is typical insult

Texas is a non union state. The plot is RIDICULOUS. There is no running the unions in Texas. The Trailer park neighborhood is typical insult hurled in "film" I really wanted to like this, but there are no quarries in Houston. The nearest one would have to be in the area that starts having rocks.

…

Expand