Network:

HBO

Series Premiere Date:

Apr 17, 2011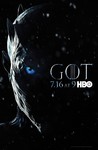 Starring:

Rupert Vansittart

,

Aidan Gillen

,

Aidan Gillen

Summary:

The fourth season finds King Joffrey preparing to wed Margaery Tyrell (Natalie Dormer), as Jaime Lannister seeks to rekindle his relationship with his sister Cersei, while Daenerys add more people to her army, and Castle Black is about to be attacked by Wildlings.

Genre(s):

Drama

,

Action & Adventure

,

Fantasy
Please enter your birth date to watch this video:
You are not allowed to view this material at this time.
The sharply written, slow-paced premiere ratchets up the tension on what's reported to be the bloodiest 10-episode season yet.

The acting is delightful, the visuals are sumptuous, the stories couldn't be more surprising.

It is--and continues to be in Season 4--a total storytelling masterclass.

It's sexy, violent, witty, emotionally devastating and visually spectacular--those dragons are bigger and more unruly than ever--delivering an experience not unlike how the glorious Diana Rigg (as Lady Olenna, Queen of Thorns) responds when she first lays eyes on the Amazonian warrior Lady Brienne (Gwendoline Christie): "Aren't you just marvelous, absolutely singular!" Yes, she is, and so's the show.

"Justified" and Game of Thrones, each in its own way, has done its share to raise that bar to dizzying heights.

Game remains one of the more challenging shows to follow, but one of the most rewarding.

This narrative pokiness is redeemed, as usual, by the machine-tooled professionalism of the production, the lavish attention to the mock-medieval costumes and setting, and the mostly crisp, understated acting by the international cast.... More than ever, though, you may find yourself impatient for the plot to wind around to the more engaging story lines.
A truly spectacular season of a truly spectacular television show. I get done watching these and am amazed at how emotional and amped-up

A truly spectacular season of a truly spectacular television show. I get done watching these and am amazed at how emotional and amped-up they've made me, the same feelings I get after a good epic movie. TV shows that can do this to me are exceedingly rare (The Sopranos and the modern Battlestar Galactica are the only other two that come to mind on this level).

This was perhaps the most cohesive and coherent season so far, which is saying a lot, actually. For the most part we've stopped meeting hordes of new characters, and we've time now to get more deeply-invested in the ones we do know. Obviously we're going to lose some along the way, that's the beauty of a series like Game of Thrones (or Walking Dead, for that matter). Unless you've read the books, the not knowing what's coming is pure joy. This season felt somehow even more frenzied than the last several, leaving viewers dangling from perilous event to perilous event, from show to show. Although I've been impressed with every season so far, all the stakes feel even higher this season. Set design, cinematography, writing, direction, acting, action scenes, costumes, CGI - all still completely stellar - with the usual highlight being the ability of the writers to layer together all these concurrent stories seamlessly. Yes, this is a show it is mandatory to watch from the beginning of season 1. There are 8 million plotlines going on. And that's where the magic remains with the program. The fact that viewers are never allowed to get lost or become disinterested in any of these storylines. It's a tremendous dance, and one that is bringing all the lines together - slowly at first, and now much more rapidly. This season is bookended by a premiere and closer that are among the strongest episodes from any season. And the season ends looking forward, with many of the aforementioned plotlines having grown increasingly complex, with the highest stakes yet.

This really is the pinnacle of what TV can be.

…

Expand

By knowing what happens from reading Book 3, this second half has the potential to be the greatest season of television ever. The show just

By knowing what happens from reading Book 3, this second half has the potential to be the greatest season of television ever. The show just keeps topping itself and Benioff & Weiss stay incredibly true to the books. Possibly more-so than any other book-to-TV/Film adaptation ever.

…

Expand

Probably my favourite season of any tv show I have have ever watched. There is so much at stake throughout, and each episode succeeds in

Probably my favourite season of any tv show I have have ever watched. There is so much at stake throughout, and each episode succeeds in making me crave for the next. Packed with crucial plot points and thrilling set pieces, this season never fails to leave you in awe. Left me in anger when my two favourite characters were killed off in consecutive episodes, but those are the stakes that make this show so good.

…

Expand

Somethings can't be put into words without taking from their value.
Watch it. Now.
This is where I write some more, and even though youSomethings can't be put into words without taking from their value.
Watch it. Now.

This is where I write some more, and even though you see the dramatic value of my review has been broken- that's the nature of the 150 character minimum rule.

…

Expand

Great season up there with 1 and 2. Not as much nudity but makes up for it in drama and action. To me it's Season 2,1,4,3 all great some

Great season up there with 1 and 2. Not as much nudity but makes up for it in drama and action. To me it's Season 2,1,4,3 all great some better than others. One issue is...............where are the damn Dragons!!!!!!!!!!

…

Expand

A wonderful set up to what is supposed to be one of the most action packed seasons to date. With the premiere of season 5 tonight, Season 4

A wonderful set up to what is supposed to be one of the most action packed seasons to date. With the premiere of season 5 tonight, Season 4 really did a good job of setting the table for what is to come. I personally am a fan of the fact that they are going to change it up from the book a bit, as long as it's with Martin's blessing. The show is going to finish the series long before the books do, if they ever do, and it has now caught up to the point that it's starting to become its own thing. I would like for them to implement the characters they are supposed to but wherever they go from here, which will be different from the books soon, I have faith that that they will pull it off. The show is one of the best on T.V. and easily the best medieval-esque show on television period. I can trust them to finish the series on a good note eventually, meaning I have full confidence they will make season 5 and beyond wonderful beyond reproach.

…

Expand

It was slow and boring and I am not really into these types of shows. I'd rather have a live action Call of Duty.
I feel that this show doesIt was slow and boring and I am not really into these types of shows. I'd rather have a live action Call of Duty.
I feel that this show does not meet the potential that it has shown to post-viewers via advertisements and other ways of attention.

…

Expand