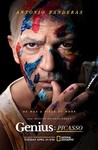 Starring:

Nicholas Rowe

,

Claire Rushbrook

,

Geoffrey Rush

Summary:

The first season of National Geographic's debut scripted anthology series from Brian Grazer and Ron Howard focuses on the life of Albert Einstein (Geoffrey Rush).

Genre(s):

Drama
Season 1 premiere date:

Apr 25, 2017

Episode Length:

60
Please enter your birth date to watch this video:
You are not allowed to view this material at this time.
The series repeatedly bounces around, but coherently so. And in the early going at least, Flynn's performance is the more interesting and affecting while also consuming considerably more screen time.

Worth watching? Oh yeah, particularly for the genius of Rush and Flynn. Despite the inconsistent nature of the dialogue, the series obviously has much to recommend it. It's superior, if not superlative.

Judging from the first two episodes, this is a skillfully acted, richly detailed historical show that would not be out of place on PBS or a high-end pay-cable outlet.

Genius is most compelling as the origins of a man who would achieve greatness, rather than an attempt to wedge that greatness into an otherwise-normal young adulthood.

Having only seen these two hours, it's hard to know how the series will proceed, though it is much more promising after the second installment. The series is at its best, rather ironically, when it's not dealing with time (or jumping through it) and focuses on smaller, human moments rather than broad strokes from history.

Genius may not entirely avoid the hokey pitfalls of the biopic genre, but it makes you feel smart for watching. [17-30 Apr 2017, p.19]

Genius doesn't just skate over the science, it ignores it.
Great show, writing is excellent and the acting is first rate also. The actors portraying the young Mr. and Mrs. Einstein are Emmy nomination worthy.

I thought this was a excellent Series, it gave great insight into to the personnel life of a great scientific mind, as well as his short

I thought this was a excellent Series, it gave great insight into to the personnel life of a great scientific mind, as well as his short givings in his personnel relations. I most immediately was reflective as all us Science majors with one or more degrees, have to face off with academia, and those trials and tribulations. The filming, cinematography, and effects were exemplary. I give it a all thumbs up, and have referred many academic friends to give the series a viewing. Thanks Nat Geo.

…

Expand

Magnífica!!! Ha sido un placer poder adentrarnos en la vida de este célebre pintor de la mano de Antonio Banderas, que le ha dado ese aire

Magnífica!!! Ha sido un placer poder adentrarnos en la vida de este célebre pintor de la mano de Antonio Banderas, que le ha dado ese aire español que necesitaba el personaje. Ambas temporadas han sido un regalazo, tanto Einstein como Picasso. Me quedo ansiosa esperando esa prometida tercera temporada sobre la vida de Mary Shelley. Gracias a todos por esa fantástica serie. Ojalá podamos conocer a muchos otros genios a través de los años.

…

Expand

After watching the 6th episode last night I am in awe of the people who put this series together. This guy -Einstein- was a hideous twerp . I

After watching the 6th episode last night I am in awe of the people who put this series together. This guy -Einstein- was a hideous twerp . I only hope that in the next 4 episodes they- the producers and writers -don't change their stance and make him into some kind of charming enfant terrible. Was he really all that much of a genius? Or was he just really smart at choosing who he stole from?Great show. Hats off to these guys. Took guts to say what they're saying. JM

…

Expand

It's an intriguing show based on the work and life of the exceptional Albert Einstein. It's quite revealing as it dives into the remarkable

It's an intriguing show based on the work and life of the exceptional Albert Einstein. It's quite revealing as it dives into the remarkable life of a genius; educational, inspiring and has a fine cast.

…

Expand

Very entertaining and informing biography about Albert Einstein. One would have thought that PBS or the BBC was behind it, yet we find that it

Very entertaining and informing biography about Albert Einstein. One would have thought that PBS or the BBC was behind it, yet we find that it airs over the National Geographic Channel. Kudos to them. The actor who portrayed young Albert was exceptional along with the actress who played his first wife.

…

Expand

I watched the episode 7, I really liked it, I think the young people must watch more series like that. In that episode Einstein is

I watched the episode 7, I really liked it, I think the young people must watch more series like that. In that episode Einstein is approximately 55 years old, is the start to second world warrior in Germany, his friend walter is killed for the young germanian activists. Your wife Elsa feels scare for her husband life and she invite him to leave Germany, and the USA Embassy deny their entry to that country.

…

Expand