Network:

Bravo

Series Premiere Date:

Dec 2, 2014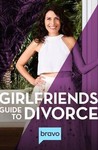 Summary:

Self-help book author Abby McCarthy (Lisa Edelstein) seeks advice from her divorced friends Lyla (Janeane Garofalo) and Phoebe (Beau Garrett) to restart her life as a single woman after separating from her husband, Jake (Paul Adelstein).

Genre(s):

Comedy

,

Drama
Season 1 premiere date:

Dec 2, 2014
Please enter your birth date to watch this video:
You are not allowed to view this material at this time.
Girlfriends' Guide To Divorce
Bravo's first original non-reality TV series is a sometimes hilarious, sometimes heartbreaking story about an L.A.-based self-help author.

Edelstein's pitch-perfect performance elevates Girlfriends' Guide to one of the best new series of the season.

You want to watch more episodes of this series not just because it's funny, but because it understands that the emotionally complex elements of loving someone, marrying them and having kids with them are probably the reasons marriage tears two people apart over time.

Edelstein's sympathetic performance grounds a show that often otherwise plays like young-adult fiction for actual adults. For every raw, bitter moment, there are many Hollywood caricatures and swank party scenes to make the cocktail go down easier.

Girlfriends' Guide, loosely based on the series of books by Vicki Iovine, is, like most of Bravo's shows, extremely entertaining, the TV equivalent of a great beach read.

Some of the randy dialogue strains a bit too hard to be provocative ("My vagina is not dead, it was just in a coma"), but what's truly shocking is how harsh and unforgiving the domestic blow-ups can be, as Abby and Jake survey the wreckage of their life together. The best parts of Divorce are those that remind us how messy and panicky such a dissolution can be for all involved.

Finding the proper balance for dramedy isn't easy and Girlfriends' Guide fails miserably at that task.