Network:

Netflix

Series Premiere Date:

May 8, 2015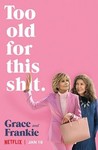 Starring:

Sam Waterston

,

Martin Sheen

,

Lily Tomlin

Summary:

Long-time adversaries Grace (Jane Fonda) and Frankie (Lily Tomlin) are unexpectedly brought together when their husbands (Martin Sheen and Sam Waterson) fall in love with each other.

Genre(s):

Comedy
Season 1 premiere date:

May 8, 2015

Episode Length:

25
Please enter your birth date to watch this video:
You are not allowed to view this material at this time.
It might take a little while, but Grace and Frankie has the capability to be something really, really special. And in the meantime, what we have isn't half-bad.

Ms.Tomlin and Ms. Fonda make an immensely potent comedy team. Together, and also separately, they're the source of most of the ebullience, style and assorted other pleasures of Grace and Frankie, and those are considerable.

The 13-episode series, created by Marta Kauffman and Howard J. Morris, is simply irresistible, mostly because Fonda and Tomlin are irresistible.

The true goal of Grace and Frankie is laughs, gained sometimes at the expense of genuine feeling but, hey, funny is funny.

Paired together, Grace and Frankie doesn't exactly work. But paired together, Fonda and Tomlin are brilliant.

This is a show that takes a very long while to find a stable tone and settle in. It veers recklessly and off-puttingly between brash one-liners and angst drama, between kooky times and personal tragedy, like a nervous guest doing stand-up at a shiva.

Beyond feeling like it's a flippant NBC comedy, Grace and Frankie also feels very 1999.
Captures the sensitivity, frustration, angst and love inherent in relationships. Extremely well written and acted by a cast of true

Captures the sensitivity, frustration, angst and love inherent in relationships. Extremely well written and acted by a cast of true professionals. Well done!!

…

Expand

I love, love, love this show. As a 50 something who is tired of the canned laughter and "all about sex" sitcoms this is so great! I was

I love, love, love this show. As a 50 something who is tired of the canned laughter and "all about sex" sitcoms this is so great! I was never a huge Jane Fonda fan but she and Lily are so wonderful in their parts. Please please please don't cancel this show. We need shows like this. The writing is great, the acting is outstanding. I laugh out loud!!!

…

Expand

Please make more!

Lovely reflection on the role of family/gay relationships/marriage in our world today: Children of divorce, the leftPlease make more!

Lovely reflection on the role of family/gay relationships/marriage in our world today: Children of divorce, the left behind spouses and the collateral damages. Lily Tomlin is such a delight and series is worth watching just to see Sam Waterston and Martin Sheen kiss! Kudos for the bravery to present such an honest look at todays modern state of LOVE. When you laugh it is from your belly. Please Jane Fonda lighten up a bit…you are way funnier when you just let go both as a character and a woman.

…

Expand

Maybe you can call me old fashioned but I love the approach they have taken. I find it a funny and refreshing. I can see how this can twist

Maybe you can call me old fashioned but I love the approach they have taken. I find it a funny and refreshing. I can see how this can twist and turn just as good as any other series. I am hanging in there to see what they have in store.

…

Expand

Every so often a show transcends mere entertainment value and becomes truly artful. Grace and Frankie is one of those shows. This is a rare

Every so often a show transcends mere entertainment value and becomes truly artful. Grace and Frankie is one of those shows. This is a rare feat for any television series, but its especially rare for a comedy. With a running time of 35 minutes, the pilot is admittedly slow to get the ball rolling, but on the whole Grace and Frankie had no problem holding my attention. Some critics have found fault in Grace and Frankie for its supposedly regressive stance on sensitive topics, and those criticisms are not wholly unfounded, but perspective is important here: Robert and Sol are by no means bad people, and the show does not portray them as such, but to leave your wife for a man after 40 years of marriage would be shocking to say the least, and that bitterness, that sense of betrayal, is conveyed beautifully and poignantly by Fonda and Tomlin. Much of the show's humour is based on shock value; there are many "I can't believe she just said that!" moments, and it works very well, but don't walk into it thinking you're getting It's Always Sunny in Philadelphia, because the show packs a heavy emotional punch as well; I found myself feeling genuine compassion and sympathy for Grace and Frankie, and was even a little misty-eyed by the end of the pilot, as anger, resentment, and bitterness gave way to cautious optimism. All in all, I think Grace and Frankie been unfairly criticized by a lot of people, many of whom I feel just missed the point. It's a wonderful show, and I think it's worth just about anyone's time.

…

Expand

Just finished binge viewing of Grace & Frankie and hated to see it end. Fonda and Tomlin work well together in their love-hate, rather

Just finished binge viewing of Grace & Frankie and hated to see it end. Fonda and Tomlin work well together in their love-hate, rather like-dislike relationship as the jilted wives. Sometimes the Sol/Robert scenes were a bit uncomfortable, would have liked less of their interactions although Sheen and Waterston create good characters. Any chance Dolly Parton can do a sketch on season two? Would really enjoy seeing the 9-5 ladies together again.

…

Expand

I have a hard time with Martin Sheen and Sam Waterson in their portrayal of a gay couple. The character of Sol is portrayed like a borderline

I have a hard time with Martin Sheen and Sam Waterson in their portrayal of a gay couple. The character of Sol is portrayed like a borderline disabled person. Over emotional and childlike. Robert his counterpart treats him as such saying ' calm down sweetheart' etc. it is vastly annoying. is this how they were when they were hiding their relationship? Sol getting overexcited and coming across as some impaired person? I love the show but really expected a lot more from two wonderful actors as Martin Sheen and Sam Waterson . Lily Tomlin and Jane Fonda, have evolved into such a strong friendship as Grace and Frankie. I hope we see other seasons to come. This is a show I watch over and over .

…

Expand