Network:

FOX

Series Premiere Date:

Sep 29, 2015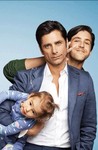 Season 1 premiere date:

Sep 29, 2015

Episode Length:

30
Yes, this is "Raising Hope" for the carpaccio crowd, but like that gone-but-not-forgetten Fox sitcom set in the no-frills aisle, the potential for schmaltziness is more than balanced by the show's oddball sensibilities.

The first episode of Grandfathered is amusing and shows promise.

Romance greases the gears on a show like this, but Grandfathered is always more interesting when it's the premiere of a show about people navigating the unique little family unit they accidentally made.

It'll take a few more zany diaper changes (you knew there had to be some) before we'll know if there's a stronger show here. If not, then Grandfathered is just a more flashy version of "Raising Hope."

There's a buoyancy to these characters and an edginess to this script that make Grandfathered far less cloying and monotonous than the show's ads -- and its opening five minutes -- initially present it as.

Grandfathered is as winningly cast as "The Grinder"--Mr. Stamos manages to be smarmy and charming at the same time--but its supporting characters need development.

Grandfathered is half-assed even by the exposition-dump standards of network pilots for I AM programs. Little of its dialogue even sounds like dialogue; most of it, in fact, sounds like stuff writers might scribble in their notebooks on a page marked, "IDEAS FOR DIALOGUE: MUST WRITE BEFORE FRIDAY!!!"
When I saw "Grandfathered" advertised this summer, I was overjoyed. I thought it would show John Stamos in his element, reviving a Uncle Jesse

When I saw "Grandfathered" advertised this summer, I was overjoyed. I thought it would show John Stamos in his element, reviving a Uncle Jesse like role for him. When the show aired this fall, I was not disappointed. Comedy, family fun and cheesy jokes fill the light hearted episodes of the show. The supporting cast of Josh Peck, Christina Milian and Paget Brewster are weird, yet enduring. I knew Brewster as the cold, serious Emily Prentiss on Criminal Minds, but her true comical self shines through in this series. Her and Stamos have great chemistry and act as if they actually had a relationship in the past. I completely enjoy this show and look forward to watching it every week, no matter how ridiculous the premise of the episodes can be. John Stamos is such a great actor and with every episode, he just gets better.

…

Expand

I liked the pilot. The characters worked well together, the plot came over well. The cast is good and the characters were developed well.

I liked the pilot. The characters worked well together, the plot came over well. The cast is good and the characters were developed well.

Yes, the show has some growing to do, but it is among the better pilots I've seen so far this season.

It will be interesting to see how the storyline develops as the episodes unfold.

…

Expand

I'm a big fan of Full House. John Stamos's character in Full House was handsome, kind, cool and likable. The character "Jimmy" in

I'm a big fan of Full House. John Stamos's character in Full House was handsome, kind, cool and likable. The character "Jimmy" in Grandfathered is kind of a self centered jerk for the 1st eighteen minutes of episodes 1 & 2, then he shows signs of possibly becoming a decent human being for the last 2 minutes of the show. I hope as the show evolves so does Johns Stamos;s character. Watching him act like a diva will get old quickly.

…

Expand

I am not connecting with any of the characters despite the shows obvious attempt to appeal to a diversified viewing audience.  John Stamos's

I am not connecting with any of the characters despite the shows obvious attempt to appeal to a diversified viewing audience.  John Stamos's character has a "Charlie Sheenesq" quality to it displaying a general lack of respect for women.   I will give it a couple more episodes to see if I can start to care if Stamos can be domesticated.

…

Expand

This show is about as interesting as the soul of miss america. John Stamos is a handsome guy who may biologically trick women into thinking

This show is about as interesting as the soul of miss america. John Stamos is a handsome guy who may biologically trick women into thinking this program is something worth watching, but it's not. The character development is nonexistent therefore making me not care one iota about what happens to the supporting cast. I don't know them so I don't care about them. The jokes are the worst thing about this "comedy." What appears to be a cheap rip off or a modern family-esk wanna be sitcom it has completely missed the boat. If you're looking for something shallow and funny you will get half of what you're looking for. It's a shallow boring show with jokes that bomb and characters you wouldn't care if they got bombed themselves. If you find John Stamos attractive, that will be the only thing about this show anyone will find attractive. Like a home being fumigated for termites... CAUTION: KEEP OUT

…

Expand

Nothing to save with this one/ the actors seam stressed/tortured trying to get trough their lines.... where have all the bad ass men

Nothing to save with this one/ the actors seam stressed/tortured trying to get trough their lines.... where have all the bad ass men gone?????.... virility is lost on half baked 'men'/ the female protagonist are shamelessly lost in questionable supporting roles/ family dysfunction is portrayed as relevant at the expense of healthy relationship...... it never ends but this one should!!!!!!!!

…

Expand

FOX TV has a responsibility to provide positive role models to
their viewers. The Grandfathered TV show does not have a meaningful
messageFOX TV has a responsibility to provide positive role models to
their viewers. The Grandfathered TV show does not have a meaningful
message behind it. The writers are just (obviously) trying to cover
every possible viewing audience (black, hispanic, middle eastern,
gay....). FOX please provide the viewers with shows that empower
people to be better human beings and make a difference in the world.
Thank you

…

Expand