Network:

ABC

Series Premiere Date:

Mar 27, 2005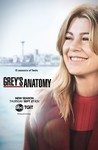 Starring:

Eric Dane

,

James Pickens Jr.

,

James Pickens Jr.

Summary:

Grey's Anatomy is a hospital drama that focuses on Meredith Grey (Ellen Pompeo), one of several third year residents at a Seattle Grace hospital. Along with her colleagues, Meredith struggles to maintain relationships while staying sharp at work.

The professional roles and real lives of aGrey's Anatomy is a hospital drama that focuses on Meredith Grey (Ellen Pompeo), one of several third year residents at a Seattle Grace hospital. Along with her colleagues, Meredith struggles to maintain relationships while staying sharp at work.

The professional roles and real lives of a diverse group of surgeons collide unexpectedly in this Golden Globe-winning ABC television drama. As a third-year resident at Seattle Grace Hospital, Meredith Grey (Ellen Pompeo) tries hard to live up to the reputation of her legendary surgeon mother while hiding the fact that her mom now suffers from Alzheimer's disease. As if life weren't complicated enough, Meredith also marries boss, Derek Shepherd (Patrick Dempsey). Meredith's friend and rival Cristina Yang (Sandra Oh) finds herself in a romance with 'army man' Owen Hunt (Kevin McKidd) how came to Seattle Grace from Afghanistan were he worked as a doctor. As for Meredith and Cristina's fellow residents (some not so much)-- Isobel "Izzie" Stevens (Katherine Heigl) and Alex Karev (Justin Chambers) -- they've got problems of their own. Izzie does not want to be judged by her underwear-model past and works hard but when she gets cancer, she gets fired and leaves her husband Alex. Alex is still better at bedding the ladies than bedside manner after his wife leaves and is trying to get over the grief. When Merediths little sister 'little grey' or Lexie Grey (Chyler Leigh) joined the picture in season 4 and is dating 'McSteamy' Mark Sloan (Eric Dane) who was married to Addison Montgomery (Kate Walsh [who now stars in the show Private Practice]). Arizona Robbins (Jessica Capshaw) turns out to be gay and now Callie Torres (Sara Ramirez) is now her partner. All eight residents still answer to the roar of senior resident Miranda Bailey (Chandra Wilson), affectionately known as "the Nazi." But even Dr. Bailey jumps to it when Chief of Surgery Richard Webber (James Pickens Jr.) is on the scene. But there is one thing you must remember "Medicine nor relationships can be defined in black and white. Real life only comes in shades of grey."

…

Expand

Genre(s):

Drama
Creator:

Shonda Rhimes

Season 1 premiere date:

Mar 27, 2005

Episode Length:

60
Please enter your birth date to watch this video:
You are not allowed to view this material at this time.
Like Hugh Laurie's irascible "House" title character, star Ellen Pompeo's newly minted Dr. Grey conveys such substance that you simply can't stop watching. [25 March 2005, p.B33]

Grey's wants to offer something for everyone, it seems, and does an admirable job not only of mixing drama, comedy and romance, but also of mixing in issues of today's complicated world of science. [24 Mar 2005, p.47]

In this age of "Desperate Housewives" and "The O.C.," it is refreshing to see a television show whose heroines aspire to meaningful work as well as meaningless sex.

Nobody's apt to forget "ER" because of this, but the mix of a youthful cast, crisp dialogue, romance, the Darwinian workplace struggle to survive, and life-or-death situations combine to make the show appealing and watchable in spite of its familiarity.

A mixed bag. Diagnosis: Some good dialogue, but it also suffers from a mild case of predictability.

So far Grey's Anatomy is groping for a balance between over-the-top nuttiness and heartstring plucking drama; it lands awkwardly in the dram-edy category. If it would stop trying to be droll and ironic (this is no "Scrubs"), it just might make the cut. [27 March 2005, p.F01]

The script by Shonda Rhimes, nimbly directed by Peter Horton (once an actor on "thirtysomething"), is nothing but a casserole made of equal parts ham and corn.
After I watched my first episode of Grey's Anatomy I knew that I would be hooked. I think all the characters contribute something great to the

After I watched my first episode of Grey's Anatomy I knew that I would be hooked. I think all the characters contribute something great to the show and you really start to become connected with each and every one of them. Out of all of them though I couldn't choose a better character to be the main as Meredith. My absolute favorite part of the show is that it is packed with content and emotion that ranges very often. I will be smiling, laughing, and crying all in one episode. It's tough when a new season comes out because I can't binge watch, but I am usually always watching older episodes on netflix to pass the time without a new episode. Overall my favorite show in the world.

…

Expand

I really like where the show is going with the Meredith-centric season. Everything is well justificated. I didn't like another sister for

I really like where the show is going with the Meredith-centric season. Everything is well justificated. I didn't like another sister for Meredith, but how they put her in the storyline, with all the flashbacks scenes, was a really great move. I hate Magie, but I'm starting to like her. I love how the show is moving on with the Callie-Arizona relationship, and how the problems of MerDer are exposed to the audience. But, we need more from the first seasons: Big medical cases, better storylines for Alex and Bailey. I love how the show could be so funny and dramatic in one single episode. I miss that. And how about a come back for Addison, Teddy, Izzie, Sydney, or a come back for death characters: George, Lexie, Mark? (I REALLY MISS CRISTINA)

…

Expand

Grey's Anatomy is the best television show of the 21st century. The medical drama collaborates drama with romance, comedy and even a bit of

Grey's Anatomy is the best television show of the 21st century. The medical drama collaborates drama with romance, comedy and even a bit of medicine manages to get in the mix! The chemistry between the cast members is phenomenal especially the long-standing relationship between Ellen Pompeo's character Meredith Grey and Patrick Dempsey's character Derek Shepherd. They have a presence that makes the viewer feel warm and themselves as actors have an exceptional chemistry, personally two of my favourite actors. Also the friendship between Meredith and Sandra Oh's character Cristina is welcoming and comedic. It has a great storyline thanks to the amazing creator Shonda Rhimes.

…

Expand

Season 1 of Grey's Anatomy set the stage for many many years of great television. I love the interactions between all the characters and the

Season 1 of Grey's Anatomy set the stage for many many years of great television. I love the interactions between all the characters and the acting is great. My favorite moment of the season was the arrival of addison. I still see that moment as one of the biggest game changers and shockers ever to happen in the seven seasons that Grey's has been on the air.

…

Expand

Good fun and a great series to binge watch. Very fun, very cheesy and addictive.

One of the TV shows that is close to my heart. I truly admired this show until i decided to no longer watch this series (Season 12) because I

One of the TV shows that is close to my heart. I truly admired this show until i decided to no longer watch this series (Season 12) because I felt that the writing deteriorated over time and the deaths of a primary character became the highlight of the past few seasons and for me, that is a bad sign. The unending loop of mishaps and tragedies that is CLEARLY unnecessary made me think that this show should've ended sooner.

…

Expand

I absolutely love this show i have seen all the seasons since 2005, however is too hard for the fans that Derek is dead i¨m still recovering

I absolutely love this show i have seen all the seasons since 2005, however is too hard for the fans that Derek is dead i¨m still recovering of that tragedy,

I have to say that i love that Miranda Bailey now is the chief of surgery, her humor is awesome and she is almost the only one who continues since the first season. I love the drama os the tv show and the new characters like April, Maggie and Amelia is algo doing a great job.

Please, no more people die on this season my heart could not stand it

…

Expand