Network:

Prime Video

Series Premiere Date:

Mar 29, 2019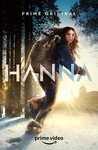 Summary:

Hanna (Esme Creed-Miles) is forced to use the survivalist skills taught by her father (Joel Kinnaman) after she is separated from him by a group of rogue CIA agents led Marissa Wiegler (Mirelle Enos) in this series adaptation of the 2011 film of the same name from David Farr.

Genre(s):

Drama

,

Suspense
Season 1 premiere date:

Mar 29, 2019

Episode Length:

60
The more Farr's series diverges from the original, the more it emerges as its own, distinct work.

Farr appropriately fleshes out his characters to justify spending more time with them and builds a broader backstory than just a father and daughter vs. one rogue CIA agent. ... Enos remains a more compelling silent figure; her Marissa is cloaked in secrecy through the first three hours, so her additions to the role are subtle. Creed-Miles is the standout, but Kinnaman holds his own in this three-player adventure.

Slow as a movie stretched four sizes too big: ideal for those who wanted more dreamy club scenes in Jack Ryan. [29 Mar 2019, p.47]

The results are mixed: mostly sad, with a glimmer of hope at the end.

In the scenes when all three are engaged, stalking through European cities, joyriding helicopters, and shooting out genteel outdoor cafés, Hanna feels explosively good, the rare intelligent action thriller that subverts storytelling tropes and surfs on its own ingenuity. In other scenes, that ingenuity gets lost in a mood board of decorative visuals (light dappling through fabric, leaves dancing in the wind) that bloats the series' running time and hobbles its pace, especially given that the central mystery is easy to decipher.

Boiled down to its essential elements, Hanna is a bland fish-out-of water tale punctuated by short bursts of sudden violence.

The season's conclusion asks as many questions as it answers, appearing to exist only so that Hanna may sustain itself, offering more henchman bones for Hanna to snap without wondering whether the character should, or even wants to, keep snapping them.
In equal parts high-concept thriller and coming-of-age drama, HANNA follows the journey of an extraordinary young girl raised in the forest,

In equal parts high-concept thriller and coming-of-age drama, HANNA follows the journey of an extraordinary young girl raised in the forest, as she evades the relentless pursuit of an off-book CIA agent and tries to unearth the truth behind who she is. Esme Creed-Miles does Hanna like she was born for it. Love the directing by Sarah Adina Smith. The rare intelligent action thriller that subverts storytelling tropes and surfs on its own ingenuity. Hanna adds new wrinkles to the mythology and texture to the titular assassin. Amazon Gets it Right. Hanna has lots of twists and turns and fine performances from all three of its leads. Well worth a binge.

…

Expand

Ww watched the early release ep 1 then devoured the entire season over 2 (late!!!) nights. Loved the mix of sci fi thriller & coming of age

Ww watched the early release ep 1 then devoured the entire season over 2 (late!!!) nights. Loved the mix of sci fi thriller & coming of age drama (though did feel the teen angst & dysfunction of Sophie's family a bit too overwritten at times). Incredible acting by all. Great to see a show of this budget & genre with women at the helm!!! Looking forward to season 2.

…

Expand

If you like shows like Orphan Black, Hunted or La Femme Nikita you'll want to check this out. It's pretty secret government program to raise

If you like shows like Orphan Black, Hunted or La Femme Nikita you'll want to check this out. It's pretty secret government program to raise hyper assassin soldiers that the government wants to cover-up with a coming of age twist.

If you've seen the movie Hanna this was written by the same guy and follows the movie pretty loosely through the first three or four episodes. After that it builds a deeper shadow world and the world building is good but does hold the pacing through the first three episodes back a bit. Basically the first three episodes are the first hour of the movie filled with more character development and world building. Then it takes off and I found it pretty suspenseful.

I really hope it gets a second season as I think they've built a story and world that's primed for an even better second chapter.

…

Expand

"Hanna" is an Amazon Prime Video series (8-eps, 45+ mins) loosely based on the 2011 movie of the same name, but it's separate and distinct.

"Hanna" is an Amazon Prime Video series (8-eps, 45+ mins) loosely based on the 2011 movie of the same name, but it's separate and distinct. The first episode covers a lot of time, from her infancy to her present day at age 17. Personally, I would've preferred a whole episode devoted to her single-parent rearing in the forest since there would've been a lot of life lessons learned there. Also, living such a sheltered life should've had more of an impact on her when she gets to civilization, so there's some minor plausibility issues there. But overall, it's a pretty good ride. Certain characters refuse to die which is problematic but the final episode rectifies that pretty well. There are obvious villains along with anti-villains/anti-heroes so there's some moral dilemmas there which is good. The final episode stretches credulity and there's one scene you could see coming a mile away but it leaves things at a good place for a second season, if you can wait 2+ yrs. BTW, don't name your daughter "Marissa", it's been tainted by the C-level business fraud of Marissa Mayer (Google, Yahoo) and the chief (anti-)villain of this series is a Marissa so that name is burnt.

…

Expand

I wish it was it bit more "high-concept thriller" and a little less "coming-of-age drama" (imdb), but there are some moments and performances

I wish it was it bit more "high-concept thriller" and a little less "coming-of-age drama" (imdb), but there are some moments and performances worth watching for. Mirelle Enos is damned interesting in her role as the baddie. Joel Kinnaman is as likable as he is in anything else he's done, but the character isn't particularly interesting. The young woman who plays Hanna is at her best when she's in Bourne mode rather than the fish out of water waif dealing with her desires to be a normal teenage girl in the 'real world'.

…

Expand

This story should have been a home run, but instead the pacing of the series is so painful I find myself dreading the next episode, and the

This story should have been a home run, but instead the pacing of the series is so painful I find myself dreading the next episode, and the feeling gets stronger the more I watch. This series is painful, the story destroyed by fleshing out 8 hour long eps to the point of mental & emotional collapse. Kinnaman is great but entirely misused, Creed-Miles is simply miscast and no matter how many times she tries to look wild with her hair let down over her face, it still strikes as an affect, Enos is annoying, his buddies are annoying, the CIA guys are annoying. Blech.

…

Expand

Le film était calamiteux malgré (et à cause) de la jolie petite blonde... laquelle était vraiment très fade et trop peu crédible en machine de

Le film était calamiteux malgré (et à cause) de la jolie petite blonde... laquelle était vraiment très fade et trop peu crédible en machine de combat génétiquement modifiée à l'insu de son plein gré. Mais le film souffrait de nombreux problèmes par ailleurs, ce qui en faisait un navet accompli.

La série a évidemment plus de temps pour développer son intrigue et ses personnages, lesquels sont ici souvent fort bien servis par des acteurs et des actrices convaincants et convaincantes au rang desquelles la petite brune Hanna aux yeux bleu-gris dégage un caractère à la fois touchant et énigmatique.

Ce mélange de Hitman 47 et de Nikita parvient ainsi à faire illusion quelques épisodes, puis s'effondre assez lamentablement... Le scénario est en effet plein de trous et de raccourcis... et si on est prêt à passer éventuellement l'éponge, on est pas prêt à pardonner la niaiserie qui s'invite de plus en plus souvent et maladroitement de surcroît... ni le manque de rythme qui rend la série de plus en plus lénifiante.

Comment ont-ils fait leur compte pourtant, avec seulement 8 épisodes à la clé ? ils doivent vraiment être incroyablement mauvais pour boulotter des trucs aussi emmerdants ! très peu d'action donc mais surtout rien qui fasse avancer le schmilblick ou alors... on dort déjà.

Dommage, car c'est quand même nettement mieux que le film et la réalisation (pour une série) est des plus correctes. Mais ça manque trop d'inspiration et d'idées tout court.

…

Expand