Network:

Syfy

Series Premiere Date:

Dec 6, 2017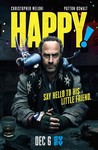 Starring:

Ritchie Coster

,

Christopher Meloni

,

Patrick Fischler

Summary:

Nick Sax (Christopher Meloni) is a former-cop-turned-hit-man who meets a small, imaginary blue-winged horse named Happy (Patton Oswalt) after a hit job goes wrong in this black comedy series based on the graphic novel of the same name by Grant Morrison and Darick Robertson.

Genre(s):

Comedy

,

Drama

,

Fantasy
Season 1 premiere date:

Dec 6, 2017

Episode Length:

60
The bad behavior is fun, but the plot construction can feel thin. ... But, um, there's a unicorn! Oswalt give Happy a sweetness edging into lunacy. ... To quote Home Alone 2, another yuletide tale about a heroic psychopath torturing bad guys in New York City. [8 Dec 2017, p.46]

Happy! captures the tone "Marvel's the Punisher" should have aspired to: grisly, gross and nutty without abandon.

At best, Happy! is flying toward something bigger than what it finds in these first two episodes; a point or a connection or an original conceit beyond the entertainingly over-the-top nature of its core story. At worst, it's just throwing a bunch of blood at the wall and hoping the shock is what sticks. Either way, it will be fun to see how crazy the Syfy series can get before it blows its top.

It's the kind of project that dances so interestingly on the edge of abrasiveness that one bad storytelling turn could send it off the dark side forever. And yet there's something almost thrilling about watching Morrison, Taylor, Meloni, Oswalt, and the rest of the gang keep this crazy top spinning for two episodes.

Happy! communicates such joy in filmmaking that the show seems graceful and airy even though the material is mostly leaden. If you're able to view Happy! mainly as an exercise in style and attitude, with a brilliant lead performance, you'll find a lot to admire here.

By the end of the second hour, the series becomes an entertainment best absorbed in doses, as the initial excitement calcifies into a kind of apathy that detracts from the appeal Meloni and Oswalt grant to the story.

Happy! has a cartoonish sensibility more suited to drawings than live action. The more it strains to be edgy and shocking, the more laughable it becomes.
Very good show and very good main act. Really enjoy all this mess. Deferentially not for children's or very sensitive peoples. But others im

Very good show and very good main act. Really enjoy all this mess. Deferentially not for children's or very sensitive peoples. But others im pretty sure will be... Happy!

…

Expand

This show is a wonderful mashup of things that don't normally work together. Barney meets Scarface, Tinkerbell meets Texas Chainsaw Massacre.

This show is a wonderful mashup of things that don't normally work together. Barney meets Scarface, Tinkerbell meets Texas Chainsaw Massacre. Imagine Power Rangers as the victims in snuff porn, , , who wouldn't want to see that?

…

Expand

Bloody, cynical, hillarious...Amazing dialogs. Hadnt had such good loughs for a long while.

Among the best new series this season. This horse goes a LONG way to filling the dog shaped hole that was left at the end of FX's Wilfred.

I originally wasnt even sure if I was going to watch this show but after all the hype over it I did and I am gonna admit I loved it it had

I originally wasnt even sure if I was going to watch this show but after all the hype over it I did and I am gonna admit I loved it it had just the right amount of action comedy and mystery even though the lead character isn't the best guy you still kinda like him and want him o succeed in his missions and its one of the best shows this fall but I don't recommend it to kids theres strong bloody violence near constant swearing and even a brief glimpse of a side boob during a sexual act but I love happy the horse too hes hilarious but I do recommend this show to those who are able to handle the graphic content

…

Expand

Amazing first season - if you love Deadpool you'll love this. Gloriously violent and moves at a frantic pace. The slapstick still works for

Amazing first season - if you love Deadpool you'll love this. Gloriously violent and moves at a frantic pace. The slapstick still works for horror (Ash vs Evil Dead) as it works for crime. That Brian Taylor is crazy. Patton Oswalt too, does a good voice-acting job

…

Expand

A series full of action and brutal comedy, but quite poor in writing that becomes repetitive, predictable and ridiculous. The music and

A series full of action and brutal comedy, but quite poor in writing that becomes repetitive, predictable and ridiculous. The music and special effects have nothing remarkable, you can watch it only for the brutality but it would still not be worth it.

…

Expand