A Make Kaua (Until We Die)

Please enter your birth date to watch this video:

You are not allowed to view this material at this time.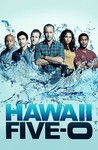 Episode Details & Credits
CBS |
Air Date:
May 8, 2015
Summary:
Season 5 ends with Five-0 learning that a stolen nuclear bomb is somewhere on the island and is about to be detonated. Meanwhile, McGarrett is stunned when Catherine returns to Hawaii; and Chin confronts Adam about his lingering connections to the Yakuza, on the eve of Adam and Kono's wedding.
Genre(s):
Drama

,

Action & Adventure

,

Suspense
Seasons & Episodes
Season 10

Season 9

Season 8

Season 7

Season 6

Season 5

Season 5 Overview

Air Date: September 26, 2014

S5:E25. A Make Kaua (Until We Die)

Air Date: May 8, 2015

S5:E24. Luapo'i (Prey)

Air Date: May 8, 2015

S5:E23. Mo'o 'Olelo Pu (Sharing Traditions)

Air Date: May 1, 2015

S5:E22. Ho'Amoano (Chasing Yesterday)

Air Date: April 24, 2015

S5:E21. Ua Helele'i ka Hoku (Fallen Star)

Air Date: April 10, 2015

S5:E20. Ike Hanau (Instinct)

Air Date: April 3, 2015

S5:E19. Kahania (Close Shave)

Air Date: March 13, 2015

S5:E18. Pono Kaulike (Justice for All)

Air Date: March 6, 2015

S5:E17. Kuka'awale (Stakeout)

Air Date: February 27, 2015

S5:E16. Nanahu (Embers)

Air Date: February 20, 2015

S5:E15. E 'Imi pono (Searching for the Truth)

Air Date: February 13, 2015

S5:E14. Powehiwehi (Blackout)

Air Date: February 6, 2015

S5:E13. L? P??ino (Doomsday)

Air Date: January 30, 2015

S5:E12. Poina'ole (Not Forgotten)

Air Date: January 16, 2015

S5:E11. Ua'aihue (Stolen)

Air Date: January 9, 2015

S5:E10. Wawahi Moe'uhane (Broken Dreams)

Air Date: January 2, 2015

S5:E9. Ke Koho Mamao Aku (Longshot)

Air Date: December 12, 2014

S5:E8. Ka Hana Malu (Inside Job)

Air Date: November 21, 2014

S5:E7. Ina Paha (If Perhaps)

Air Date: November 7, 2014

S5:E6. Ho'Oma'ike (Unmasked)

Air Date: October 31, 2014

S5:E5. Ho'oilina (Legacy)

Air Date: October 24, 2014

S5:E4. Ka No'eau (The Painter)

Air Date: October 17, 2014

S5:E3. Kanalu Hope Loa (The Last Break)

Air Date: October 10, 2014

S5:E2. Ka Makuakane (Family Man)

Air Date: October 3, 2014

S5:E1. A'Ohe Kahi e Pe'e Ai (Nowhere to Hide)

Air Date: September 26, 2014

Season 4

Season 3

Season 2

Season 1