Please enter your birth date to watch this video:

You are not allowed to view this material at this time.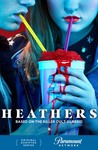 Summary:
Based on the movie by the same name, the dark comedy reboot finds J.D. (James Scully) and Veronica (Grace Victoria Cox) dealing with the Heathers led by Heather Chandler (Melanie Field), her second in command Heather Duke (Brendan Scannell), and cheerleader Heather McNamara (Jasmine Mathews).
Seasons & Episodes
Season 1

Season 1 Overview

Air Date: October 25, 2018

S1:E10. Are We Going to Prom or Hell?

Air Date: November 30, -0001

S1:E9. I'm a No-Rust-Build-Up Man Myself

Air Date: November 30, -0001

S1:E8. Call When Shuttle Lands

Air Date: September 26, 2019

S1:E7. Part Two

Air Date: December 6, 2018

S1:E6. Hot Probs

Air Date: April 12, 2018

S1:E6. Part One

Air Date: November 29, 2018

S1:E6. Part Eight

Air Date: January 17, 2019

S1:E5. Reindeer Games

Air Date: April 4, 2018

S1:E5. Part Nine

Air Date: October 29, 2018

S1:E4. Our Love is God

Air Date: March 29, 2018

S1:E4. Parts Seven & Eight

Air Date: October 28, 2018

S1:E3. Date Rapes and AIDS Jokes

Air Date: March 21, 2018

S1:E3. Parts Five & Six

Air Date: October 27, 2018

S1:E2. She's Going to Cry

Air Date: March 14, 2018

S1:E2. Parts Three & Four

Air Date: October 26, 2018

S1:E1. Pilot

Air Date: March 7, 2018

S1:E1. Parts One & Two

Air Date: October 25, 2018

Season 1

Season 1 Overview

Air Date: October 25, 2018

S1:E10. Are We Going to Prom or Hell?

Air Date: November 30, -0001

S1:E9. I'm a No-Rust-Build-Up Man Myself

Air Date: November 30, -0001

S1:E8. Call When Shuttle Lands

Air Date: September 26, 2019

S1:E7. Part Two

Air Date: December 6, 2018

S1:E6. Hot Probs

Air Date: April 12, 2018

S1:E6. Part One

Air Date: November 29, 2018

S1:E6. Part Eight

Air Date: January 17, 2019

S1:E5. Reindeer Games

Air Date: April 4, 2018

S1:E5. Part Nine

Air Date: October 29, 2018

S1:E4. Our Love is God

Air Date: March 29, 2018

S1:E4. Parts Seven & Eight

Air Date: October 28, 2018

S1:E3. Date Rapes and AIDS Jokes

Air Date: March 21, 2018

S1:E3. Parts Five & Six

Air Date: October 27, 2018

S1:E2. She's Going to Cry

Air Date: March 14, 2018

S1:E2. Parts Three & Four

Air Date: October 26, 2018

S1:E1. Pilot

Air Date: March 7, 2018

S1:E1. Parts One & Two

Air Date: October 25, 2018