Network:

HBO

Series Premiere Date:

Sep 29, 2013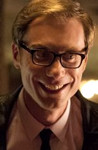 Starring:

Kevin Weisman

,

Stephen Merchant

,

Nate Torrence

Summary:

Stephen Merchant (Life's Too Short) stars in this HBO comedy about a tall and awkward Englishman searching for the woman of his dreams in Los Angeles.

Genre(s):

Comedy
Please enter your birth date to watch this video:
You are not allowed to view this material at this time.
It is funny and disturbing in exactly the manner and proportions one would expect from his earlier works.

A little buzzkill-condescending, but there's enough mirth to affirm the sitcom's promise. [4 Oct 2013, p.61]

Hello Ladies is so much of a piece with both "The Office" and "Life's Too Short"--oblivious asshole keeps putting himself in humiliating situations because of an overinflated sense of self--that it's tiresome almost from the start.

Hello Ladies already seems well-worn by the end of Episode 2. Some of Merchant's asides are amusing enough, but not to the point of caring one way or the other about what befalls his character.

We've seen this show before, in fresher settings, with stronger comic structure --from, in fact, the same creators: Merchant and American "Office" writers Lee Eisenberg and Gene Stupnitsky.

Stephen Merchant plays a socially awkward British web designer living in Los Angeles who's not good with women, but in ways so obvious (and obnoxious) that it's hard to commiserate with him, much less laugh.
Reviewers have clearly missed the boat on this show. People love it. Wonder why they are so quick to dismiss Merchant. This show is actually a

Reviewers have clearly missed the boat on this show. People love it. Wonder why they are so quick to dismiss Merchant. This show is actually a more honest portrayal of what most of LA acting scene actually is. Funny it clearly is, but it presents much more than that. The acting is great and the show should be renewed.

…

Expand

This is one of the funniest new shows on TV. can't wait for the rest of the season to unfold and see what Jessica and Stuart get themselves

This is one of the funniest new shows on TV. can't wait for the rest of the season to unfold and see what Jessica and Stuart get themselves into. Also Rory and Wade are HILARIOUS.

…

Expand

Critics have no idea what they're talking about. Very nice to finally see Stephen Merchant as a leading character, as he thoroughly deserves

Critics have no idea what they're talking about. Very nice to finally see Stephen Merchant as a leading character, as he thoroughly deserves it. Have been following him since the XFM radio days and think this show is brilliant. Well done to HBO for thinking outside the box yet again and showing why TV has become such an interesting medium in the last 5-10 years.

They should allow more british reviews on here as I think many of the critics here have a serious issue with the humour differences and the subtleties. Americans need things spelled out so they're so quick to write something off if they don't get it straight away.

Watch it and see for yourself, and don't pay any attention to the critics Stephen, your show is awesome!

…

Expand

The reason this is so funny is that it shows a striking resemblance to other awkward geeks (like me!), and I think that is a very hard thing

The reason this is so funny is that it shows a striking resemblance to other awkward geeks (like me!), and I think that is a very hard thing for both the actors and the writers to accomplish.

…

Expand

This is a really great, laid back show. Quirky and funny without any blatant vulgarity or violence. Really refreshing. Writers use

This is a really great, laid back show. Quirky and funny without any blatant vulgarity or violence. Really refreshing. Writers use situations and personalities without relying on f-bombs and bjs for entertainment. The awkwardness is what makes it truly funny. Please renew this one!

…

Expand

Great for a pilot, really funny and I cannot wait to see where they go with it in future episodes. Obviously it wasn't overly original,

Great for a pilot, really funny and I cannot wait to see where they go with it in future episodes. Obviously it wasn't overly original, however it was different enough to set it apart from other comedies, it just needs a better supporting cast. Steven Merchant was obviously the highlight of the show, all the jokes were revolved around him, he plays the character well,I just hope for more in future episodes from other characters.

I can see this being a true American version of "The Worst Week of my Life" which was a great British show.

…

Expand

I would like to like this show, I really would but this guy is so blinded by fantasy he completely misses out on the real people who cross his

I would like to like this show, I really would but this guy is so blinded by fantasy he completely misses out on the real people who cross his path. His ego and superficial ways makes you lose all sympathy for him. I know too many men like him out here in Los Angeles so watching a show about these jerks ends up just irritating me

…

Expand