Network:

Netflix

Series Premiere Date:

Apr 19, 2013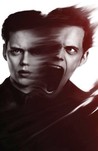 Starring:

Don Francks

,

Famke Janssen

,

Dougray Scott

Summary:

Based on the Brian McGreevy's novel of the same name, the murder of 17-year-old Brooke Bluebell in a small Pennsylvania steel town leads to suspicions toward Peter Rumancek (Landon Liboiron), 17-year-old Gypsy and Roman Godfrey (Bill Skarsgard), the heir to the Godfrey estate.

Genre(s):

Horror
Season 1 premiere date:

Apr 19, 2013

Episode Length:

45
Please enter your birth date to watch this video:
You are not allowed to view this material at this time.
Hemlock Grove takes its time with story lines, ensuring that each one has plenty of room to ripen. It carries out every dastardly deed with gusto, but still offers enough moments of levity.

It manages to be lush, gross, frightening, and ridiculous--all at the same time.

Hemlock Grove overall falls well short of anything resembling sustained brilliance. Still, each episode may well push just enough buttons to pull you along to the next one.

There are just a lot of crazy, crazy ideas hurled out there with no real thought given to pace or tone or how to mesh them all together.

If the underlying formula is as old as "Dark Shadows," there's still a need for more narrative momentum than the 13-episode series initially delivers.

Weird can be good, but this isn't intentionally weird so much as it is plain bad.

The Roth-directed drama is an almost unwatchable muddle of horror tropes and painfully creaky dialogue.
This review contains spoilers

, click expand to view

.

I have only recently watched Hemlock Grove, in early November 13. And i have to say I thought the brooding, mystery of it all was phenomenal. Being a young adult I have completely indulged myself with the thirteen episode thriller. Dark demons and hidden depths suck you in and leave you speechless. The gore, fantastic. Completely gripping. And the characters, perfectly portrayed, exactly how they should be. As a budding actress myself and looking to go into the darker genre, i was glued to the screen, every actor and actress had that dark spark. It's not just the gorgeous guys i'm infatuated with either, the twists, romance, action and the supernatural element are thrown together in a way that suits this gruesome jaw-dropping series. I am definitely looking forward to the release of the second! And as for the werewolf transformation, it's never been done like that. I have spent countless hours trawling through all things supernatural. Never have I come across one so realistic and in detail. I'm really not sure what all these negative reviews are all about, they must be on the wrong site. Thank you Netflix!

…

Expand

Started kind of slow then the show sinks in. Very suspenseful with great characters. I commend the choice of actors. Overly sexual at times

Started kind of slow then the show sinks in. Very suspenseful with great characters. I commend the choice of actors. Overly sexual at times yet wonderfully gory.

…

Expand

Hemlock Grove is an amazing series, it is slow developing but so what, so is Game of Thrones. Its more murder mystery that happens to be set

Hemlock Grove is an amazing series, it is slow developing but so what, so is Game of Thrones. Its more murder mystery that happens to be set in a supernatural universe.

…

Expand

Although has shades of teen-horror yarns like 'Twilight', Hemlock Grove manages to not fully commit to a young audience. Takes a few episodes

Although has shades of teen-horror yarns like 'Twilight', Hemlock Grove manages to not fully commit to a young audience. Takes a few episodes to get going, but it's enjoyable, with decent performances from the two young front men especially. If you're a fan of True Blood, you'll probably enjoy this.

…

Expand

At first I really didn't like the show. To many brunette white girls to differentiate between, to many characters in the first episode

At first I really didn't like the show. To many brunette white girls to differentiate between, to many characters in the first episode overall. However, I persevered. I'm now on episode eight and I'm enjoying it now. There seems to be a lot of good ideas thrown together without much thought, yet they are still good ideas.
Yes, it is flawed, but, still enjoyable.

…

Expand

Just watched the Pilot and...wow, what a chore that ended up being. Terrible script, terrible acting, pacing issues galore, no interesting

Just watched the Pilot and...wow, what a chore that ended up being. Terrible script, terrible acting, pacing issues galore, no interesting characters. Jannsen's accent is a total mess. This NF original doesn't come close to the quality of House of Cards. Avoid it.

…

Expand

My first disappointment with this series was the werewolf looks like a dog puppie as we've seen in Twiligh, I'd like to met who created this

My first disappointment with this series was the werewolf looks like a dog puppie as we've seen in Twiligh, I'd like to met who created this kind of "werewolf" and kill that person.
Second, the sex scenes becomes so saturated that doesn't even make sense at a moment, some scenes already begins with a blowjob and u starts to think "humm, something is going to happen" or "this scene must have make sense to the plot, lets see what they'll say after" and then, NOTHING..... nothing happens, they just stop to have sex and begin a randomic conversation, c'mon netflix.... stop this ****

…

Expand