Network:

HBO

Series Premiere Date:

Sep 16, 2016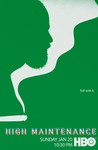 Summary:

The web series created by Katja Blichfeld and Ben Sinclair about a marijuana dealer (Ben Sinclair) in New York City moves to HBO with six new episodes.

Genre(s):

Comedy
Season 1 premiere date:

Sep 16, 2016

Episode Length:

30
In the six half-hour episodes that comprise the new season on HBO, High Maintenance exceeds expectations, not only delivering the same loose energy of the earlier seasons, but deepening the DNA of the show with the complicated tools at its disposal.

When it connects, it has the chance to hit back hard. It's not something usually expected of any half-hour comedy, much less one whose conduit through each anthological arc is weed, but it is surprising in its readiness to be so darkly dramatic. ... High Maintenance is one of the best TV shows of 2016.

High Maintenance could easily have lost the transmutability that made it so special. Instead, it's gotten better: The emotions run even deeper, the comedy is more self-aware, and The Guy's ensemble of customers are more richly characterized.

High Maintenance is impressively unruffled by its lengthened format or its move to HBO.

High Maintenance stands out, not just because it's on the front end of what is apparently a reefer TV trend, but because it's so precisely made and has such an ambling, open heart.

Even when the cut comes fast, they stay elegant; the images all register. We cut into conversations in the middle, suggesting talk that has been going on awhile and might go on longer. Scenes show as much as they need to, and just a little more, without seeming interrupted.

Though High Maintenance does contain some universal truths about city life, it's best episode is not about humanity, but about the dog.
There's nudity, and not the kind you want. That's the only negative. But you see I rated it a 10.

It's only six episodes, so you can't sayThere's nudity, and not the kind you want. That's the only negative. But you see I rated it a 10.

It's only six episodes, so you can't say this is the greatest TV show ever. But on a rate basis, like per episode, this is one of the best shows ever made.

Here's some other shows I like so you can see if our tastes align
Game of Thrones
Breaking Bad
Broad City
Fargo
Stranger Things
Bored to Death
Rick and Morty

…

Expand

I love this show. It is pure creativity each week and has fascinating stories that share a part of New York few of us would ever see. I

I love this show. It is pure creativity each week and has fascinating stories that share a part of New York few of us would ever see. I recommend it to all of my friends and once they come in touch with the non linear format they too embrace it. Great job everyone involved in this delightful and touching show. Especially the writers.

…

Expand

The characters are really annoying but I found it pretty hilarious and spot on. You either get it or you don't, it's definitely not going to

The characters are really annoying but I found it pretty hilarious and spot on. You either get it or you don't, it's definitely not going to be a show for everyone. Looking forward to more episodes.

…

Expand

High Maintenance comes off as a show to watch while you're high, but it's so much more than that. The anthology (but still loosely connected)

High Maintenance comes off as a show to watch while you're high, but it's so much more than that. The anthology (but still loosely connected) format of the show lends itself to a fresh experience in every episode while keeping one familiar character involved to tie it all together. It requires little of the viewer, but it's easy to get more invested than expected.

…

Expand

I dont know why this series has high ratings, didn't find it funny at all, the supporting characters were just boring,i was really expecting

I dont know why this series has high ratings, didn't find it funny at all, the supporting characters were just boring,i was really expecting something better.

…

Expand

I dont get it. Ive watched 3 episodes now and I dont recognise any characters. A few things have been mildly interesting but the story seems

I dont get it. Ive watched 3 episodes now and I dont recognise any characters. A few things have been mildly interesting but the story seems completely disjointed. I simply cannot see one link between the current show and the previous ones. I'm not gripped and not even sure I'll have time to watch this ever again

…

Expand

There is nothing to see here. A boring look at a guy riding his bike to sell weed to various individuals. The people he sells to are for the

There is nothing to see here. A boring look at a guy riding his bike to sell weed to various individuals. The people he sells to are for the most part, boring. The stories are all really lame, and the fact that I called them stories is a bit of a misnomer because who in their right **** mind would write this crap?

…

Expand