Network:

VH1

Series Premiere Date:

Jan 7, 2015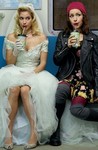 Summary:

Just before Becca (Laura Ramsey) is set to marry for the second time, she questions her decision and after thinking about her ex-best friend (Sarah Goldberg), she is suddenly transported to 1995, the day after her first wedding to Sean (Craig Horner).

Genre(s):

Drama
Season 1 premiere date:

Jan 7, 2015

Episode Length:

60
It's a refreshingly un-miserable show, and while it covers a range of human emotions and identities, none are "murderer" or "super murderer."

A clever, affecting and sly new show about bad choices begetting worse ones, begins somewhere near the intersection of romance and horror.

Ramsey is just right for the role and Goldberg is equally good. Several other characters have promise. Even with all that second-hand smoke, Hindsight should show us a good time.

There's still plenty of room for Hindsight to grow, and plenty of reasons to stick around for it to happen. Crucially, the show is ultimately more than the sum of its scrunchies, beepers and AOL accounts.

Making it all about one woman's journey keeps the field of vision rather narrow, and the pilot (directed by Michael Trim) doesn't provide quite enough depth to fully appreciate the gravity of what changing Becca's past might mean. Other than the styles of the era, scant effort has been made to reflect the passage of two decades on the characters, which is a quibble, perhaps, but a trifle disorienting at first.

The VH1 series is slight, but it has a certain charm and the potential to grow into a harmless, soapy amusement.
This review contains spoilers

, click expand to view

.

ótima série, super nostálgica, com uma pitada certa de humor e drama, personagens cativantes. torcendo para o Hulu fazer a 2 temporada ou algum outro canal ou Streaming continuar. e A VH1 fez uma sacanagem renovando e depois cancelando do nada. #SaveHindsight

…

Expand

This show is both fun and entertaining. If you enjoyed the 90s then you will enjoy this show plain and simple. It has elements of comedy and

This show is both fun and entertaining. If you enjoyed the 90s then you will enjoy this show plain and simple. It has elements of comedy and drama, an attractive cast, and a decent amount of nostalgia mixed in too. I genuinely hope that VH1 keeps this one rolling.

…

Expand

I was surprised by how much I like this show. Each week it grows on me a little more. There aren't a lot of shows about the 90's. The last

I was surprised by how much I like this show. Each week it grows on me a little more. There aren't a lot of shows about the 90's. The last good one was cancelled (Surviving Jack). Probably my favorite part of the show is their use of music. If you like 90's music you'll like this show.

…

Expand