Network:

Netflix

Series Premiere Date:

Feb 1, 2013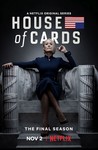 Starring:

Sakina Jaffrey

,

Robin Wright Penn

,

Michael Kelly

Summary:

The US remake of the 1990s British political miniseries moves the shenanigans to Washington DC. After learning he won't be appointed to a coveted Cabinet position, House Majority Whip Francis Underwood (Kevin Spacey) and his wife Claire plan revenge on the administration he helped elect.

Genre(s):

Drama
Creator:

Beau Willimon

Season 1 premiere date:

Feb 1, 2013

Episode Length:

60
Please enter your birth date to watch this video:
You are not allowed to view this material at this time.
Watch at whatever pace you'd like--immediately. Given its quality, I think you'll be drinking it all in sooner rather than later.

It's a heavyweight new contender in the drama category, just as Netflix now is as a content provider.

Deeply cynical about human beings as well as politics and almost gleeful in its portrayal of limitless ambition, House of Cards is a wonderfully sour take on power and corruption.

Too jaded to lament the backroom maneuvering of politicians, the creators of House of Cards instead take that state of affairs as a given, tart it up, and fashion a wry piece of escapism--a backstabbing procedural delivered in a sophisticated style.

I found the first two episodes handsome but sleazy, like a C.E.O. in a hotel bar. Yet by Episode 5 I was hypnotized by the show's ensemble of two-faced sociopaths. Episode 8 was a thoughtful side trip into sympathy for Spacey's devilish main character, but by then I was exhausted, and only my compulsive streak kept me going until the finale--at which point I was critically destabilized and looking forward to Season 2.

Fincher's unemotional style comes through in the first two episodes, and the show could use more heat. But Spacey makes it worth watching.

This series is about as inside-the-Beltway as Fiji, and Fincher's main plan to compensate for the stupidity level is to have the gentlemen whip off their glasses and the ladies whip off their clothes.
Absolutely amazing! Loved it, from the beginning to the end of the first 2 episodes I've watched. It has the David Fincher mood in it, Kevin

Absolutely amazing! Loved it, from the beginning to the end of the first 2 episodes I've watched. It has the David Fincher mood in it, Kevin Spacey's constant neutrality in every bit of the show in a really cold blooded character, and the fluidity in which the story unfolds. Seriously, great show, watch it if you can, or get 1 month free on Netflix just to watch this. Best premiere I've seen in a series for a LONG time, maybe the best since Breaking Bad.

…

Expand

Kevin Spacey made this TV-show great.
This has some of the best and realistic acting there has been in tv-shows.
I don't know anything aboutKevin Spacey made this TV-show great.
This has some of the best and realistic acting there has been in tv-shows.
I don't know anything about the American government,
but this show really showed me some great things in it.
Good job to the producers and keep up the good work.

…

Expand

This review contains spoilers

, click expand to view

. The writing is nothing short of brilliant. SPOILER ALERT: STOP READING NOW IF YOU HAVEN'T SEEN THE SERIES.

Spacey's asides draw us into his confidence, but we are slowly inclined to betray him as the series progresses--just as other characters do.

It's an amazing affect I've never experienced, and it's utterly absorbing.

This is not interactive tv, but it feels like it. And we are drawn into the action as we learn every characters' weaknesses and desires.

Little things matter, too: The subtle change in Claire's character when the homeless man fashioned the twenty dollar donation into a swan and flicked it at her. Genius. Moments like that make great drama.

winston Q summers

…

Expand

Kevin Spacey is indeed fantastic as always. His wife, played by Robin Wright, is great as well; I just wish she would fill that deep hole in

Kevin Spacey is indeed fantastic as always. His wife, played by Robin Wright, is great as well; I just wish she would fill that deep hole in her neck or wear a necklace to cover it up as it tends to be distracting from her great performance. The rest of the cast is also terrific The cd's did a great job! I look forward to more episodes.

…

Expand

Welcome to the dirty inner politics !!
The first season of this American adaption of BBC's mini series is a cynical,slick andWelcome to the dirty inner politics !!
The first season of this American adaption of BBC's mini series is a cynical,slick and engrossing.Kevin Spacey superbly plays Frank Underwood,a Democrat who starts out as the Secretary of State and rises to new political levels through ruthless pragmatism.Rob Wright as Claire Underwood is as good as Spacey. "The House of Card spirals high on a twisted foundation"-in the words of Mark A.Perigard of Boston Herald.

…

Expand

Great show! Except one major detail... The settings are all wrong- Everyone knows that there are no tall buildings in DC due to the law

Great show! Except one major detail... The settings are all wrong- Everyone knows that there are no tall buildings in DC due to the law that prevents buildings from being taller than the capitol. Every time we see Underwood's neighborhood and other local shots there are tall buildings. Also, the shots around what are supposed to be the Wash Post HQ- there is no bridge crossing any side street in that neighborhood as depicted. Maddening! What's worse is that the colleague of a son of mine was hired as an extra and went to Baltimore for shooting yuk! That's what I think of when I see the outside shots.

…

Expand

Season 1 is fantastic. You get an intense intra personal drama series that follows Frank Underwood on his way up the political ladder. The

Season 1 is fantastic. You get an intense intra personal drama series that follows Frank Underwood on his way up the political ladder. The series strength comes from its ability to weave strong dramatic intra personal relationship conflicts with a main protagonists struggle to reach the top of US politics. Its tense, shocking, superbly acted and binge watch ready.

…

Expand